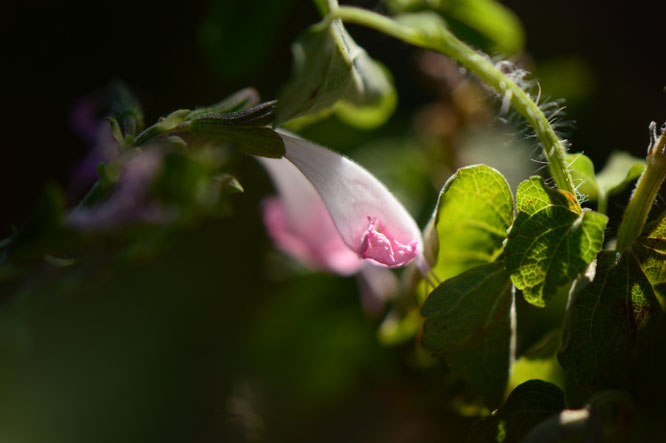 As October moves forward, some changes are finally occuring in the South Border.
The usual view looks largely the same (picture taken after the shadows began to fall eastward).  It is easy to note how much better the Perovskia is blooming now. Tucked in behind the Pennisetum, it has become a mass of purple bloom.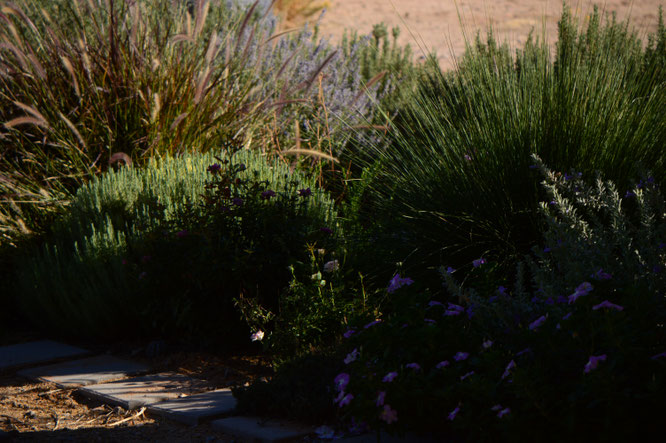 If one looks more closely, there are a number of new sights: plenty of blooms on the miniature roses...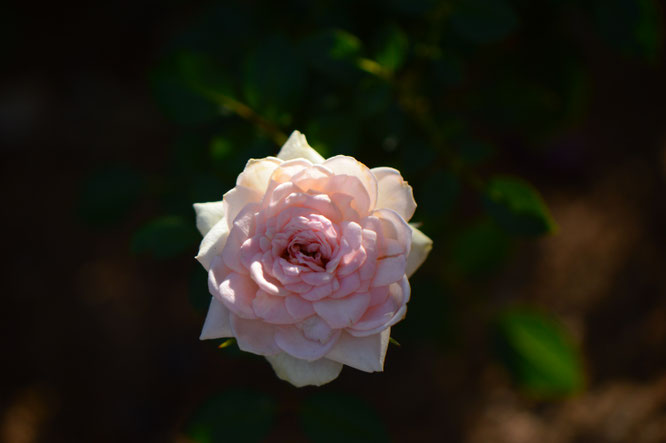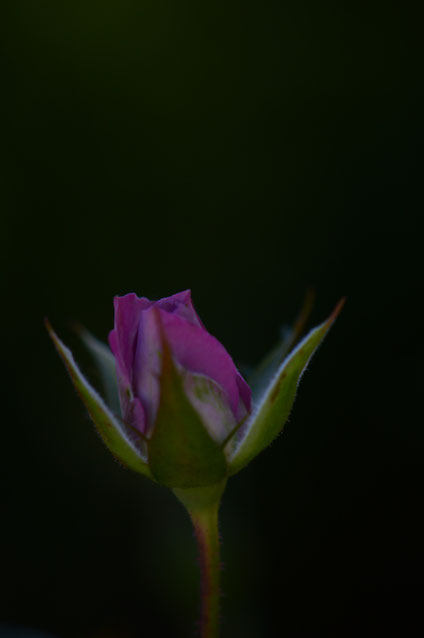 ...and between them, the porcelin white and pink of the successfully transplanted Salvia "Summer Jewels".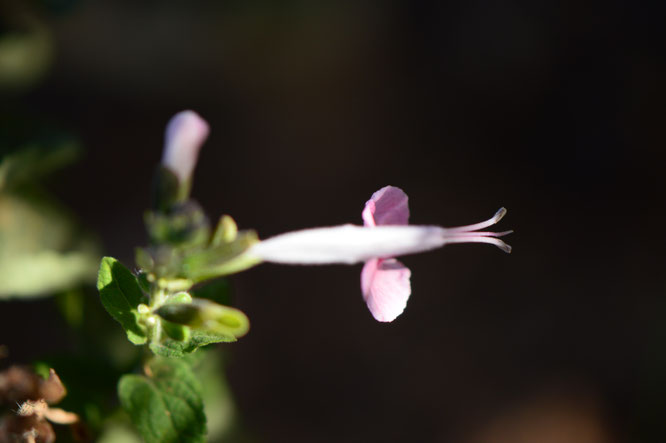 Still hiding among the more noticeable autumn-blooming plants, the irises I planted last month are putting up some new leaves.  Three tall bearded irises went into the South Border as well as a smaller, white arilbred down in the corner.  In the photo below is "Carry Me Home", name still neatly written on a leaf.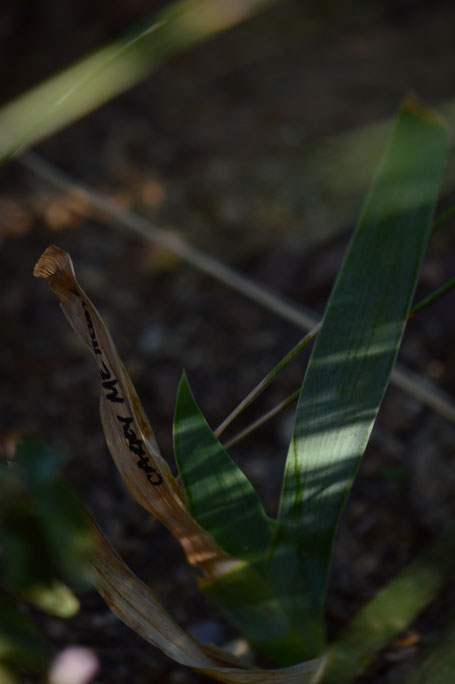 Lagerstroemia indica "Rhapsody in Pink" has continued summer bloom though I expected it to finish last month.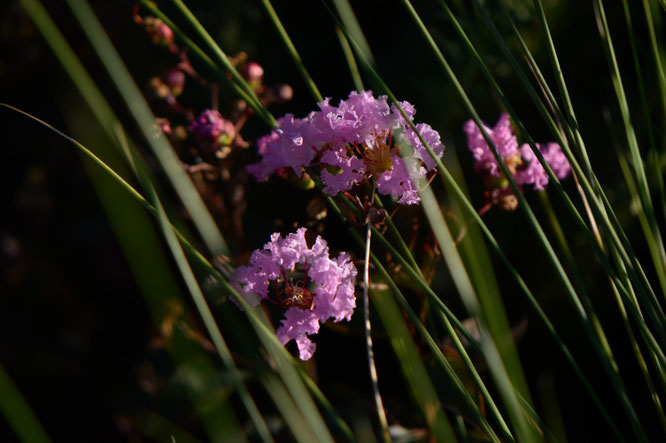 And on the other hand, one can find a couple of flower sprays from Muhlenbergia capillaris "Regal Mist", the first plumes just beginning to open.  In the small, sunny garden, this means autumn has arrived!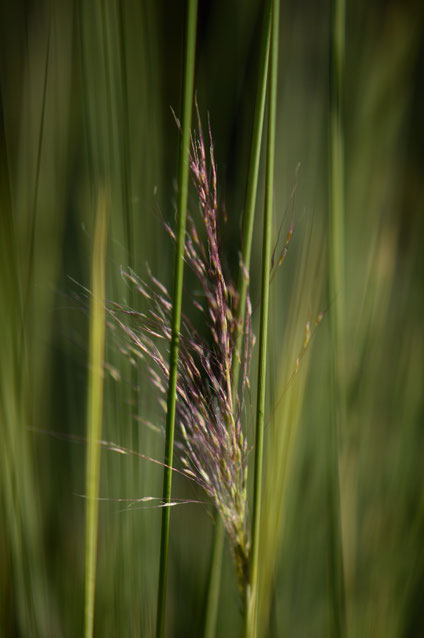 It looks as though there will be a lot of bloom season overlap between the Muhlenbergia and the Pennisetum further down the border.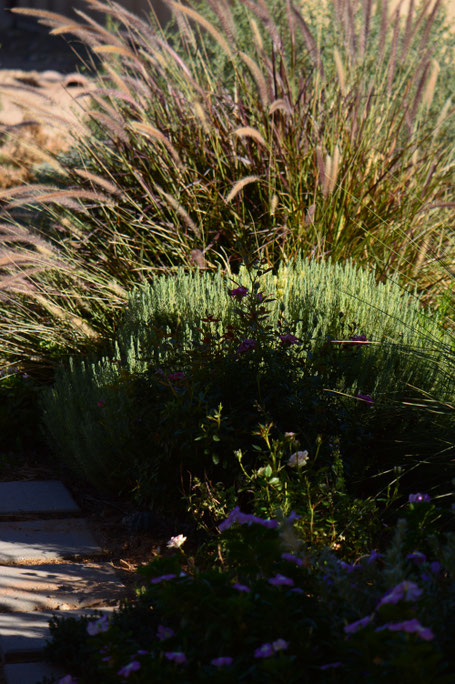 Invisible beyond the Pennisetum, there is one more exciting new source of bloom.  This is Salvia leucantha "Santa Barbara", which though planted last spring has done nothing more than survive through the summer.  It is at last growing a bit and now has a few spikes of fuzzy lavender-colored blooms.  I used one in yesterday's vase.
I planted with the expectation of it becoming another strong structural element.  Its slow start has postponed that, and in the meantime Eremophila "Valentine" has sent out a burst of growth in all directions, nearly overtaking the young Salvia planted in front.  The trials of a gardener who still has no idea what to expect from her plants...
As you can see, the Salvia's foliage is more like culinary sage than many of the garden varieties, though more slender and, so far, not so white.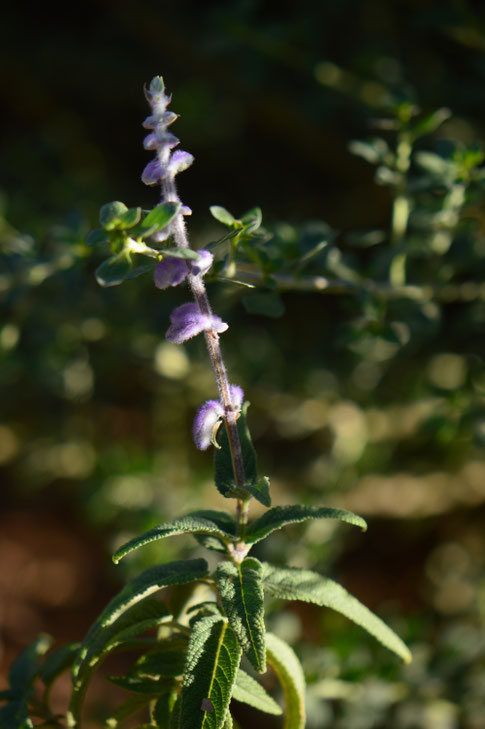 And lastly, there is the always beautiful Eremophila hygrophana to finish off this week's garden view with Cathy at Words and Herbs.  Thanks, Cathy!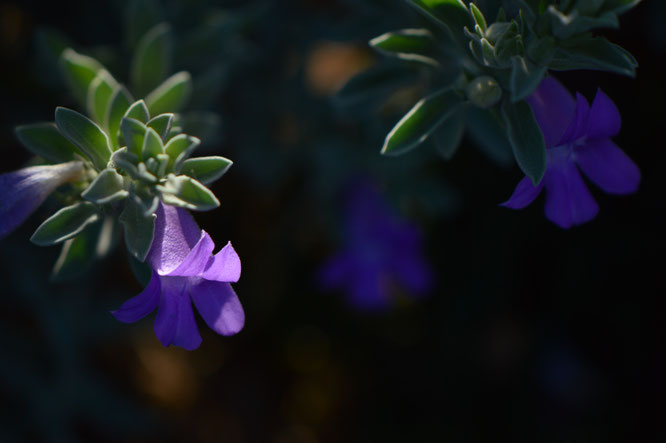 Weather Diary: Fair; High: 94 F (34 C)/Low: 65 F (18 C); Humidity: 11%-44%