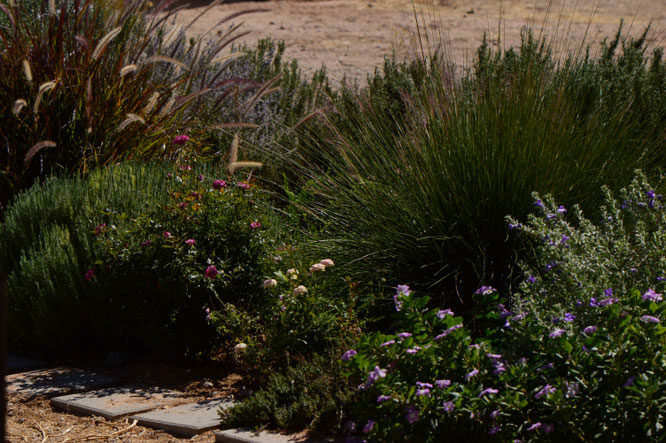 This week's Tuesday View actually says quite a bit about the garden just now.  The summer blooming plants, such as Pennisetum and Catharanthus, are still blooming freely.  The plants that like temperatures just a little milder -- the miniature roses and Perovskia, as well as Eremophila hygrophana -- have exploded into full flower as well.  And Muhlenbergia "Regal Mist" is just opening its autumn glory.
With temperatures that would scream "summer" in most temperate gardens, we are seeing the first few flowers of autumn in the desert.
The roses are pleased.
I hope you can feel the difference in the garden.  It is palpable when I walk outside, if a little hard to express fully in pictures.  
Joining with Cathy at Words and Herbs for a weekly look at a single spot in the garden...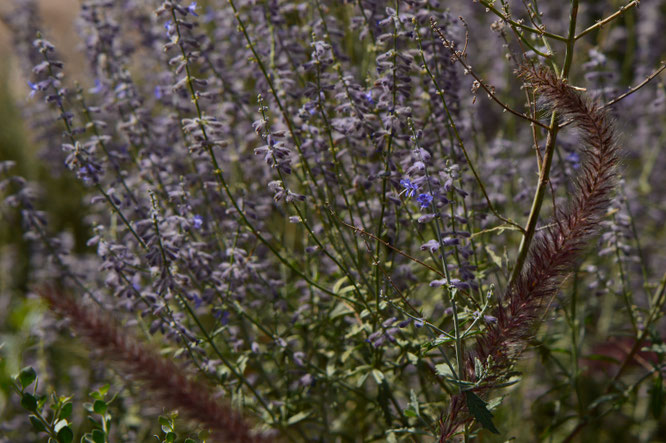 Weather Diary: Fair; High: 89 F (32 C)/Low: 62 F (17 C); Humidity: 20%-62%