Once a month, Christina at My Hesperides Garden, encourages us to take a look at the effects of foliage in the garden.  For this Garden Bloggers' Foliage Day, I decided to take a closer look at my small collection of lavenders.  They would be splendid garden plants even if they never bloomed.  And here in the desert, where they grow robustly despite heat, alkaline soils, and drought, they are particularly valuable as structural plants.  There is, of course, the marvelous fragrance of both foliage and flowers, with many variations among species.  But beyond that, the growth habits are often beautifully formal, and foliage is striking, running a significant range of colors, textures, and even leaf shapes. 
In addition, they can grow quite large!   Originally I made a miscalculation: I thought that extreme heat would have the same effect as extreme cold, e.g. would keep plants on the smaller end of their expected ultimate size.  Not so!
Here is Lavandula "Goodwin's Creek Gray".  Yes, I anticipated having it spill over the pavers a bit; that was in the design plan and is one reason I have used twelve inch wide pavers.  But GCG is clambering well past them.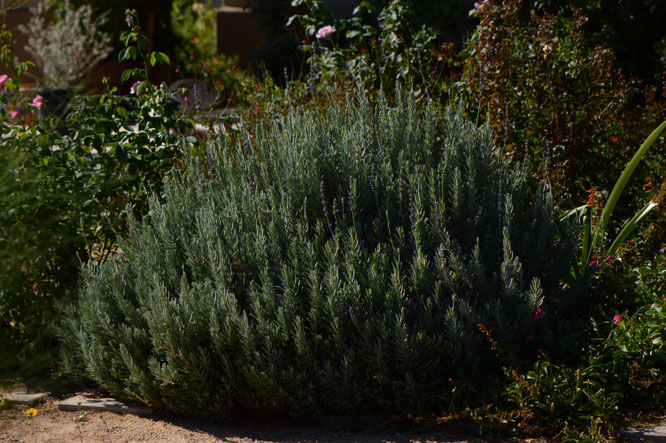 I am very grateful for Christina's advice, in her GBFD post this month, that it is feasible to cut lavenders back hard in warm, sunny climates.  I have been wondering whether I could get away with it!
Meantime, they have filled their spots in the garden with lovely dense foliage and, in season, bloom.  Some species and hybrids, such as "Goodwin's Creek Gray", can bloom nearly year-round in warm-winter climates; others -- L. stoechas, for instance -- are distinctly seasonal.  
The most recommended species for the low desert seems to be L. stoechas, commonly known here as Spanish lavender, though sometimes also referred to as French lavender, a name more often reserved for the L. x intermedia types!  "Madrid" has been a most reliable stoechas variety, growing with a dense, dome-shaped habit invaluable among softer plants.  Here it is filling the area between Pennisetum setaceum rubrum and a rather large miniature rose, another plant whose ultimate size remains unknown.  Does a happy miniature rose ever stop growing?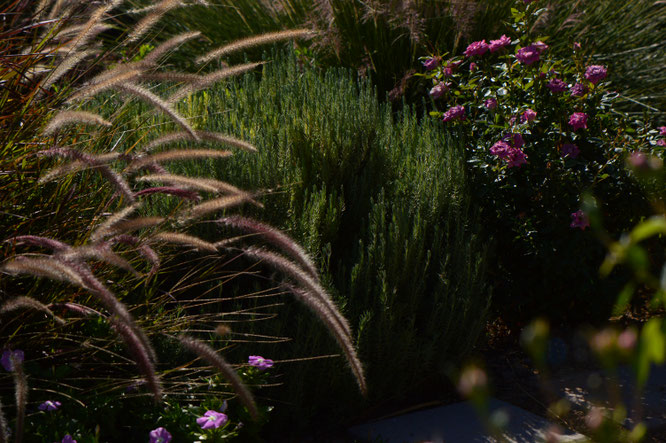 In the North Border I have a noID lavender which is probably another form of L. stoechas.  This one was grown from a rooted offset given me by my cousin.  An early addition to the border, it suffered from the intense heat this last summer but is recovering well and putting on size rapidly now.  Some chlorosis remains as evidence of just how difficult this last summer was, especially in the less developed parts of the garden, such as this.
As I am finally filling out the North Border, I have just added my first L. x intermedia as well, a young "Grosso".  This time I am giving it plenty of room, though it should be a narrower plant.
Its soft, silvery foliage seems a looser version of the robust "Goodwin's Creek Gray".  The latter is a hybrid of unknown origin, though it is believed to have derived partly from L. dentata.  Its silver tones are matched only by Artemisia x "Powis Castle" in the far corner behind it.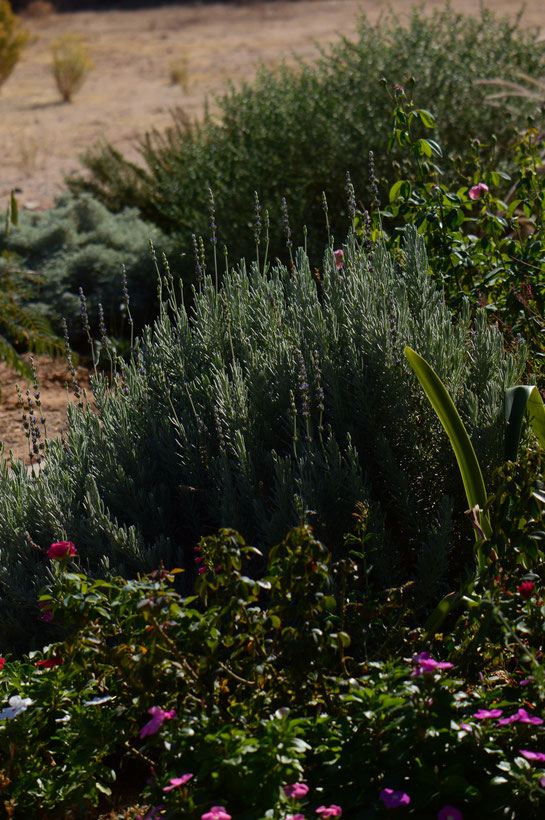 Curiously, so far as I know there are no lavenders native here -- many native Salvias but no lavenders.  Does anyone know otherwise?  For all that, the native wildlife find them very satisfactory; bees, butterflies, and even hummingbirds feed from them.
 I think that if I could grow only one non-native genus here, it would be the lavenders -- with roses!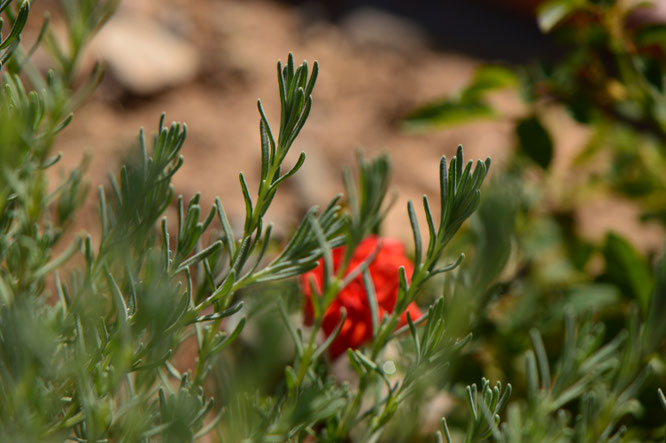 Weather Diary: Fair; High: 96 F (36 C)/Low: 62 F (17 C); Humidity: 16%-47%