Today's little flower concoction is perhaps my fastest to date.  Most of today was focused around getting my mother to a regularly scheduled medical appointment, which involved a drive of well over an hour each way, so there was not a lot of time to think about a vase or to arrange the contents.  Just before leaving, I snipped some blooms from a chrysanthemum which was tucked into a container in the patio some weeks ago.  I brought the three flowers indoors and floated them in a teacup.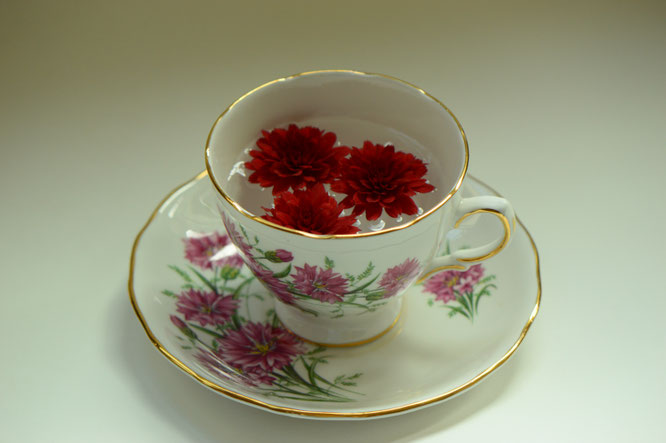 This teacup, with its bright pink cornflowers, was given to me many birthdays ago.  It began my small, mostly vintage, teacup collection.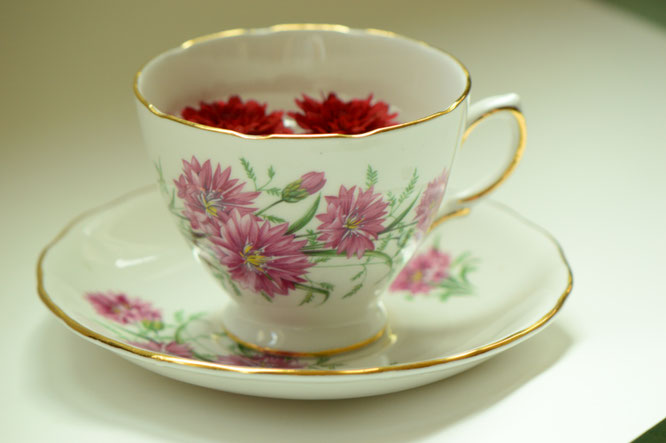 Florist's chrysanthemums have so far been fairly successful for me here as cool season annuals.  I almost managed to bring one through last summer as well, and I think that even a slightly milder summer might see them survive to bloom and grow again in the autumn.  As they are quite inexpensive, being sold just as container annuals for the season, I have bought several and will be interested to see what happens next summer!
This one is planted in a deep container of a dark brick red, which matches the flower color nicely.  That same color is a little peculiar with the pink flowers on the cup, but as I say, I was in a hurry!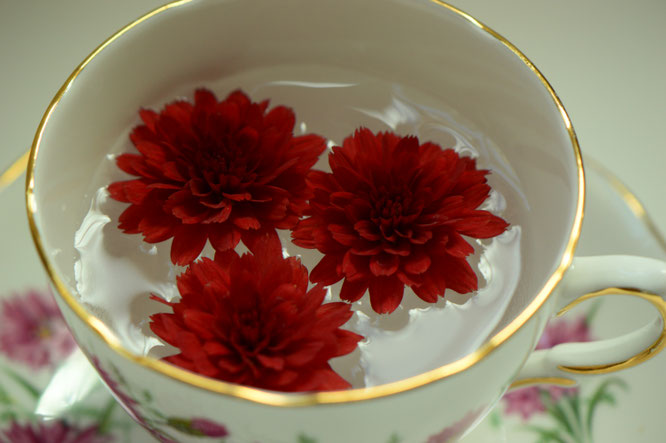 Our long drive had various points of interest, including a sighting of a herd of wild burros as we drove along the 303.  Not so happily, we also saw the vehicular remnants of today's twenty-car chain reaction crashes on 101.  Our route took us past many a puddle from the rains we've been having, and over and around a few as well.  As for the rain, it dripped, and cleared, and spurted, and splashed, and cleared...  I doubt we'll get any more, but this was the most rain our neighborhood has seen since last winter.  Not surprisingly, the garden is in a state of bliss.
I thought I would include a couple of shots (taken with my phone) from our stop in Scottsdale.  These show just a bit of desert at the far side of a parking lot.  It was fun looking at the barrel cactus and chollas.
Today's IVoM post has ranged a bit further afield, but still it is all about picking a few flowers and putting them in a... teacup this time.  Thanks to Cathy for hosting this lovely meme at Rambling in the Garden!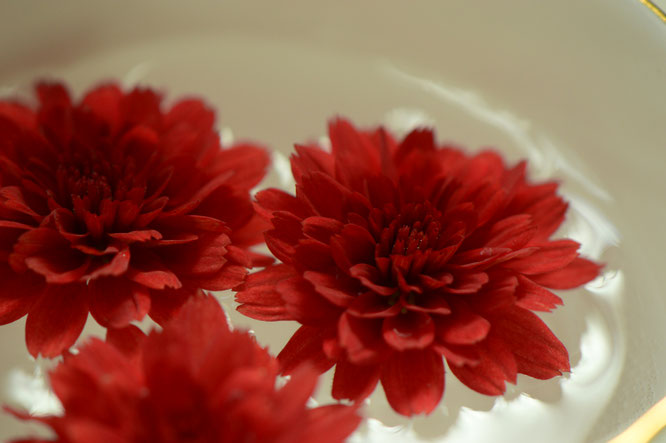 Weather Diary: Partly sunny, with rain showers and scattered thunderstorms; High: 70 F (21 C)/Low: 53 F (12 C); Humidity: 44%-100%