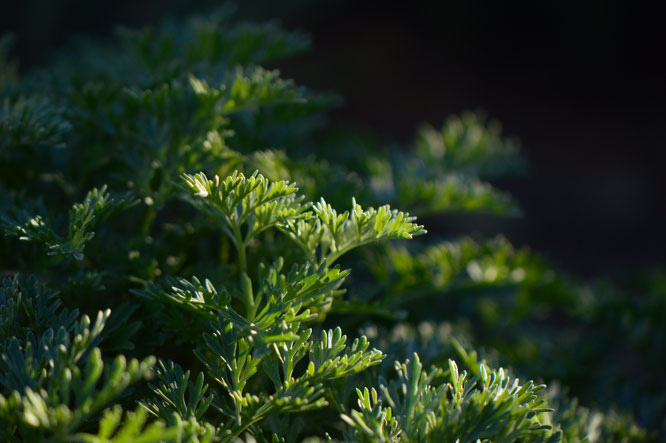 November's GBFD post is necessarily a bit brief (not to mention late!), but I didn't want to miss it altogether.  I am sharing a short post on a plant whose foliage is fascinating to me at the moment.
The plant is Artemisia "Powis Castle" (above).  Its leathery, silver-white leaves stood up beautifully through this year's particularly nasty summer.  In a dry garden with many silver-foliaged plants, they were the whitest leaves to be seen.   And it grew and grew.  I didn't measure it at its largest, but it must have been full four feet or more across.
By October it was looking understandably haggard but had new leaves pushing through at the base.  So I cut it back to the fresh basal growth late last month, since when it has exploded again.
Now I am fascinated by the new growth.  No longer the hard, white foliage of summer, this is soft green with a silvery cast, fluffy to the touch, and looking very lush.  A more recently planted "Powis Castle" elsewhere in the garden still has its summer-white leaves, forming a strong contrast. 
It will be interesting to watch the new growth transition to white over the weeks ahead.  The plant is once more growing rapidly!
Thanks to Christina at My Hesperides Garden for hosting Garden Bloggers' Foliage Day, which encourages a good look at the structural benefits of foliage plants in the garden!
Weather Diary: Fair; High: 70 F (21 C)/Low: 47 F (8C); Humidity: 37%-94%