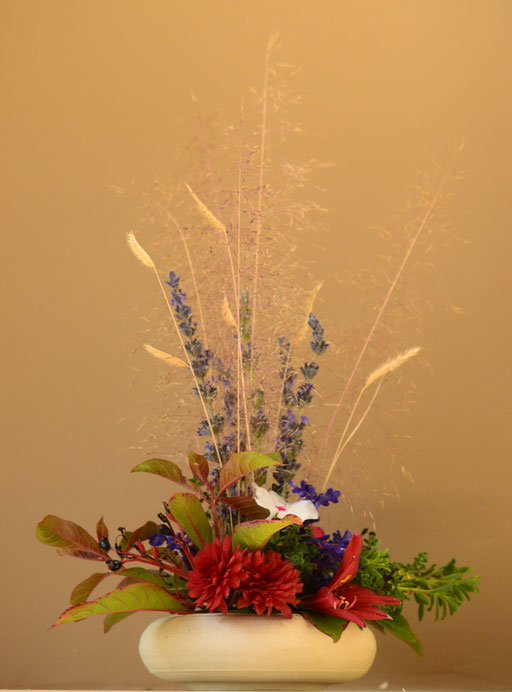 This week's flower selection began with snipping a single trumpet off the newly arrived flowers of Rhodophiala bifida, commonly known as Oxblood Lily.  A Hippeastrum relative, it has a reputation for growing well in very rugged conditions of the hot and dry sort.  Not surprisingly, it has a tendency to bloom in response to rain, and a couple days worth of showers last week popped the first one out of the ground.   This first blooming stem has grown to about a foot tall; like another relative, Amaryllis belladonna, it flowers naked of leaves.  Like its cousins, it carries a full head of blooms; and as I only wanted to take one, this left me with a very short-stemmed flower.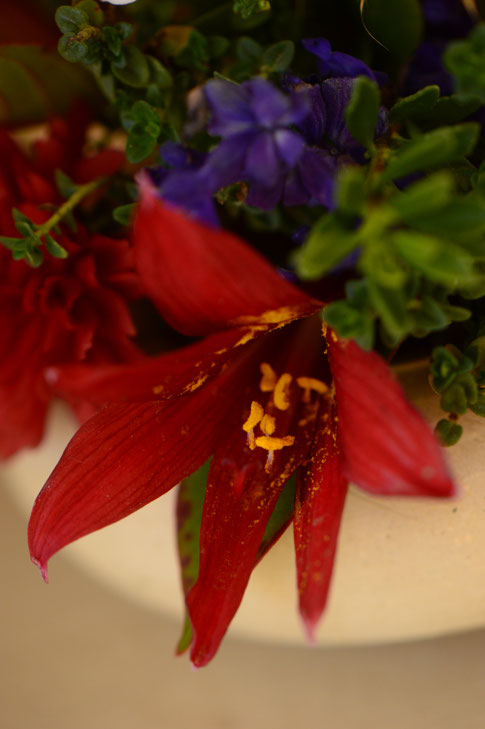 All of which meant there was no harm in clipping a bloom of William Shakespeare 2000, which also has a habit of flowering on rather stubby stems.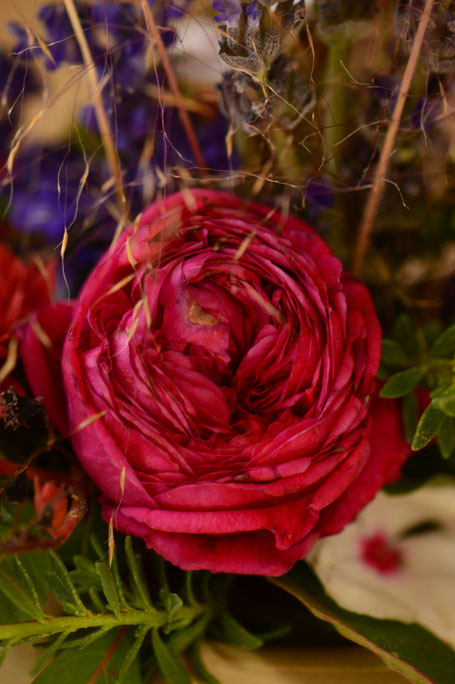 Then there were the chrysanthemums, equally short but certainly the right color to combine with the Rhodophiala...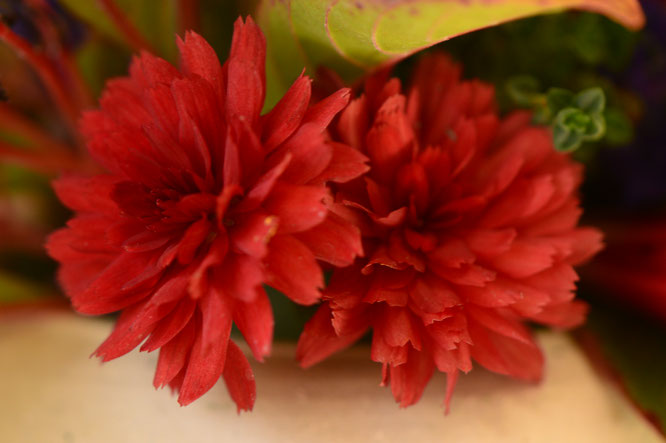 ...and also some white Catharanthus flowers with center spots nearly the color of the rose.  Along with some stems of Salvia farinacea, which is blooming very well now.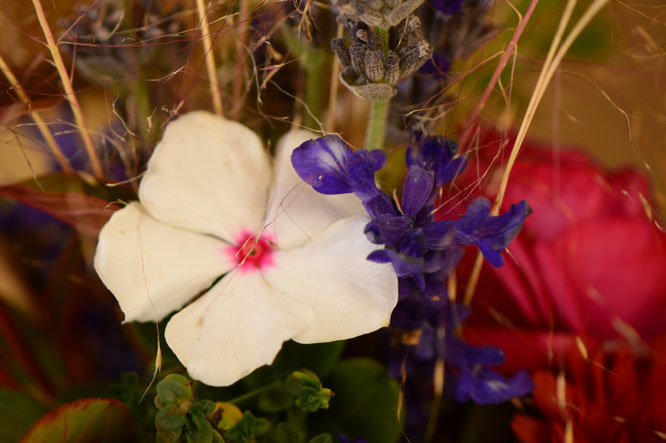 All of this determined the use of a very shallow dish with florist's foam, for once.  The bowl is one of my early stoneware pieces, handthrown and left unglazed.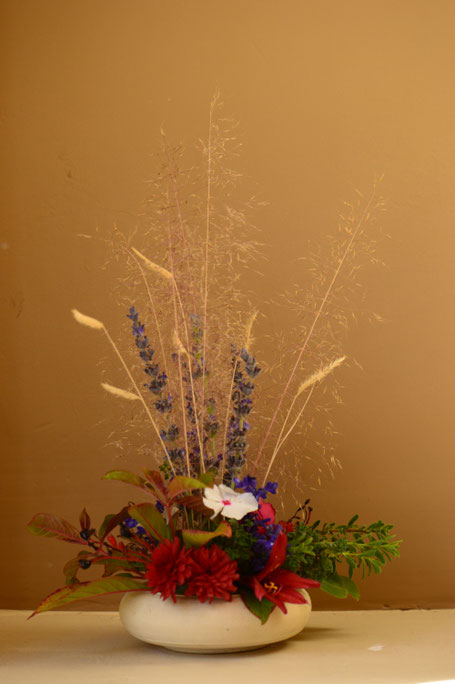 Having decided on the blue Salvia, I snipped some stems of lavender also (the never-failing "Goodwin's Creek Gray").  Plus grass stems: Muhlenbergia capillaris "Regal Mist" and Bouteloua gracilis "Blonde Ambition".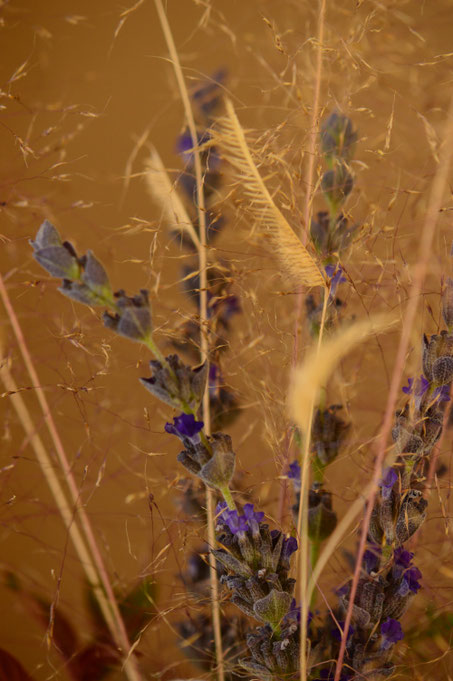 I love the feathers of the Bouteloua.
Foliage came from Hamelia patens, which has only just begun turning and has started setting a few of its glossy, dark berries on their scarlet stems.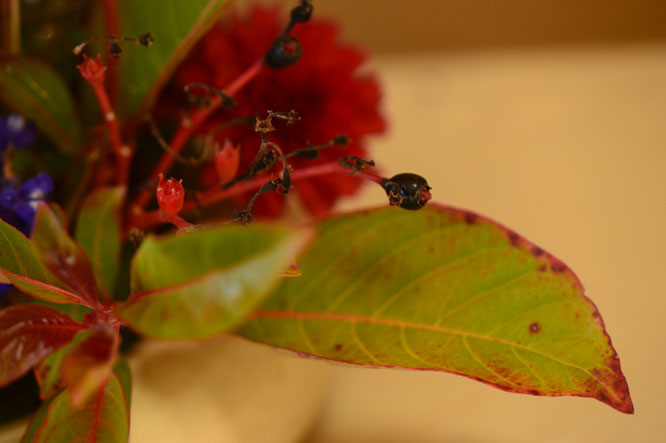 Additional foliage was cut from lemon thyme (left) and Myoporum parvifolium "Pink" (right).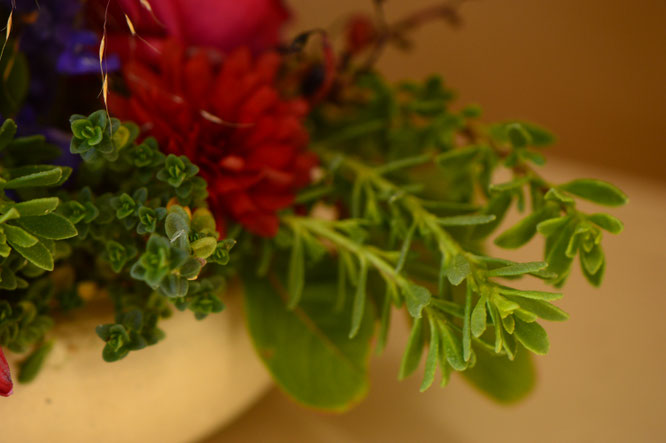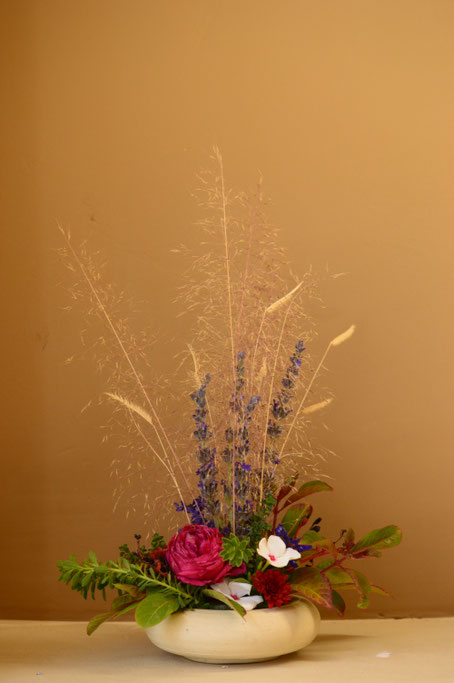 Thanks to Cathy at Rambling in the Garden for the wonderful IVoM theme, which inspires many of us to cut flowers from the garden to brighten our homes!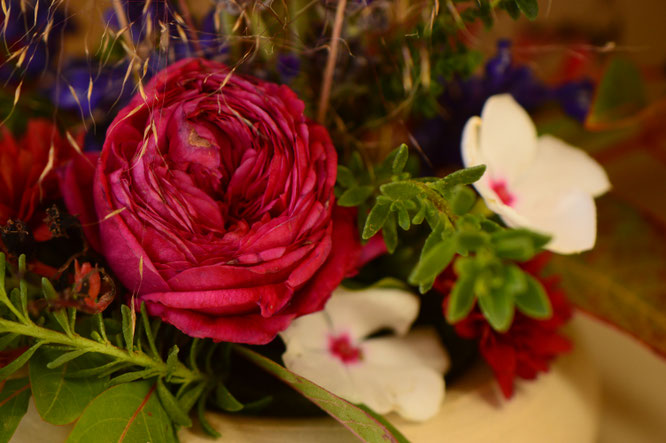 Weather Diary: Sunny; High: 60 F (16 C)/Low: 42 F (6 C); Humidity: 21%-92%