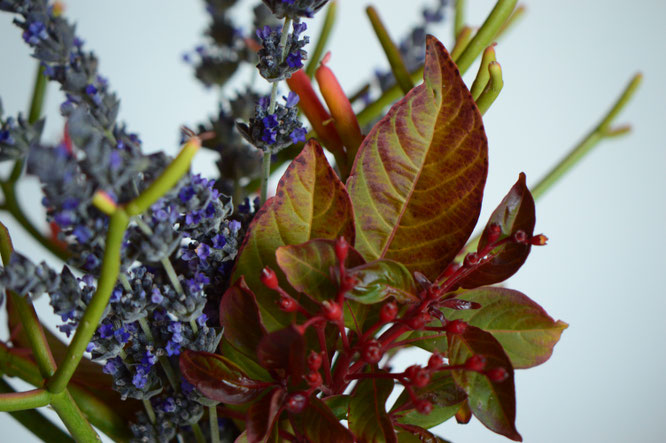 Today's vase unexpectedly became a celebration of a couple of the more exotic plants that make winter beautiful in the desert garden.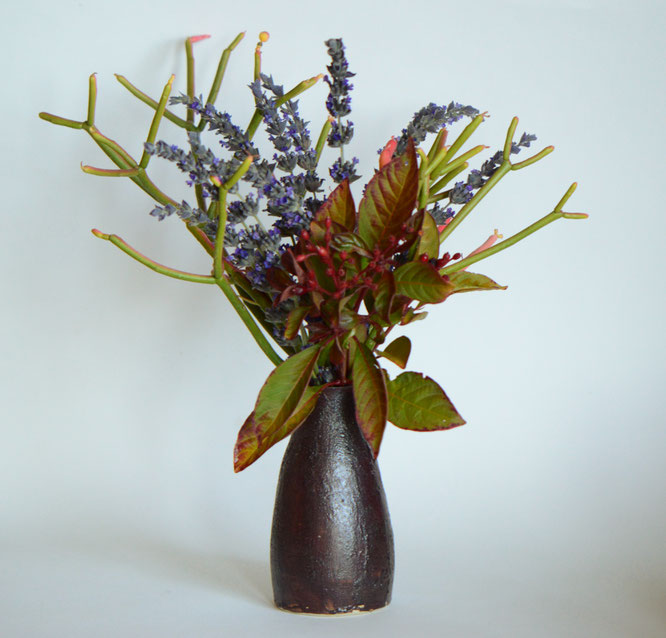 First comes Hamelia patens, known as Firebush for its autumn color.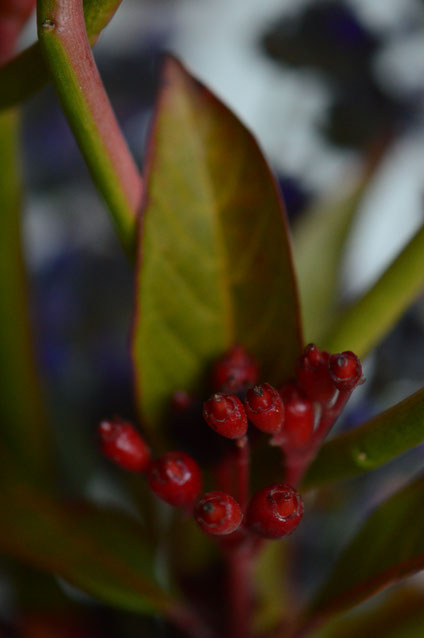 I planted Hamelia patens late last year, having read that it supplies bright flowers through summer, besides berries and reliably colored foliage through fall and early winter.  As a matter of fact, it has done all that quite well this year, despite finding summer a little difficult.  (It was, without exception, the most demanding plant with regard to watering this last, very dry summer.)
I am now enjoying the beautiful mix of green and deep burgundy in the leaves...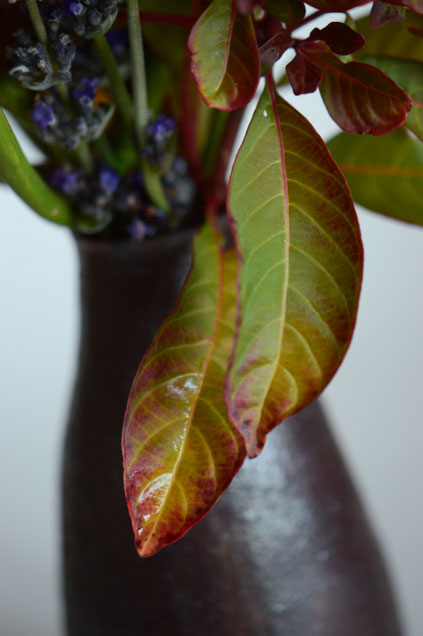 ...as well as some bright berries.  The foliage will not look particularly bright to eyes accustomed to frosted reds and yellows, but it is a respectable showing for a warm winter plant!  The berries, for their part, are a little more ephemeral than the cold winter berries I normally think of, but their color is unimpeachably vibrant!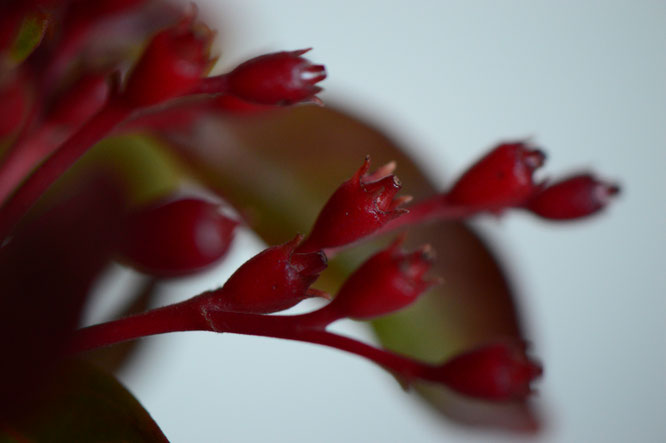 The next plant is Euphorbia tirucalli "Firesticks".  This is unmistakeably exotic, being a succulent native of African drylands.  The orange coloration develops with cooler weather; the plant is mostly green during summer.  A note on the name: I believe there is no difference (other than name length) between "Firesticks" and "Sticks on Fire"; as my plant was labelled with the former name, that is what I usually use, just in case...  Can anyone tell me whether there should be a distiction?  Or is it just more convenient to print "Firesticks" on a label?!
Most curious of all, is this a fruit on the tip of a stem?  I certainly never noticed the bush with any flowers!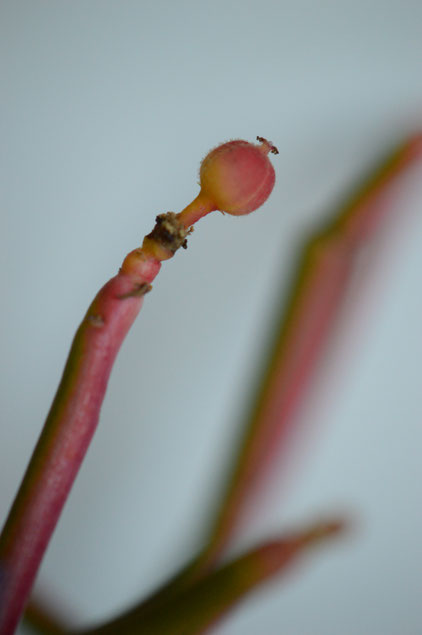 The other element in the vase is lavender - not so exotic, but the most abundantly blooming plant in the garden at present.  This is the faithful L. x "Goodwin's Creek Gray".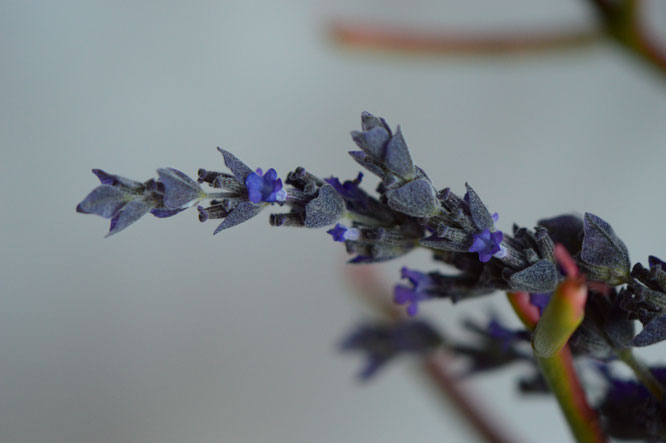 I slipped today's selection into a vase I rarely use.  I considered it a complete failure, but my sister convinced me to keep it.  It was handthrown, then covered with a glaze I was testing.  Then I destroyed the test by overfiring slightly.  The glaze came out with craters, indicating it had heated to  boiling point when the kiln shut off and temperature dropped quickly.  It makes for an interesting texture, but it was not at all what I was after!  However, the slender shape works well for long stems.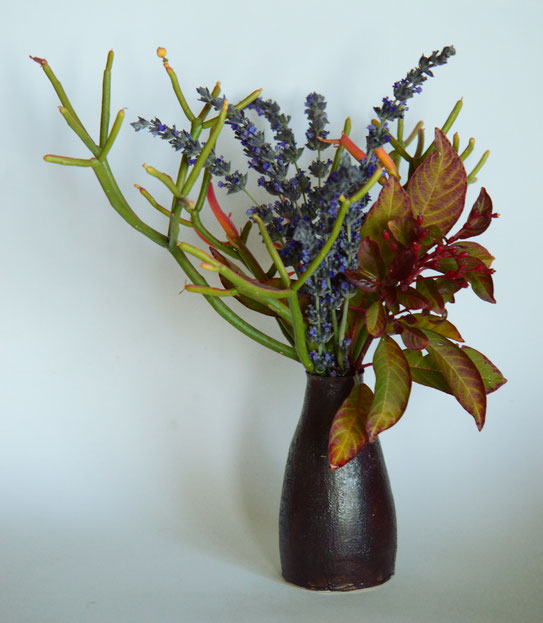 I hope all of you had a wonderful Christmas!  Thinking that next Monday's vase will be the first for 2017 is a little intimidating, to say the least!
Thanks to Cathy, as always, for hosting so many lovely Monday Vases at Rambling in the Garden!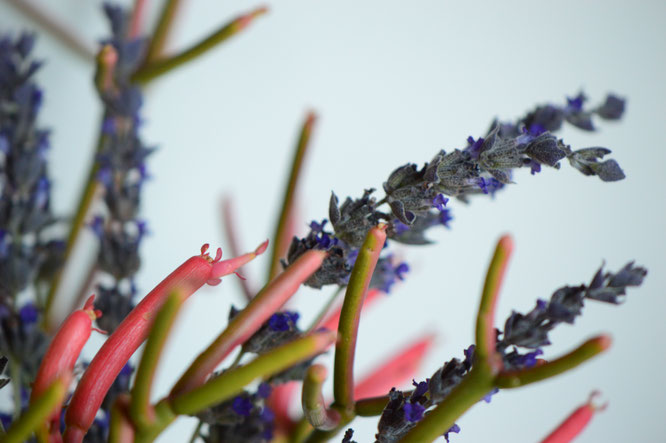 Weather Diary: Fair; High: 60 F (16 C)/Low: 37 F (3 C); Humidity: 29%-94%