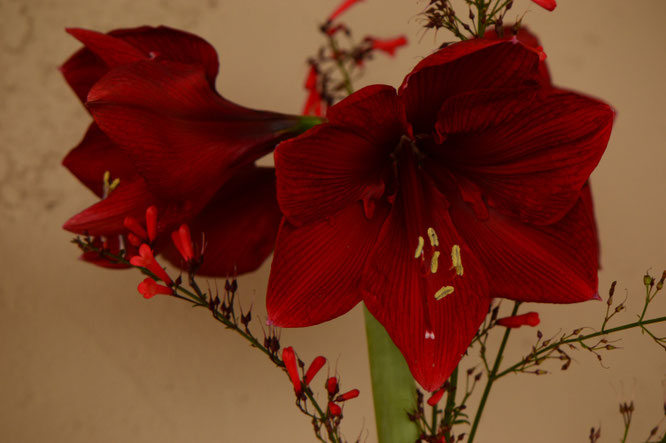 With the possible exception of lilies, I don't think there's a more regal garden flower than Hippeastrums.  I have begun to use them to replace both border tulips and, to a degree, lilies, in this garden where neither can grow consistently.  It gives me a chance to have my cake and eat it, as winter-bloomed container bulbs can then go out into the garden.  Last year's "Naranja" actually bloomed again after it was planted out - no mean feat as it had already opened two full heads of flowers!  So this year I planned for Hippeastrum "Miracle" as a double-duty flower, first for holiday decoration, then as a permanent garden bulb.  This is the result so far.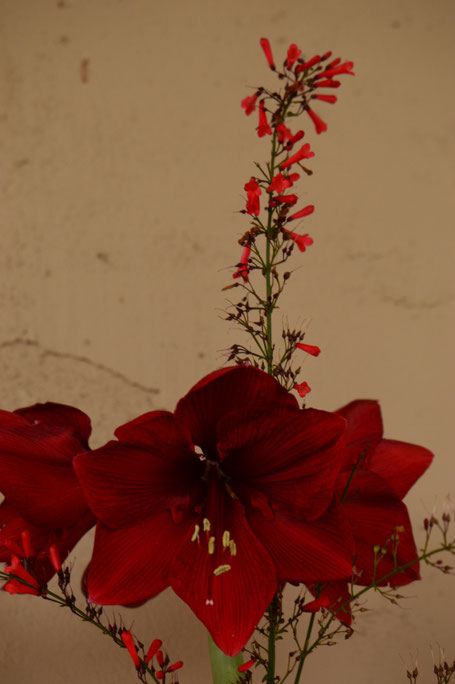 It is not yet a garden flower.  It was container grown, even spending a few weeks indoors before it was moved back out to enjoy the mild winter weather.  This meant later bloom; the full buds held for well over a week before opening, but I find the plants are quite healthy that way, and the stems and foliage remain shorter, everything kept more in balance.  And then it will go into the border when it is finished blooming.  Not something one could do in a cold winter garden (though reports on hardiness vary), but here I find it is my favorite way of growing these luscious flowers.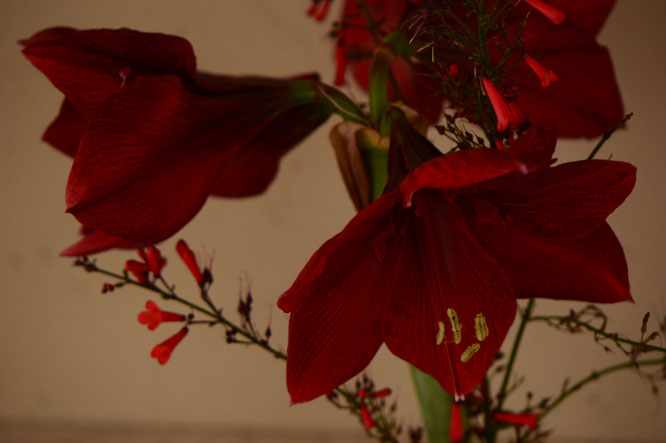 However, I also love to see the enormous blooms indoors; and as several of you have posted on using them as cut flowers, I decided to try this year, rather than move the whole plant back inside.  The first post I ever saw on the subject must have been this one  from Rambling in the Garden two Decembers ago, and there have been others there since! 
Deciding to cut this stem was easier than it might have been because the bulb has sent up no fewer than three husky flower stems.  This is the first, and I really thought the bulb might as well save its energy for opening the remaining two!  Note: I have been very impressed with the quality of the bulbs I've received from the John T. Scheepers company.  While not bargain-priced, they are reasonable, and the quality, vigor, and floriferousness have been consistently impressive, though this triple stemmed bulb is a bit beyond even that!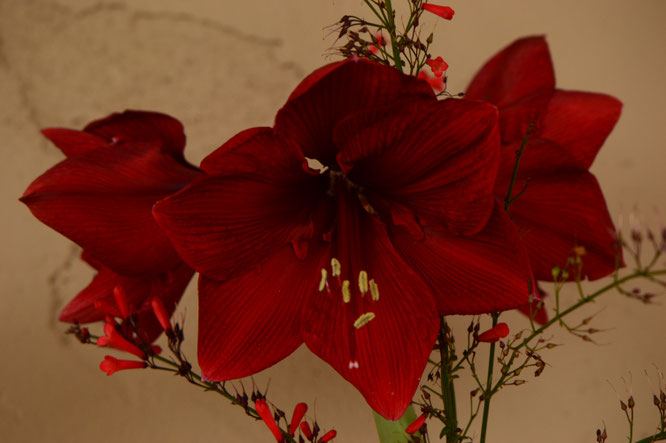 I snipped some stems of Russelia equisetiformis "Big Red" to accent and help fill out the hefty Hippeastrum stem in the vase.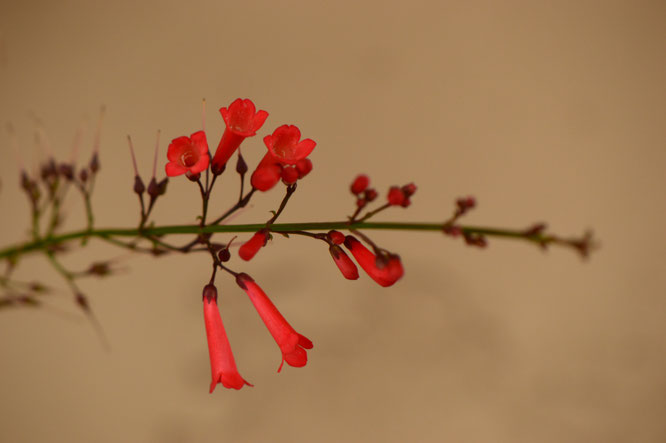 And I slipped them all into my dark-glazed little stoneware pot, whose round shape gives the effect of the stem rising from a bulb.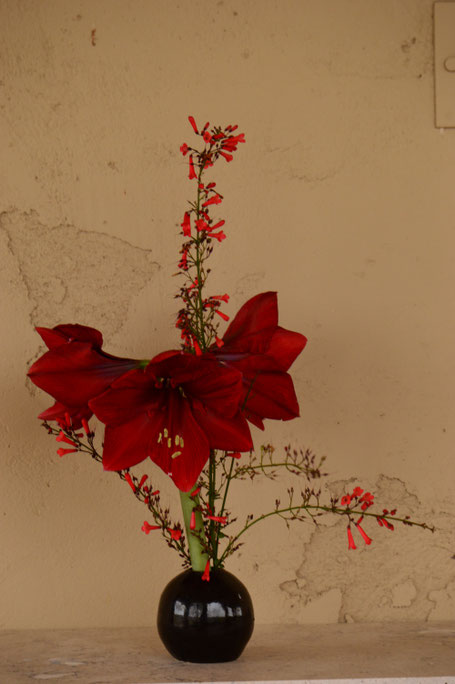 There have also been some flowers from the lovely variety Lemon Star featuring at Words and Herbs for a couple of weeks.  Cathy there gave me the advice to wrap a rubber band around the base of the stem to keep it from splitting, so I have done that.  I also made the final stem cut underwater, which I have read recommended for other hollow bulb stems such as tulips.  I am hoping the blooms last well, and I'm very happy to get to enjoy them indoors at last!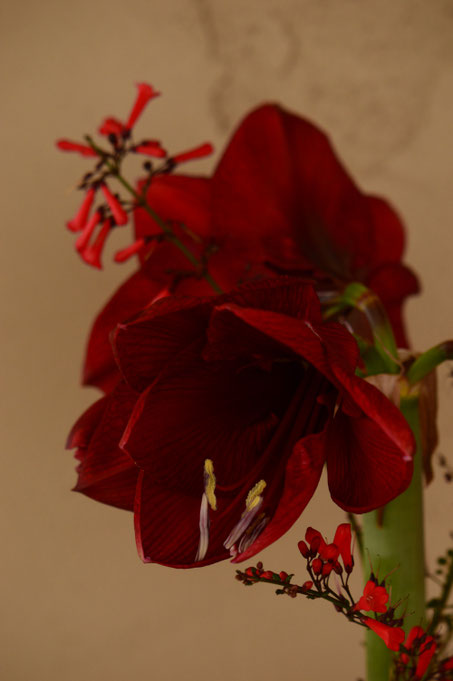 It certainly makes a splendid vase: the first of 2017!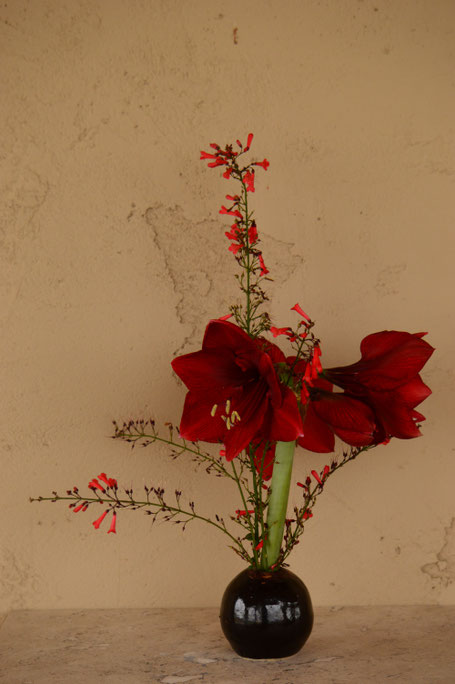 I hope all of you have a beautiful new year!  
And now I will head over to Rambling in the Garden to see what others have posted for this week's IaVoM.  I'm far behind on blog following right now as my internet connection has been extremely slow this past week.  I've been unable to even load some of your blogs.  We're back to normal now and I'm looking forward to enjoying a little catching up!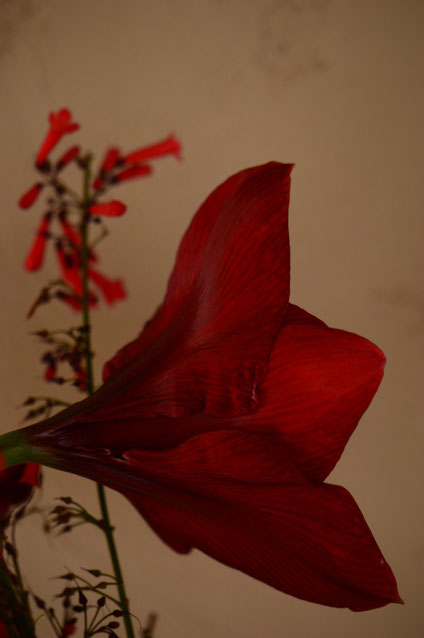 Weather Diary: Fair; High: 57 F (14 C)/Low: 43 F (6 C); Humidity: 51%-99%