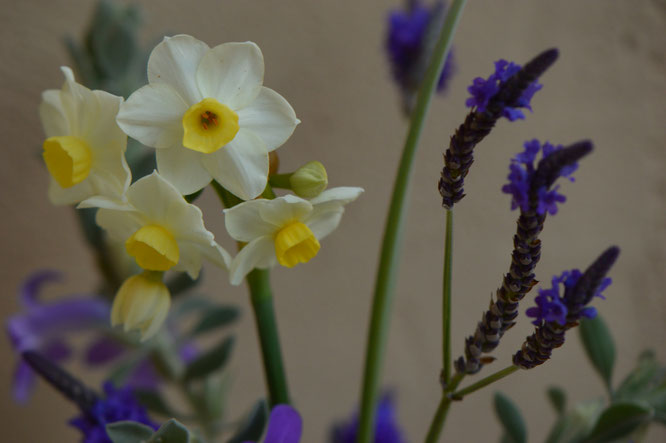 This vase is a celebration of a mild mid-January, what looks to be the very last of winter and faint beginnings of spring in the desert.  In keeping with the season, I have used some entirely new flowers for this vase.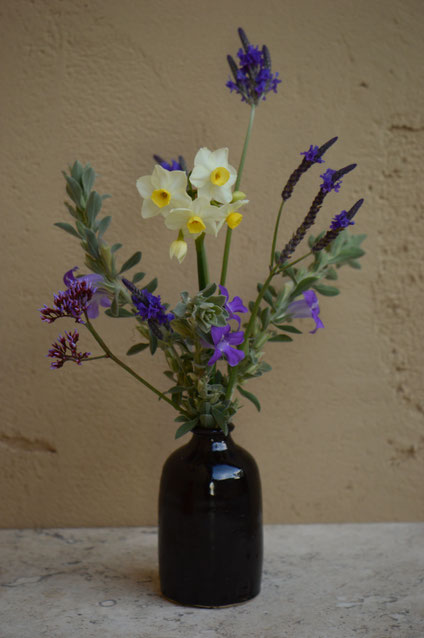 The smallest of these is not really open yet, but I decided to cut it anyway.  This is Limonium perezii, which has caught my eye many times on Kris's blog Late to the Garden Party.  Online sources (Wikipedia and Calflora) indicate it is a native of the Canary Islands but has naturalized in coastal southern California.  According to the ASU site, summer may prove it an annual here in Arizona, but meantime it should be an excellent source for flowers for vases.
Lavandula multifida is another new addition, so new I haven't yet planted it.  I am trying to find out how big it grows in mild winter climates as few of my lavenders have grown according to their labels.  To complicate matters, it was marked  as Lavandula pinnata; the two apparently have become inextricably confused in commerce, at least here in the western US; from what I can tell, my two new plants are L. multifida.  Whichever they are, the brilliant purple-blue is wonderful...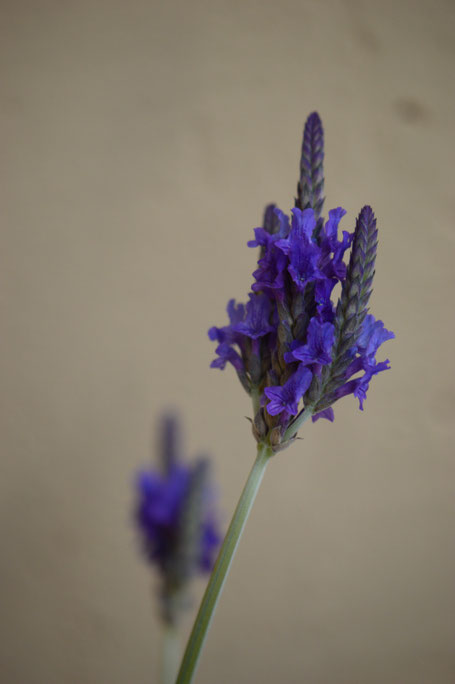 ...and I am fascinated by the multiple flower heads on some of the stems.
But the center of the arrangement is certainly the cluster of narcissus flowers.  This is from the early-blooming "Autumn Colors", a seed strain developed for warm winter climates by Bill Welch (Bill the Bulb Baron) from various tazetta varieties and wild forms.  They began blooming in the front patio during the last week of December, and more are now beginning to bloom in the open garden.  So far I have had white with yellow cups and pale yellow with deeper-colored cups, but I believe there is a white on white stem opening today...  The fragrance has so far been quite pleasant.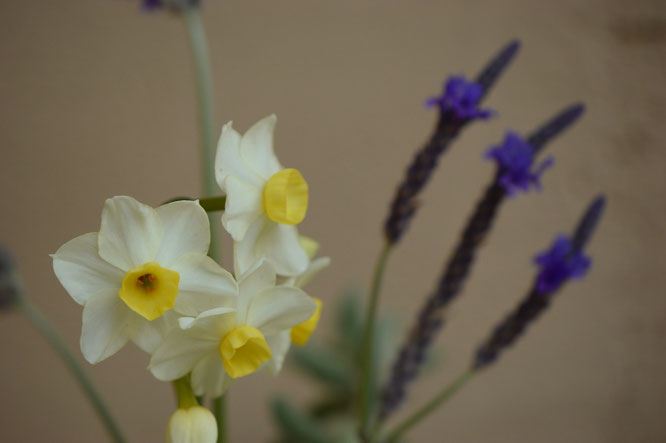 In addition, I used stems of Eremophila hygrophana for its blue flowers...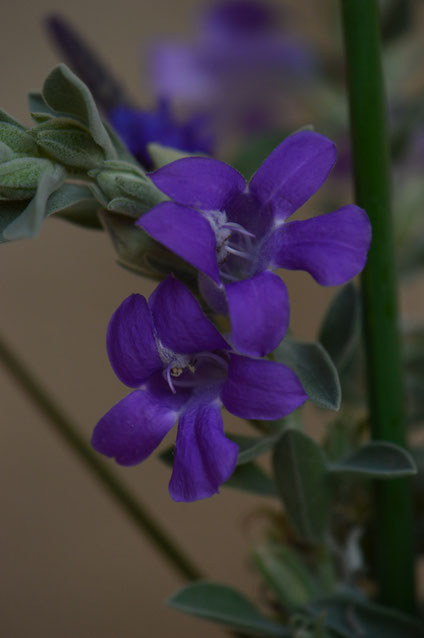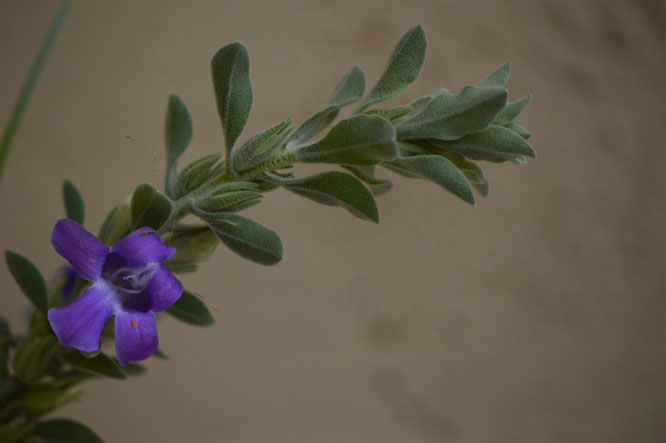 They all fit rather snugly into my little handthrown stoneware bottle.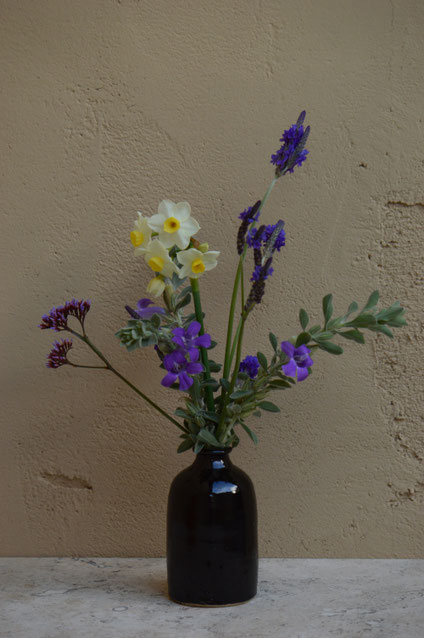 As there was only one stem of narcissus to use, it is less of an all-around arrangement, but the lavender keeps it interesting on all sides.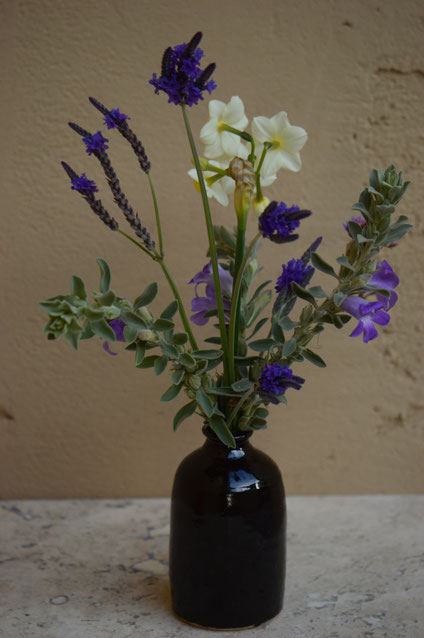 Today has been quite a blogging marathon, due to a late GBBD post and slow internet.  But here is this week's Monday vase!  Do check out Rambling in the Garden to find many other In a Vase on Monday posts.
Happy new week!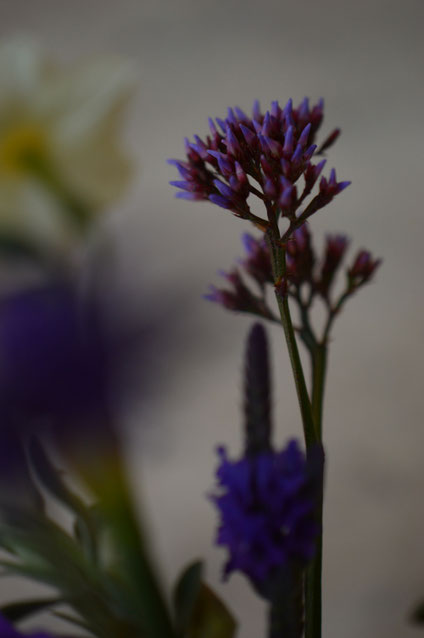 Weather Diary: Fair; High: 61 F ()/Low: 48 F (); Humidity: 49%-100%