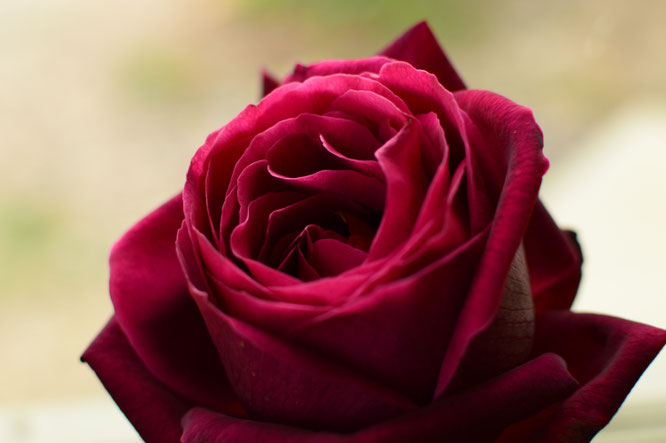 Cold, windy, wet weather was predicted for last night and today.  Apart from a few showers, it has turned out quite mild; but the prediction had already encouraged me to cut one flower for today's vase.  The enormous bud on the rose "Mister Lincoln" stood a good chance of being broken off or at least battered about if the winds blew in. 
So I cut it last night and slipped it into a vase this morning.  The rose had a beautifully long stem, so I tried one of my taller vases.  It was too wide for a single rose.  Then into another vase.  It was the wrong color.  Then...
Out to the garden to cut a few more flowers.  After bringing them inside, it was clear they would not help blend the colors at all.  So at last I cut the rose shorter and used my little stoneware bottle to hold it.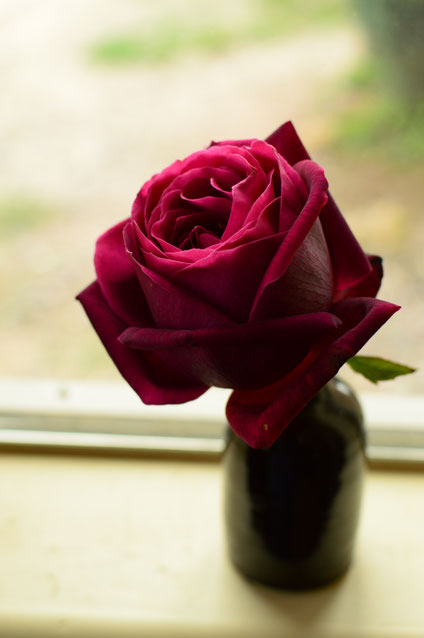 The color has blued since I brought the flower in, but it's still such a beauty.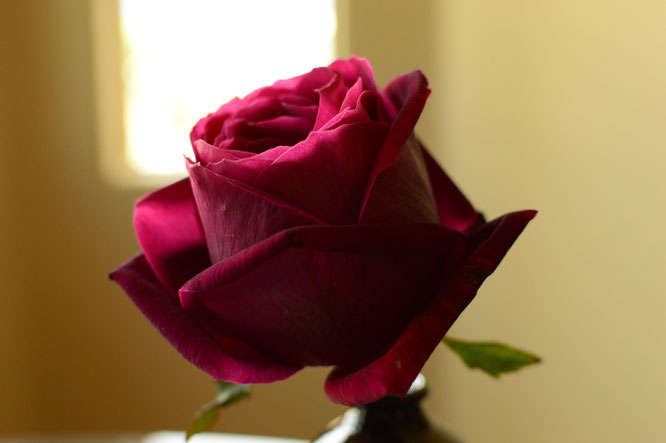 And it is big - over five and a half inches across and not fully open yet.  And fragrant.   Need I say more...?  (Actually I did, as I posted separately about the bush some weeks ago.)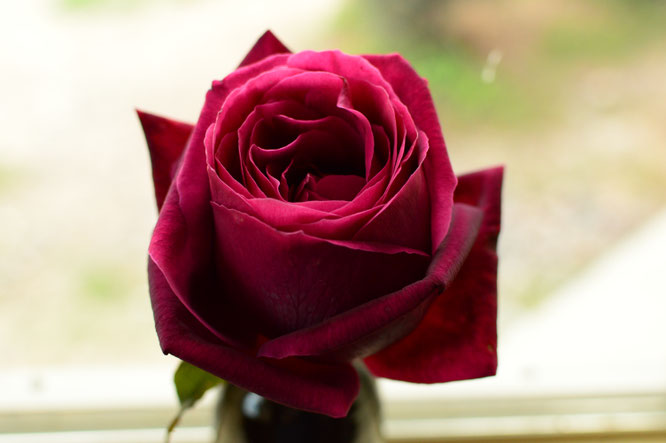 Here it is several days ago out in the garden.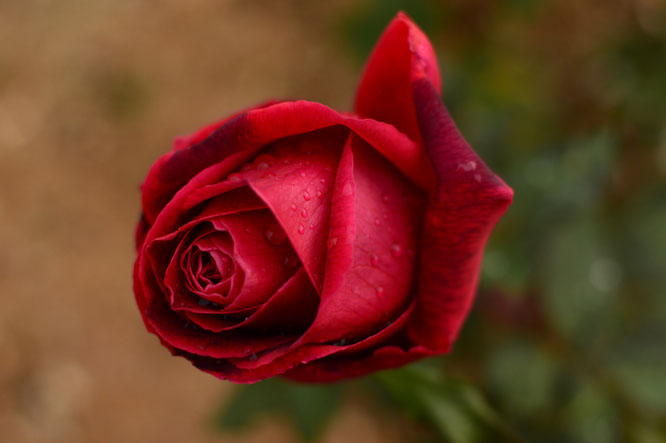 So then there were the extra flowers, which clearly needed a vase of their own.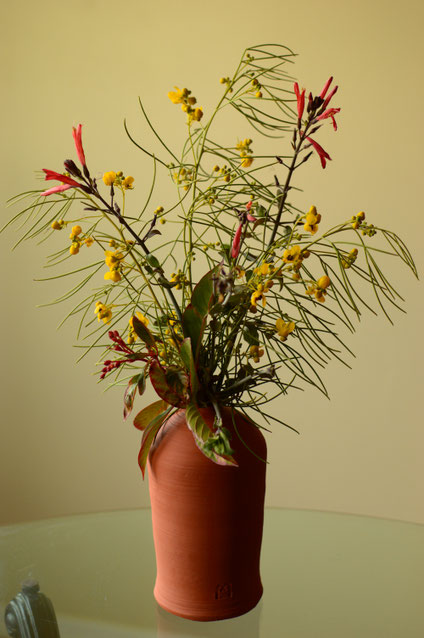 Several stems of Senna nemophila, which is in full bloom now (with a fragrance reminiscent of chocolate, I might add)...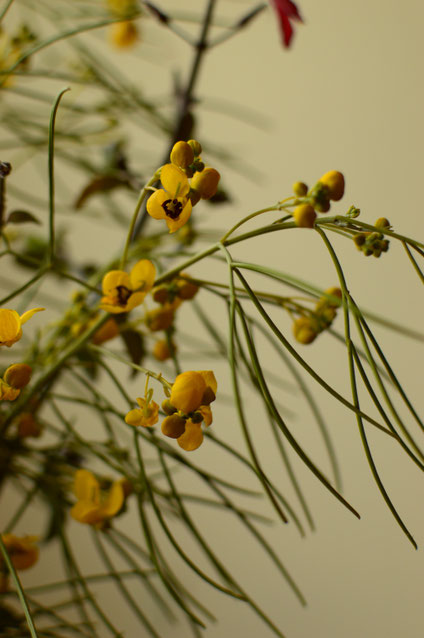 ...and a few blooms here and there from Justicia californica...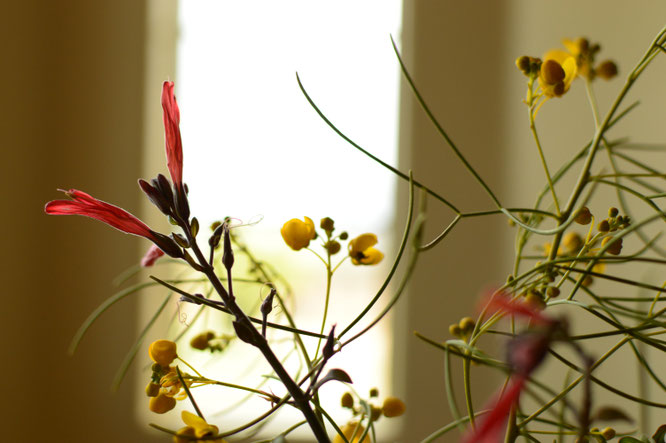 ...and a cluster of leaves and berries from Hamelia patens.  Not too many berries left now, but these are still bright!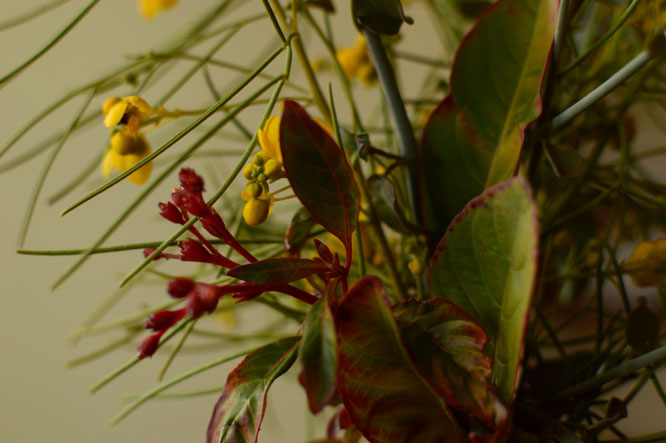 The year has certainly come in like a lion here; we have had more rain in January than I remember through all of last year.
Wishing everyone a happy week!  And do check the other vases at Rambling in the Garden, where Cathy hosts In a Vase on Monday!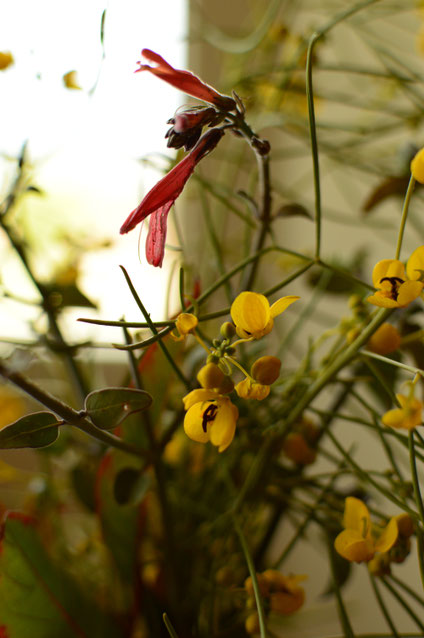 Weather Diary: Cloudy with rain showers; High: 59 F (15 c)/Low: 47 F (8 C); Humidity: 51%-100%