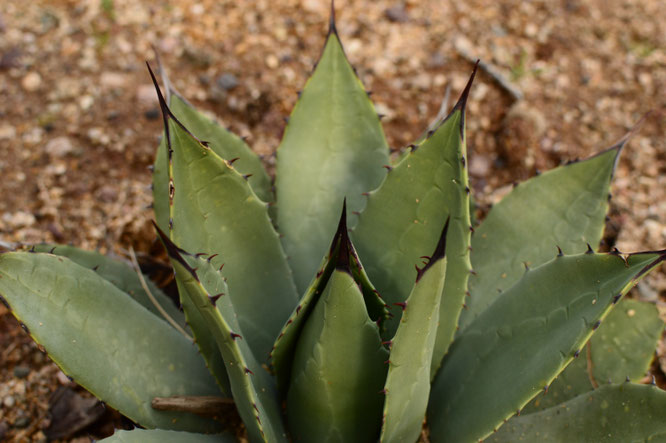 Learning which plants offer a good sense of structure for this garden has taken quite a bit longer than I anticipated.  I am sure that in a naive way I expected a one-to-one replacement from temperate zone gardens: (x)desert shrub = lilac, (x)desert tree = dogwood, (x)desert perennial = phlox, and so on.
Far from it.
The most confusing factor is simply learning the basic growth habits of a new set of plants.  An equally naive tendency leaves me forever expecting a sort of average habit: a bit bushy, a bit dense, medium sized foliage...  It's the imagination's three-dimensional version of those green circles one draws on a garden plan.  If I were familiar with the plants themselves, my mind could fill in the peculiarities of the plant habits; as it is, that's simply impossible till I've grown them a season or two.  Usually I at least manage to avoid moving them, relying instead on rebalancing with surrounding plants.  But it certainly makes me realize just how much instinctive knowledge we usually have when visiting a nursery!  With a whole new set of plants, I can't rely on that.
But of course, one can tell from the growth of the plant in the pot, no?  Umm... no.  Not with spindly little desert plants in 2.5 qt pots anyway.  They mostly look like scrubby little twigs at that stage.
So at two and half years into the garden, I am finding that the real workhorses of structure are often unexpected.  Here is a look at a few of them.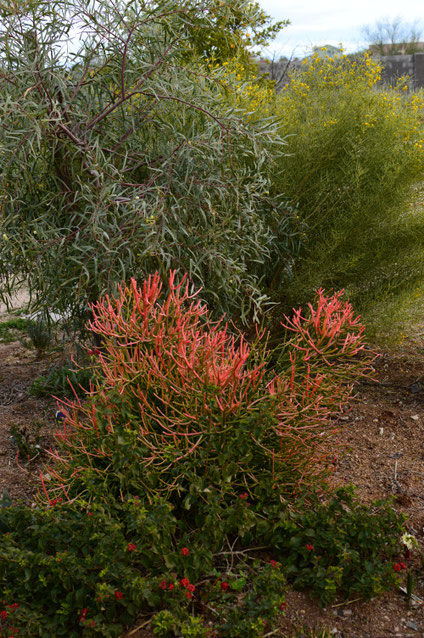 In fact, the very hardy succulents are becoming some of my favorite choices for firming  up a border.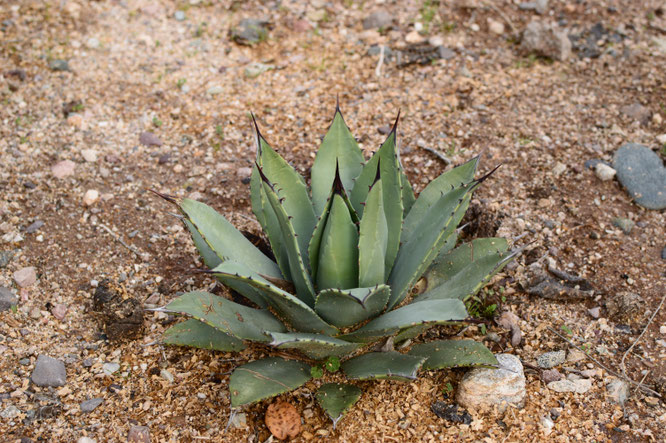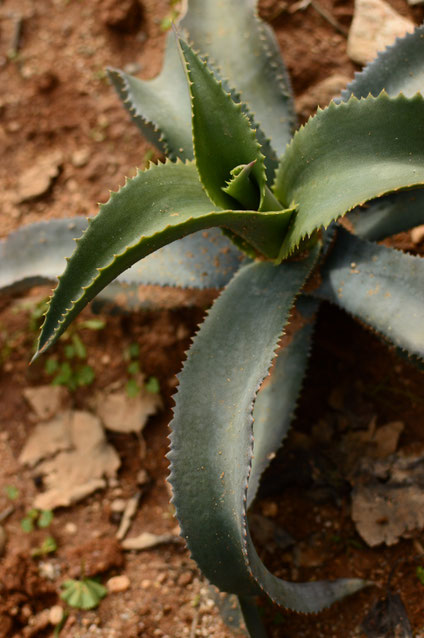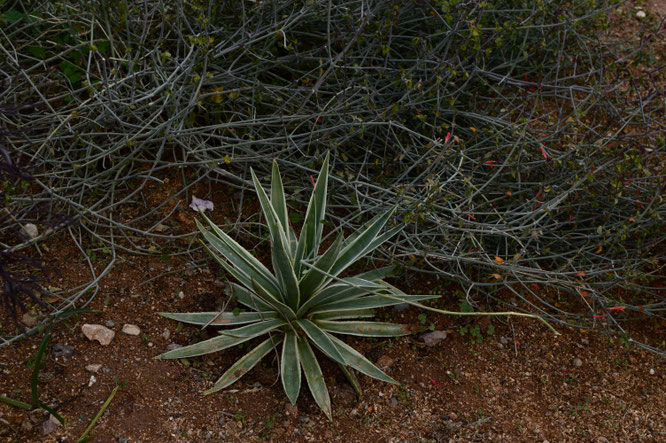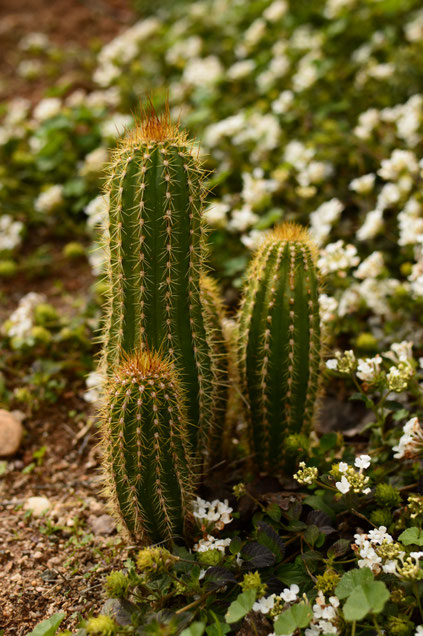 As most lavenders seem to grow large and shrubby here, I find they supply a fine sense of bulk to the borders.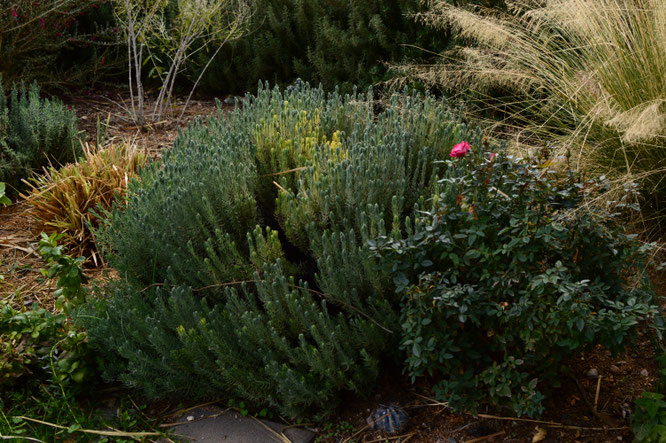 On the other hand, here is the very gentle form of my much-loved Eremophila hygrophana.  Many herbaceous perennials would have as strong a structural presence as this soft-stemmed shrub.  And yet E. maculata "Valentine" is emphatically shrubby, and E. x "Outback Sunrise" is a rollicking groundcover, woody only at the center.  How was I to know until I'd planted them?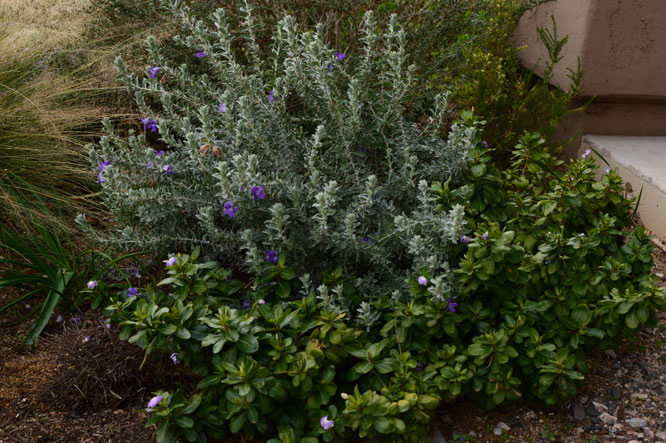 And finally, a genuine shrub!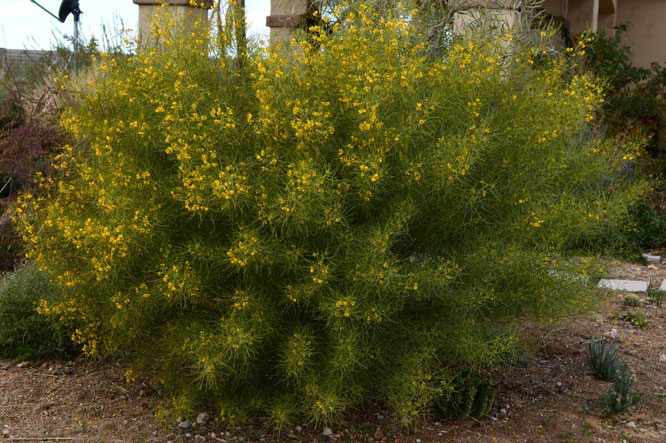 P.S.  Unfortunately, I've just had to delete several days' worth of spam, so Captcha is now on.  I dislike having to use it, but so far it is taking care of the problem.  But I still want my genuine readers to feel free to leave comments!
Weather Diary: Partly cloudy; High: 73 F (23 C)/Low: 44 F (7 C); Humidity: 22%-72%