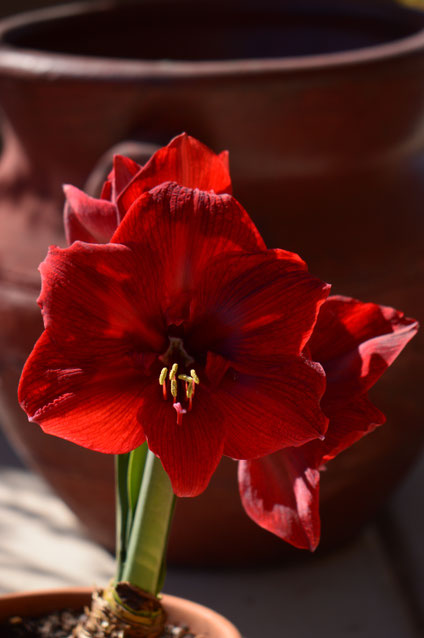 As the third bloom stalk is now in full flower, I thought I had better share a photo or two from Hippeastrum "Miracle".  Purchased last autumn and grown in a pot on the patio, it has been exceptionally floriferous.
After all, it has been in bloom off and on since just after Christmas!  Three bloom stalks full of rich red petals and gold stamens.  Weeks worth of bloom.
Cool, dry, outdoor conditions keep the Hippeastrums from getting as leggy here as they always did when I grew them indoors.  But this last stalk is quite short even so.  Still with a full head of four flowers, though!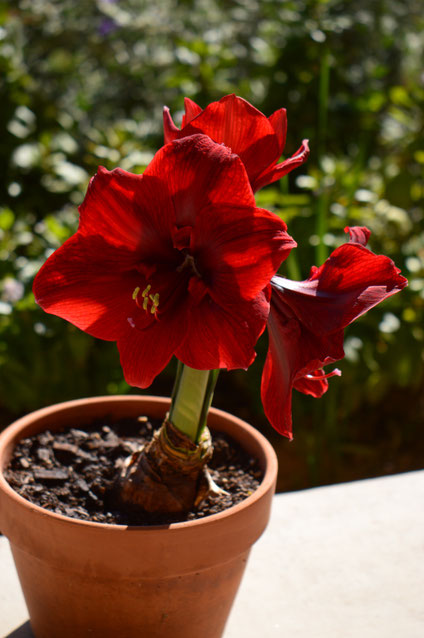 In containers they grow and bloom well in the shade of the patio.  The cooler outdoor temperatures inevitably slow them down a bit during winter bloom, but they seem so much happier and healthier this way that I haven't had the heart to bring them back indoors.
The two bulbs from each of the last two Christmases have been planted out into the garden after their initial bloom, but neither of these is near flowering yet.  They seem to move onto a spring blooming cycle once they go into the ground, and they can bloom (and rebloom) surprisingly late.  With their enormous flowers, vibrant colors, and spring bloom season, they play somewhat the role of border tulips here, but perhaps with even more panache.  The color range is more limited, as it does not include yellow or purples; but the flowers are spectacular.
Meantime, we are also enjoying "Exotic Star", my sister's selection this year.  Just lovely!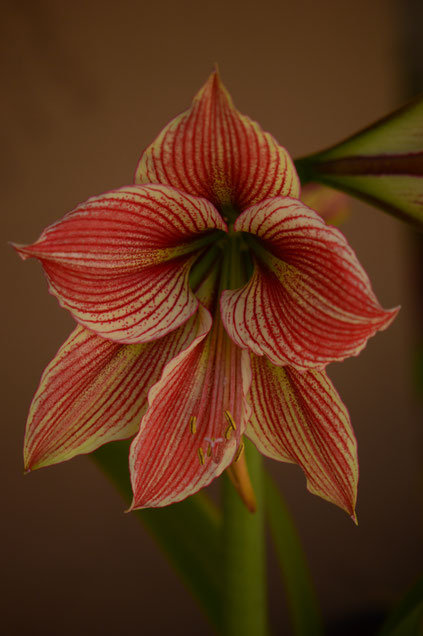 Weather Diary: Fair; High: 81 F (27 C)/Low: 53 F (12 C); Humidity: 32%-86%  Yes, we are now topping 80 F here...