February is a short month, and I have allowed two memes to creep up and past me: Garden Bloggers' Foliage Day at My Hesperides Garden and the monthly favorites posting at The Danger Garden.  So I will slip them both in here, with apologies to Christina and Loree respectively!  And as this will be a fairly casual post, I will then ramble a little further.  After all, it is spring in the garden...
First are a couple of February favorites.  One has to be Senna nemophila.  In bloom since January, it has become a splendid shrub, around five feet tall now, soft and billowy and full of golden yellow bloom.  Here are some pictures I took the other day.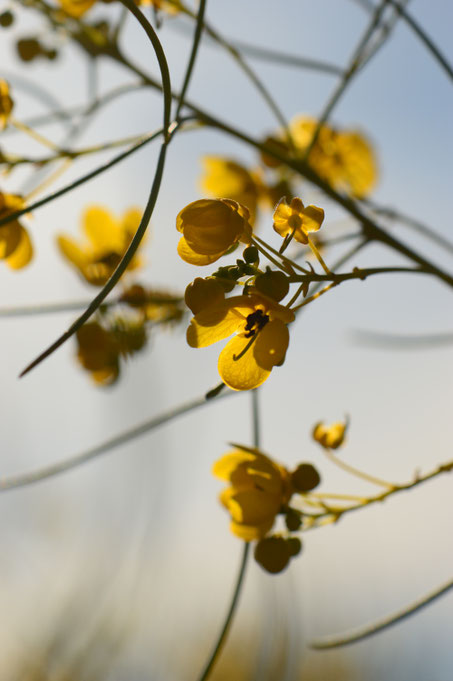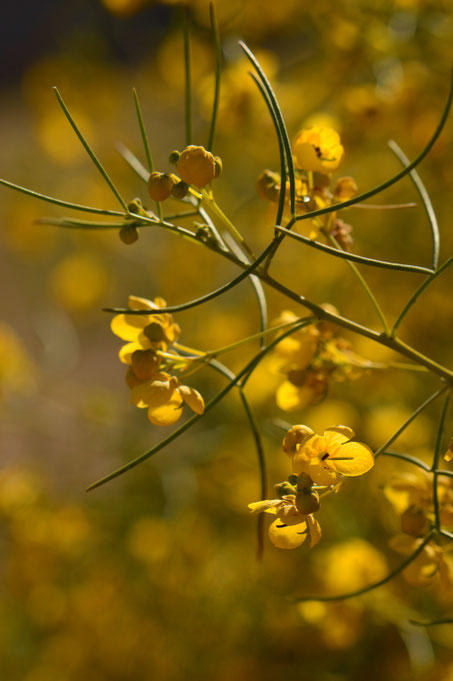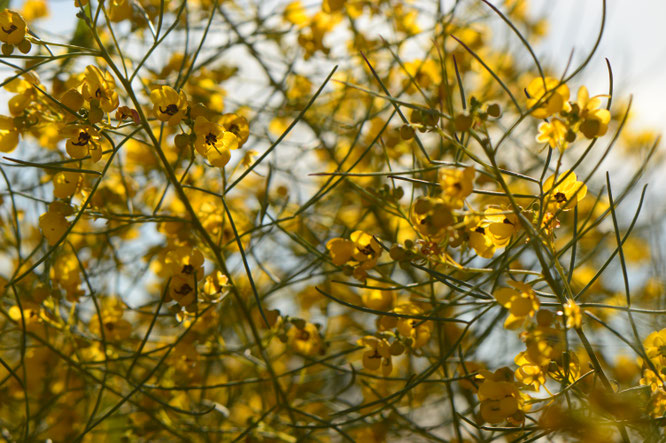 There have also been the narcissus.  Tazetta varieties have been blooming off and on since late December, but they have reached their peak this month.  Here is the current stand, glowing against the dark foliage and bright pink flowers of Eremophila maculata "Valentine".  I am rather pleased with the combination.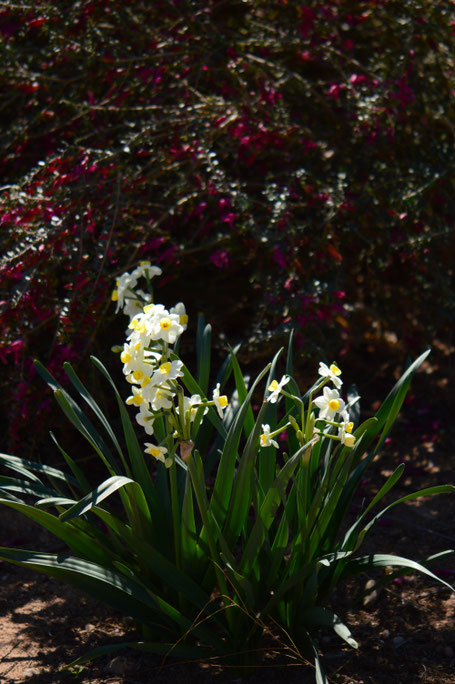 Unfortunately I don't know the name of this narcissus, though I would think it is probably part of the paperwhite family.  The most wonderful thing about it is that the clump is thicker and more floriferous this year than it was last, unlike some of my spring bulb attempts!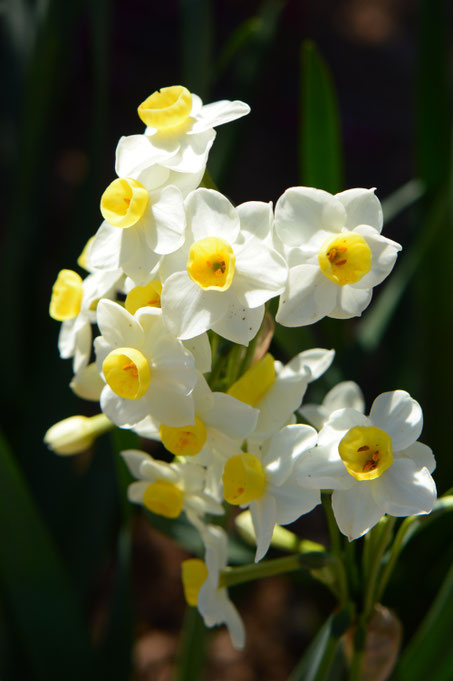 And now on to the foliage for February.  This is a celebration of the beauty of new leaves on the pomegranate bush.  Punica granatum has such lovely new growth!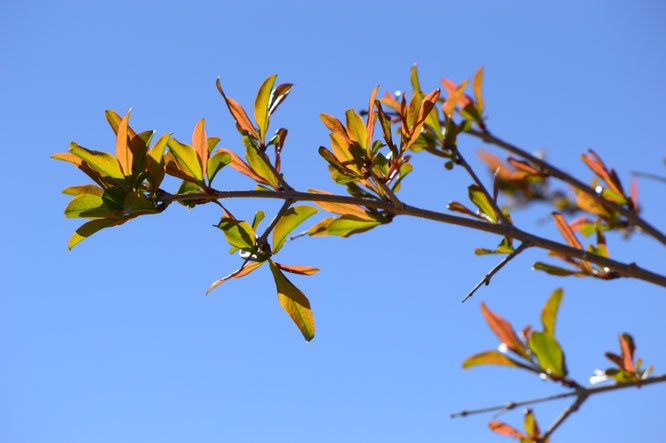 Deciduous woody plants play a different role here than they did in my earlier garden, where they were the mainstay of garden structure because evergreens, both broadleaf and needle, were often difficult to grow.  Here it is the deciduous shrubs that are always a bit of a surprise to me.  I particularly enjoy the way the pomegranate leafs out just when I feel it should, just as the season turns unmistakeably into spring.  This is a far cry from the very late greening up of my Lagerstroemias, which wait so long that I simply can't believe they are still alive.  Not even a little early swelling of buds to reassure the nervous gardener.  Stressful plants, those!  They make up for it, of course, with a magnificent season of growth and bloom.  But you see that I am grateful to the pomegranate for its timeliness!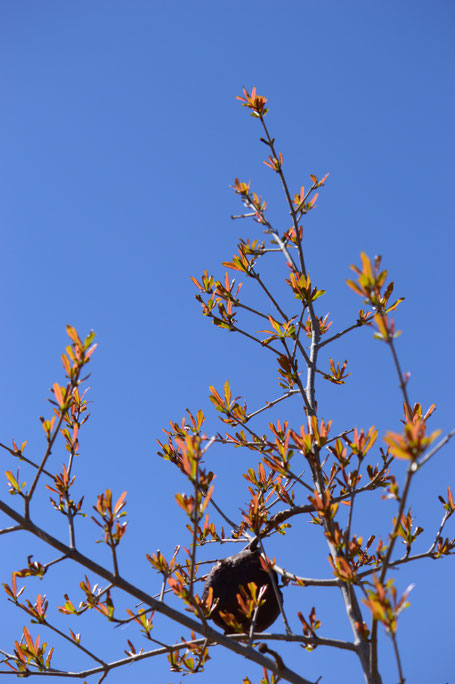 And now on to a brief ramble because today I pruned the mighty Wollerton Old Hall, which had clambered some six feet or more and tried to crowd into the patio.  I am looking forward to the new season with this vigorous rose, and in the meantime it was pleasant to discover more self-sown sweet peas from last year's planting at its base.  This year's sweet peas have gone into the South Border, but I am glad there will be a few here in the Central Bed again as well.  
Other than that, the pruning shows  just how big a gap I have on one side of the bed, a gap left by the refusal of Cistanthe grandiflora to survive the summers here, plus the disappearance of Mirabilis jalapa as well.  I am making plans to fill some of the space with Hesperaloe parviflora; I can pull a pup off one of the plants on the west side of the house.  As well, I should probably move Salvia greggi "Flame"(that small green blur in the middle of the picture) to the outside of the bed as it remains fairly low-growing despite its rambling spread.  I avoided that last year as I do love seeing its flowers just below Wollerton Old Hall.  But it gets visually dwarfed by the rose and Russelia.
The large-leaved plant behind is hollyhock "Creme de Cassis", planted out last spring, the lone survivor of a small batch of seedlings.  It looks set to bloom this year, though.  Hollyhocks have a good reputation here, as the leaf ailments common in moister climates don't affect them in our very dry conditions.  So says report, at any rate.  This will be my first year to see them in bloom here.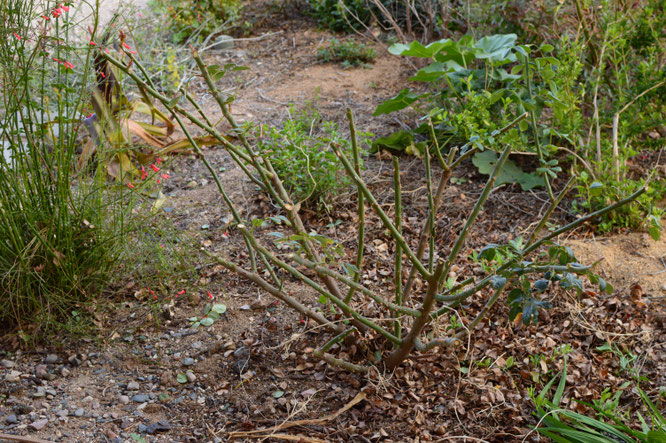 Otherwise, the great event in the garden continues to be the blooming of Alyogyne huegelii, featured in my last post.  This one is a replacement for the original, which died as last summer burned on and on.  The new plant has already grown much more healthily and is blooming more freely.  Unlike its predecessor, it is planted at the bottom of the North Border, in a fairly heavy (though well-amended) soil.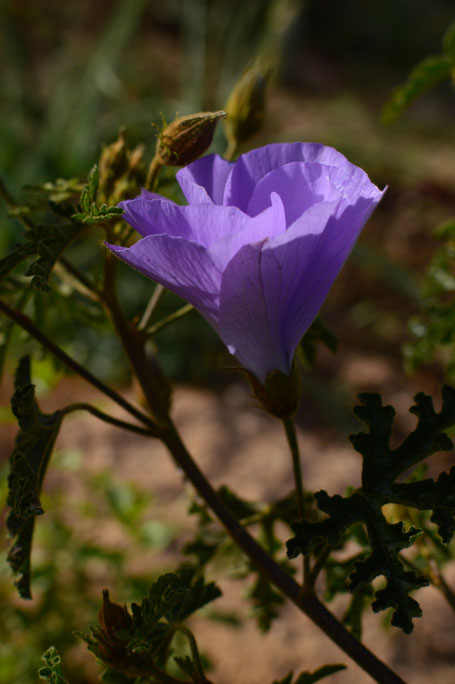 And with that I will end today's ramble.  There is much to be done and much to be enjoyed in the garden right now.  This evening or tomorrow I hope to dawdle out with a pencil and paper to take notes on where to plant next year's bulbs and annuals, in order to flesh out the borders during this season of trimmed-back perennials.  It is a strange feeling to have the garden full enough to do this!  Two and a half years on from bare soil...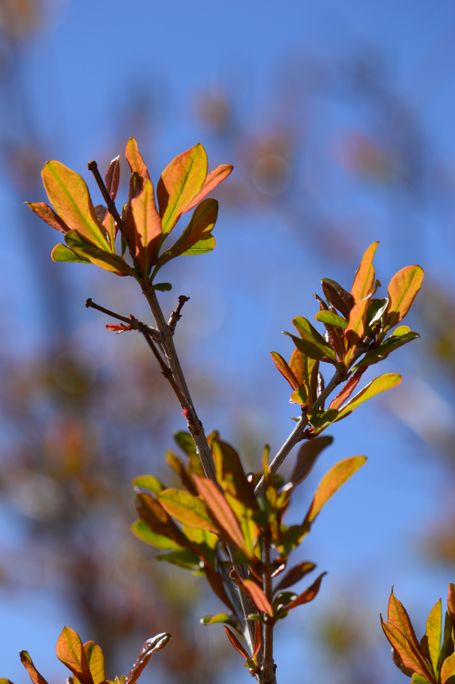 Weather Diary: Fair; High: 65 F (18 C)/Low: 37 F (3 C); Humidity: 17%-76%