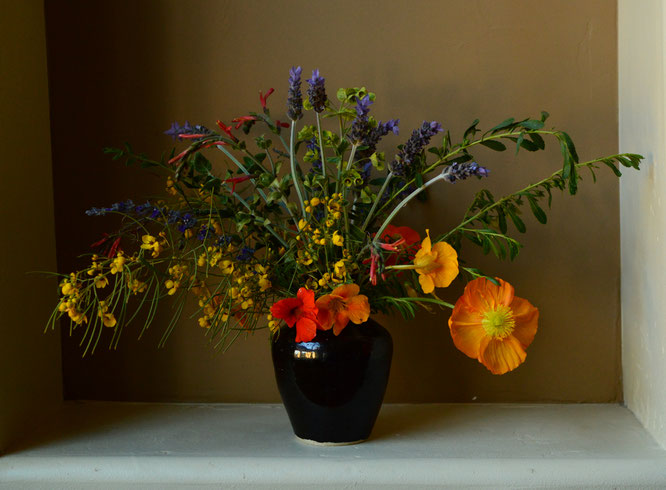 Today's vase was a treat to do, especially as it contains flowers I've not used before.  My sister offered me some of her wonderful nasturtiums, and I used quite a few.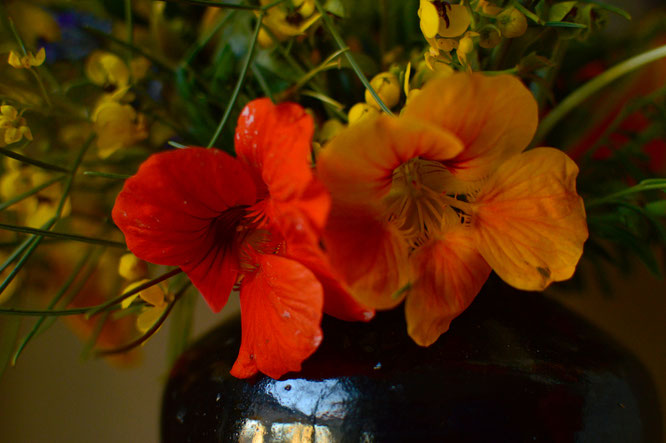 Then there was the Iceland poppy, from a potful purchased last Friday.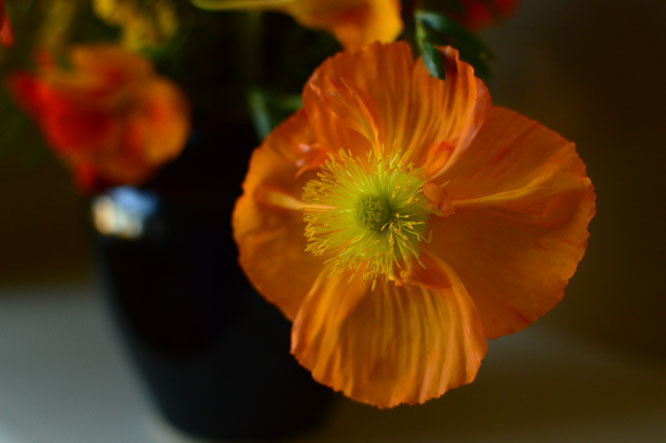 And in the same shopping spree I picked up Euphorbia x martinii "Ascot Rainbow".  It was something between a well-thought-out purchase and an impulse buy, as I have wanted to try one of the non-thorny Euphorbias and this was the first that I have found for sale.  I am really not sure how it will like conditions here, but I will put it in the ground and find out!
Here it is with Lavandula dentata.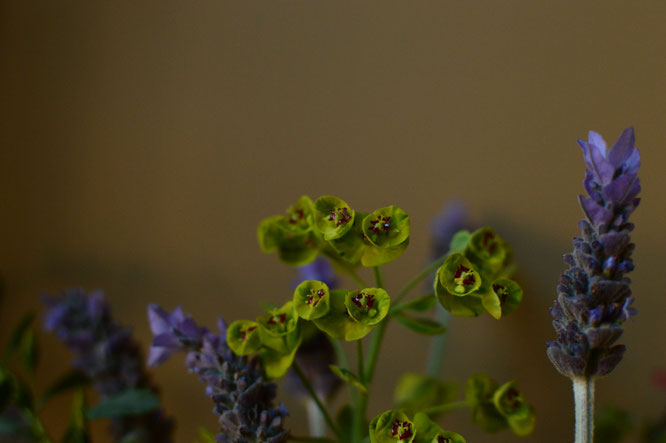 There is plenty of lavender right now.  L. dentata has performed magnificently all winter, but there is also still plenty of L. x "Goodwin's Creek Gray"...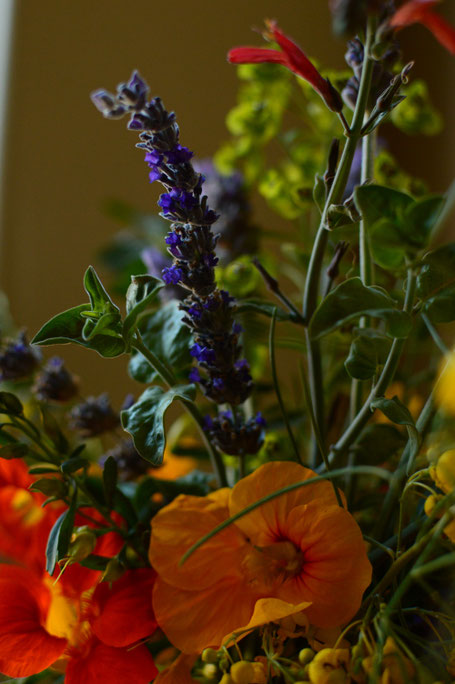 I also used plumes of Senna nemophila.  It is winding down a very long bloom season, but there is still plenty of flower.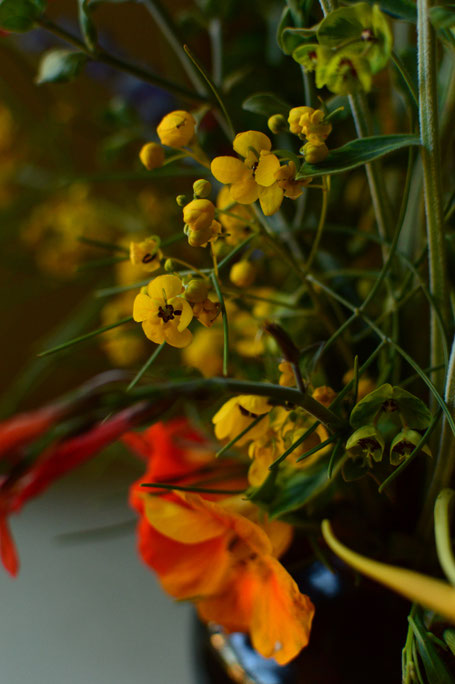 And there are stems of Justicia californica to add some dashes of red.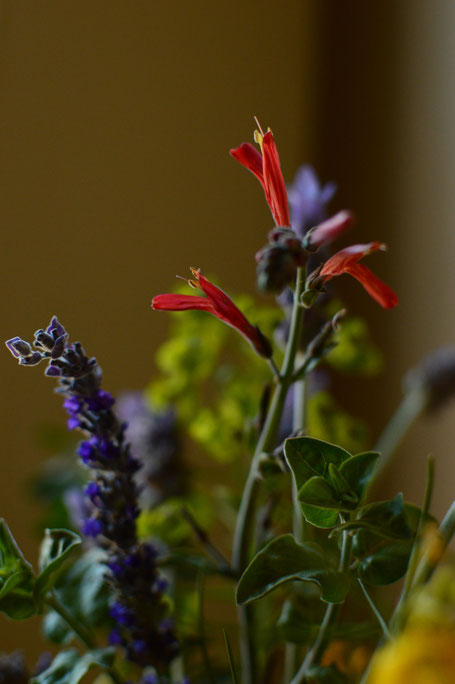 There is also a plant I have had for a long time but not gotten to use for many months: Eremophila x "Outback Sunrise".  It is a groundcover plant, woody at the center and apparently capable of spreading indefinitely with even a little bit of water.  I was forced to remove it (or most of it) from the South Border last year, and I transfered some rooted stems to the East Border, where its sulphur yellow blooms are in keeping with the overall color scheme - which was certainly not true in its previous location!  The East Border is broader as well, and I hope to keep the plant satisfactorily in check here, as it has many good qualities.
Among these are deep green, weed-defying foliage and quietly pretty greenish yellow blooms.  Here it is with the new Euphorbia.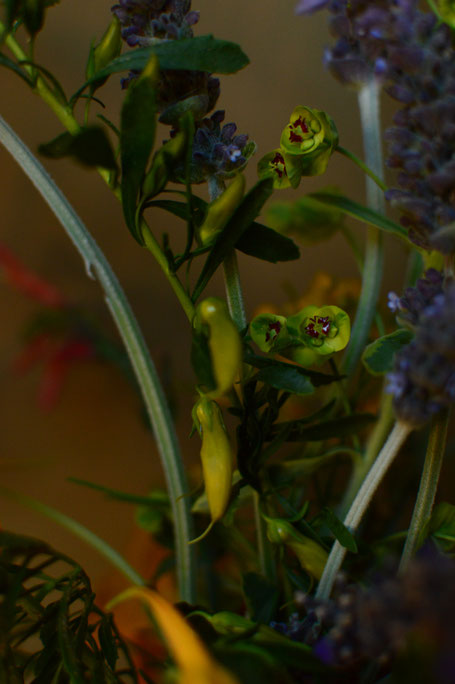 So, what with borrowed flowers and new and old ones, I had a vaseful of bright yellow and orange.  I used one of my handthrown dark-glazed vases, which worked well with all that color.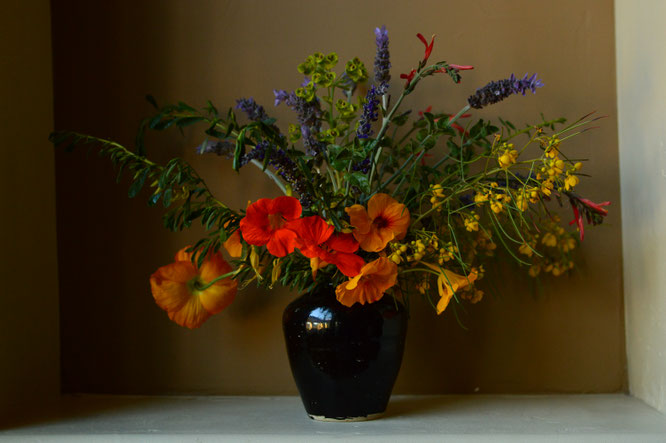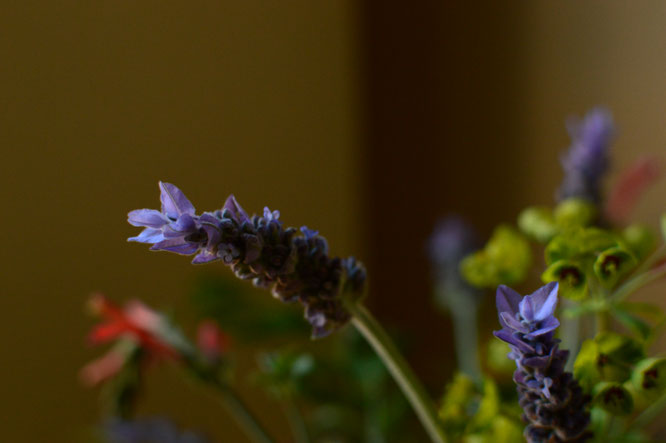 Weather Diary: Fair; High: 66 F (19 C)/Low: 46 F (8 C); Humidity: 19%-71%