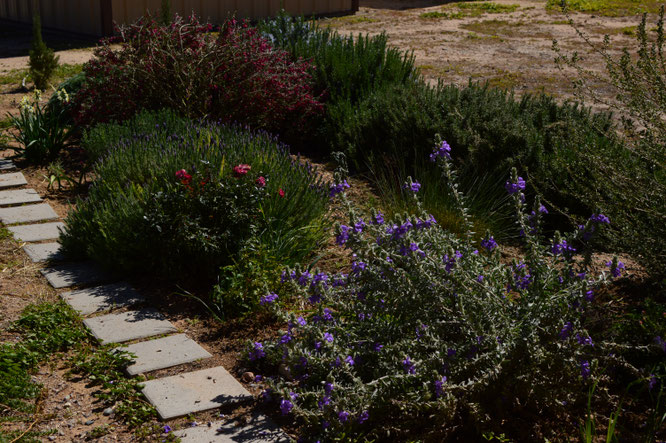 It is very springlike in the South Border now.  The most noticeable new development at the moment is the mass of lavender bloom just starting to open. in this case Lavandula stoechas "Madrid".  L. s. "Blueberry Ruffles" is always a bit behind as well as a good deal smaller.  
I'm enjoying the effect as "Madrid" and its miniature rose neighbor grow together.  Although I'm getting a bit nervous too, as I can't figure out where either will stop!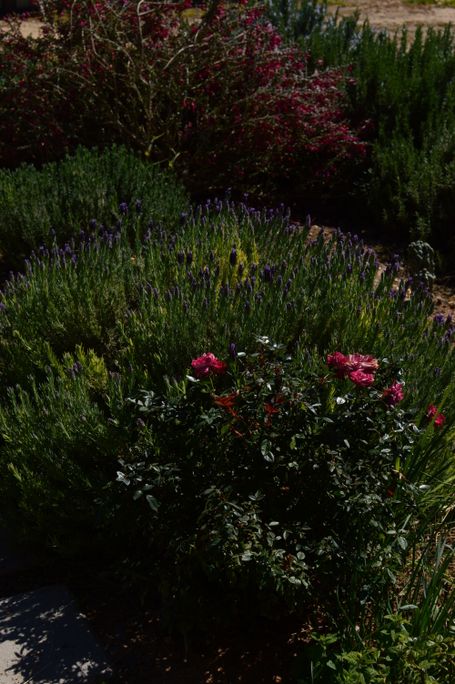 As the weather warms, there are good things and bad in the border.  I must recheck my young sweet peas, which were getting much too dry earlier today.  I've been unable to buy my usual heavy-duty mulch (pelleted sawdust normally used for horse bedding; some of you may remember my experiments with it during the garden's first summer).  I put a light mulch of composted manure over, but apparently it hasn't been quite enough and things have been drying out.  I hope all will be well as I'd hate to lose my main crop of sweet peas for the season!
Further down the border my new Penstemon parryi is putting out a bit of bloom.  It's still a bit wispy, as are the flowers.  I hope it will fill out quickly as, in its full glory, this is among the most elegant of Arizona native perennials.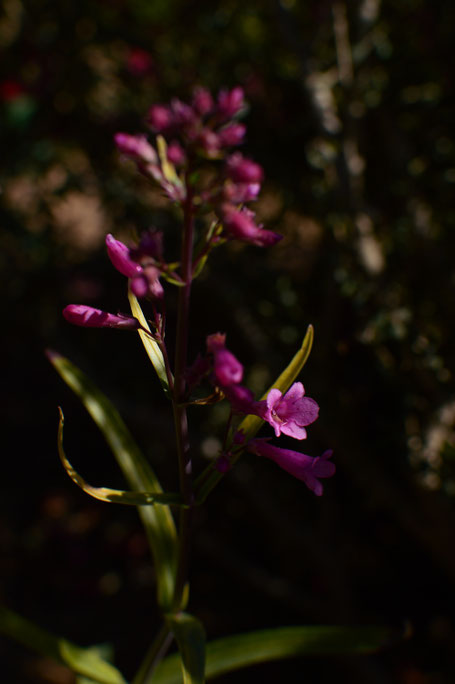 My old Penstemon parryi is not so far along toward bloom.  I'm really not sure what it will do this year as it has become quite overshadowed by the rapidly expanding Eremophila maculata "Valentine".  I didn't want to risk everything on an attempt to transplant it as it seems likely to have a temperamental taproot.  With a couple of kills behind me, I have become wary of transplanting desert natives!  So I decided to replace this plant first and move it after...  
In the photo below, you can see just how crowded its position has become.  This was due to an identification error when I brought the plants home and, in the height of my inexperience, thought the (unlabelled) Eremophila in question was the low-growing E. x "Outback Sunrise"!  Live and learn!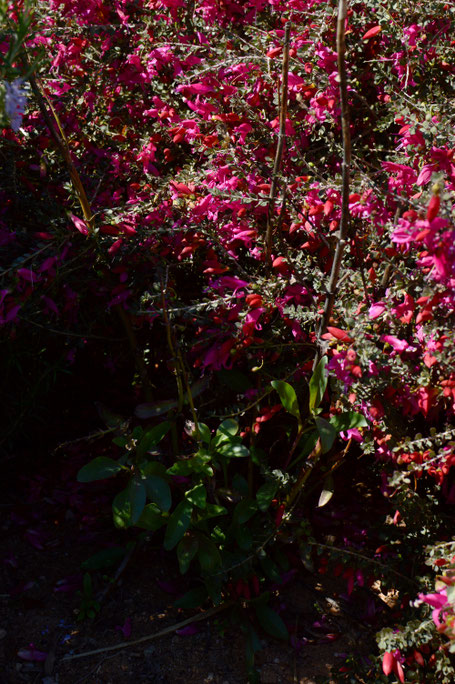 And then there is the lone tulip bud from Tulipa saxatalis.  I planted five or six of these originally.  They bloomed well last year, but now they are going the way of so many bulbs here: dwindling down to unblooming foliage.  As this is the most commonly recommended tulip for low-chill climates, it seems my problem is something other than lack of freezing temperatures.  Too bad, as I would love to grow these and little T. clusiana var. chrysantha.  Perhaps as I go on I will learn what is at the bottom of so many bulb failures here, but at present I am mystified.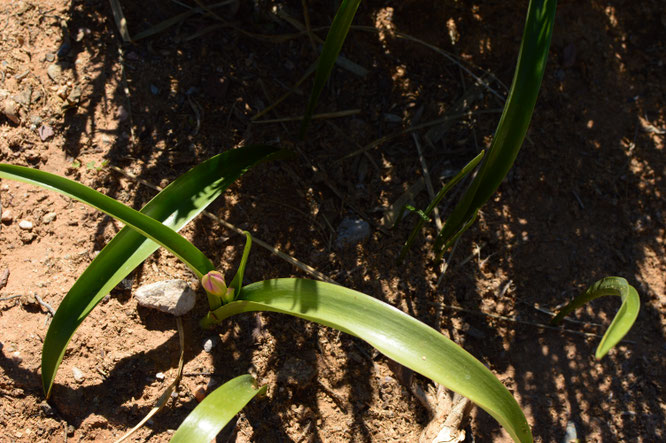 On the other hand, the paperwhite narcissus varieties are proving most reliable!  Here is my noID narcissus in front of Eremophila "Valentine" again - both still blooming heavily.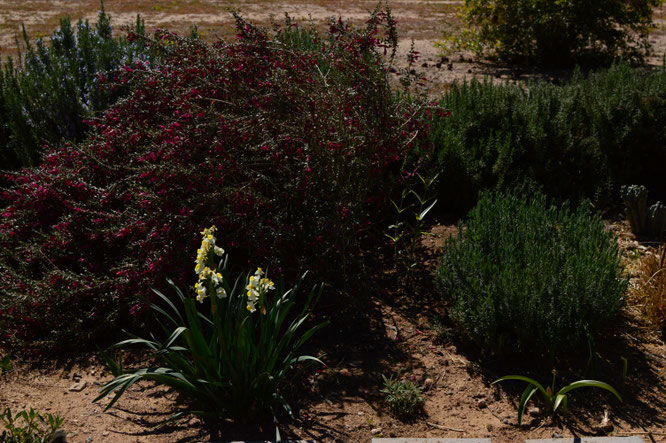 Well, this spring is proving time for a good deal of enjoyment of now-established plants as well as plenty of dither over some significant gaps in the borders.  In the South Border, the worst of it is coming from the seasonal gaps created by trimming back the ornamental grasses.  I suppose that is the stage the garden has reached (and the gardener!).  Thanks to Cathy at Words and Herbs for hosting the Tuesday View meme, which has certainly helped me focus on working through the growing pains of one border, at least!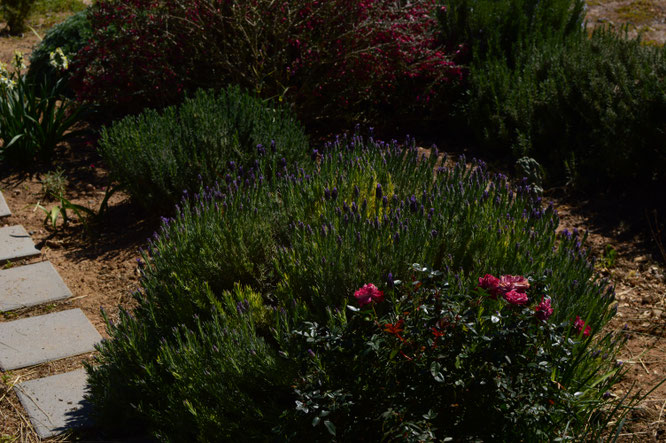 Weather Diary: Sunny; High: 74 F (23 C)/Low: 46 F (8 C); Humidity: 16%-74%