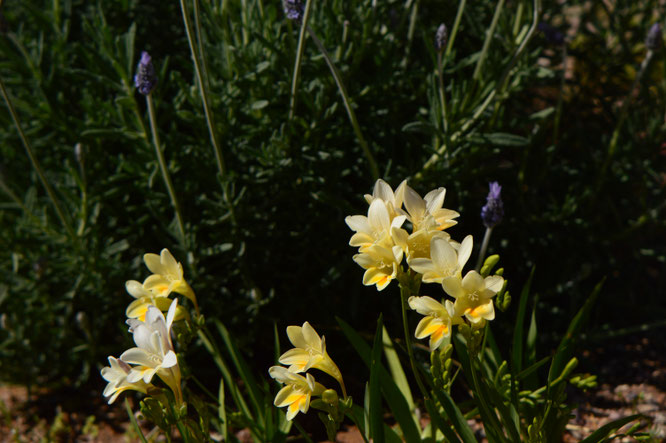 As spring warms, they are arriving: clusters of exquisite white and yellow, sweetly fragrant blooms, richly petalled and with stars in their throats.
Freesia alba has arrived in the garden.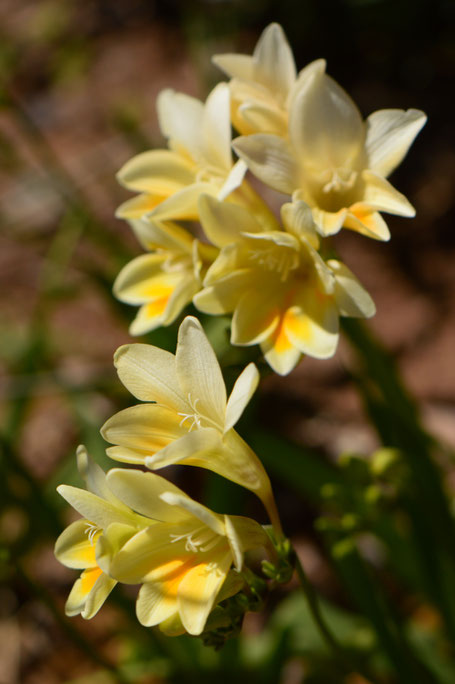 Not surprisingly for a wild species, they are diminutive, both plant and flower, in comparison with the more common hybrids.  I fell in love with them from afar one day while looking at Diana's blog, where she tells about these and so many other lovely South African native plants.  But while some of her plants would be unlikely to thrive here in the low desert, I felt that the freesia was well worth trying.
And try it I did.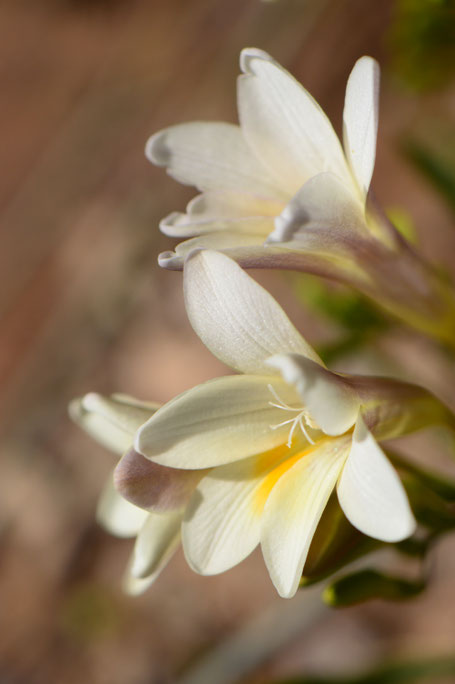 My batch (ordered from Bill the Bulb Baron, who kindly made it a baker's dozen) has so far consisted primarily of blooms of pale yellow with a deeper yellow patch.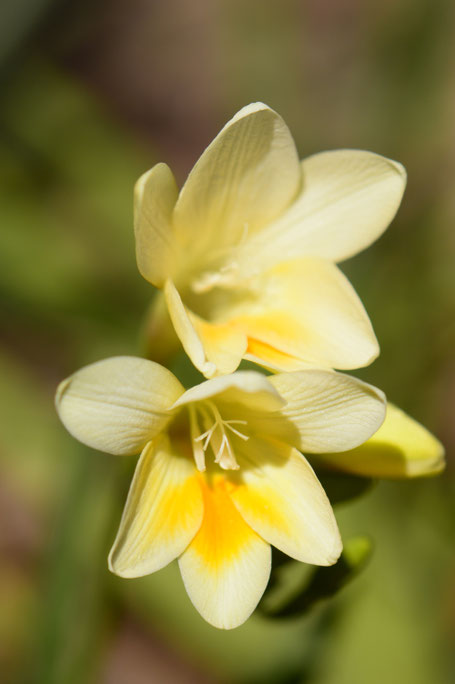 But one is distinctly whiter, with pale lavender petal backs.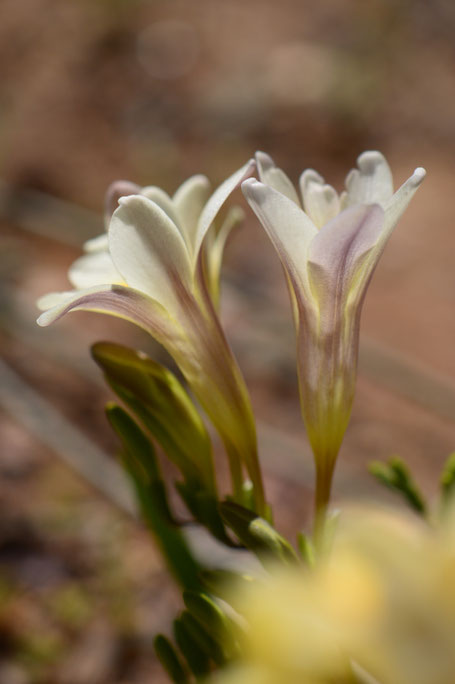 Here are the two colors side by side.
According to Wikipedia, Freesia alba is variously listed as a species to itself or as a subspecies: Freesia leichtlinii subsp. alba.  Whichever they may be, they combine elegance with good cheer in the spring garden.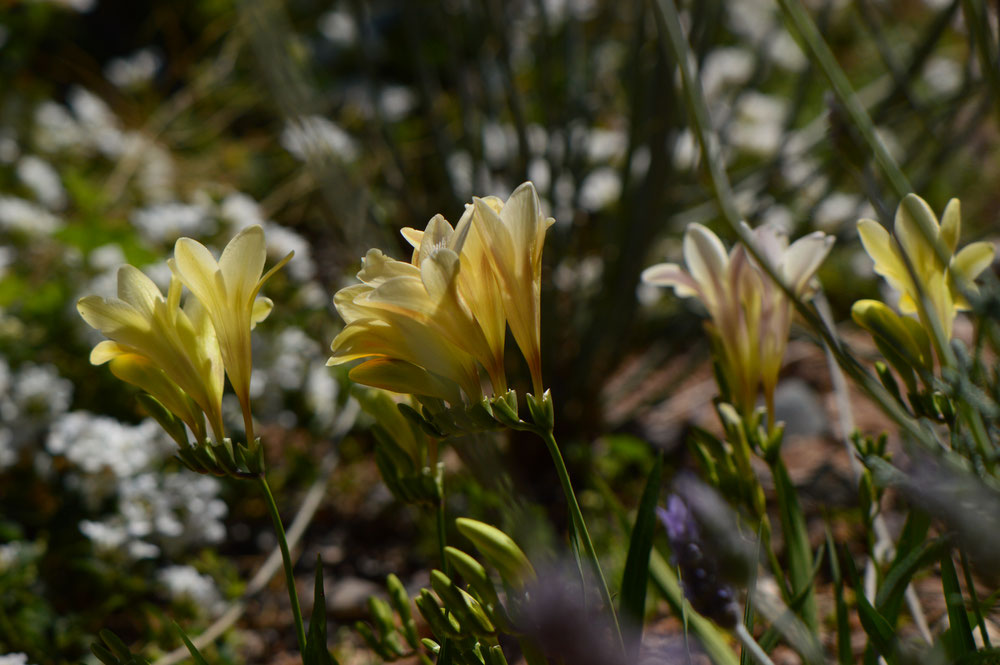 They are said to be even more fragrant than the hybrids, but I have not tested that yet for myself.  They are a different flower in any case, at once daintier and more robust.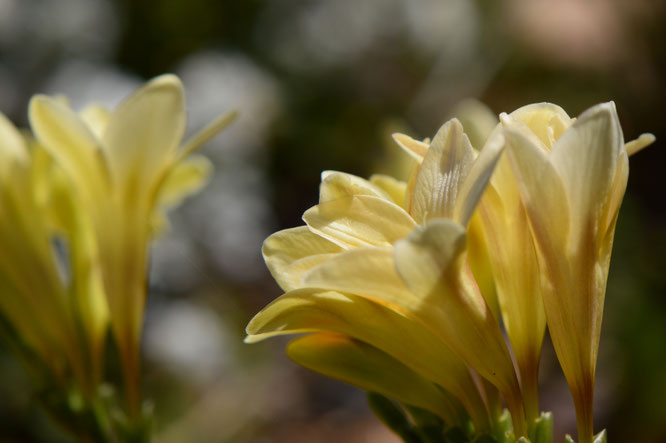 I have them growing in two patches: the first in the White and Silver garden is blooming profusely, while the second at the corner of the East Border is coming more slowly.  That it exists at all is tribute to the sturdiness of these little bulbs.  The second batch was eaten to the ground as soon as it appeared and, in some cases, munched down once or twice more.  There is still a good showing however!
In the White and Silver garden, they are planted between Lavandula dentata and Asclepias subulata, the desert milkweed.  Its gray stems are still leafless, but new stalks are arising.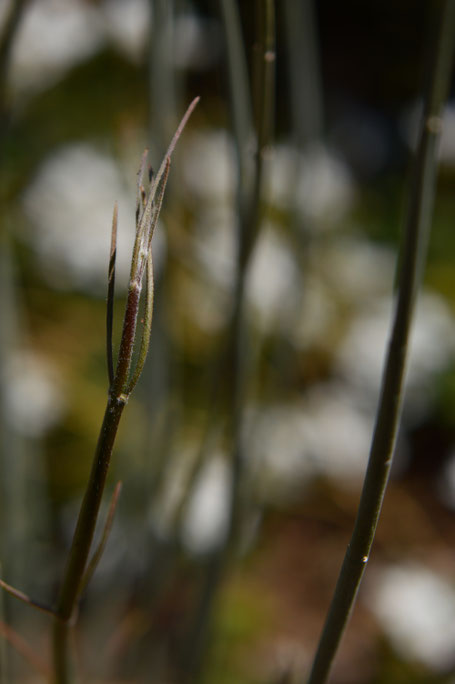 The freesias form a burst of color between it and the lavender.  If the latter continues to grow as it has been, I will have to dig the freesias out from under it soon!
But for now they grow in the glow of the sun...
...in full clusters of scent and color.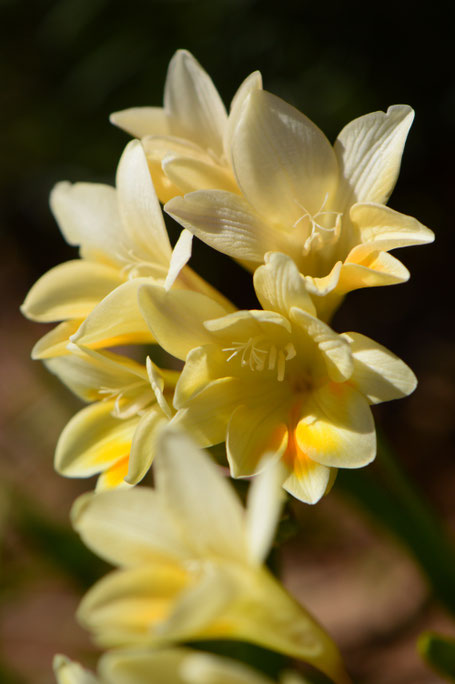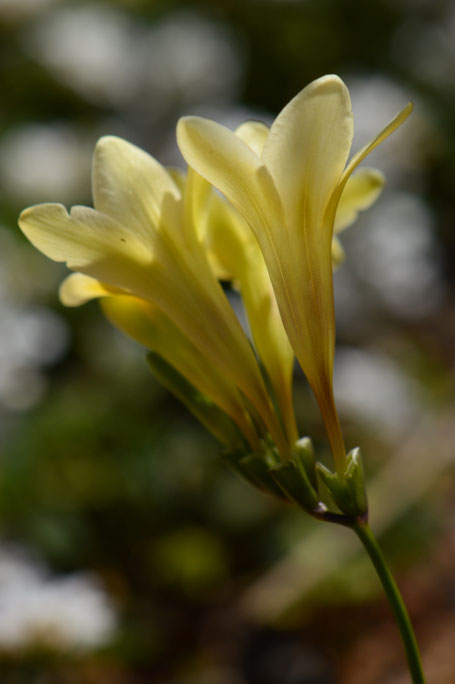 Weather Diary: Sunny; High: 87 F (31 C)/Low: 54 F (12 C); Humidity: 17%-71%