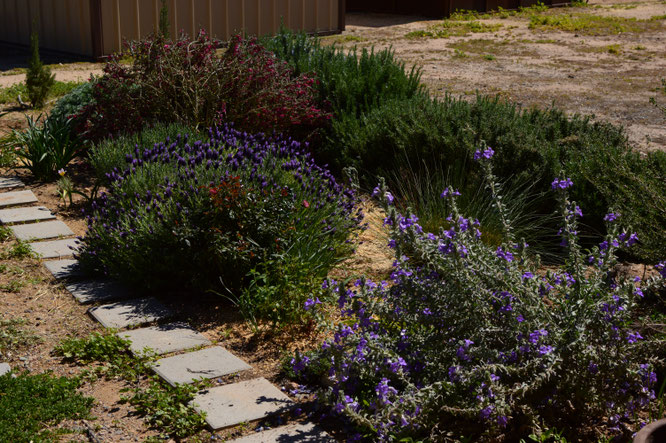 This week there is no doubt about the burst of bloom from Lavender "Madrid".  It is in full glory, much to the delight of bees.  Its very deep color is an asset in the now-intense sunlight (compare with a cloudy day just two weeks ago).
The Lavandula stoechas varieties are distinctly seasonal here, so I relish this mass of bloom while it lasts.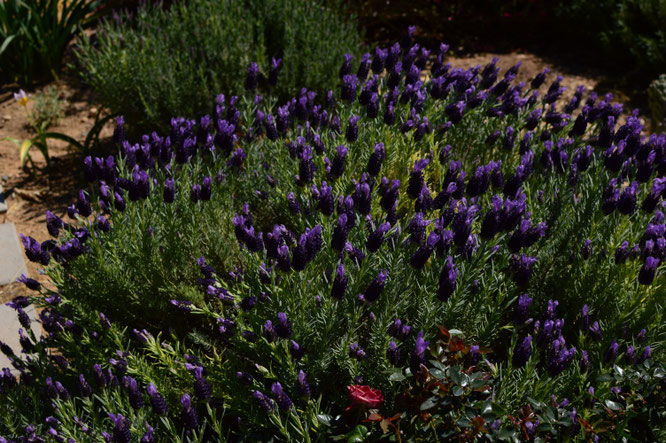 There is a second variety of L. stoechas in the South Border; this is "Blueberry Ruffles".  It is a much smaller plant, and its coloring is softer.  I thought it was bluer as well, but that does not appear to be the case at present!  The first blooms are just beginning to open.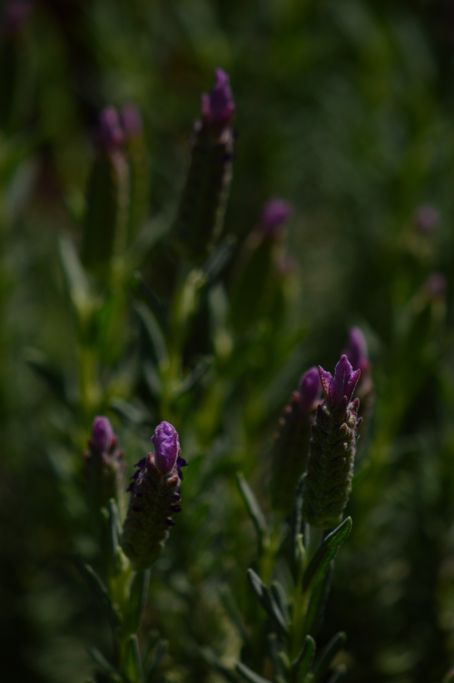 At the front of the border, the little space between "Madrid" and Eremophila hygrophana is filling up as Salvia "Summer Jewels puts on a little more growth.  The miniature rose to the right (the one that blooms with cream and pink flowers) is taking its time about growing out.  Although healthy, it is proving much slower than the bulky Kordes "Lavender" to the left.  So far the Kordes varieties have been the most vigorous, and it's worth noting that they are the ones sold in the garden centers here for outdoor use.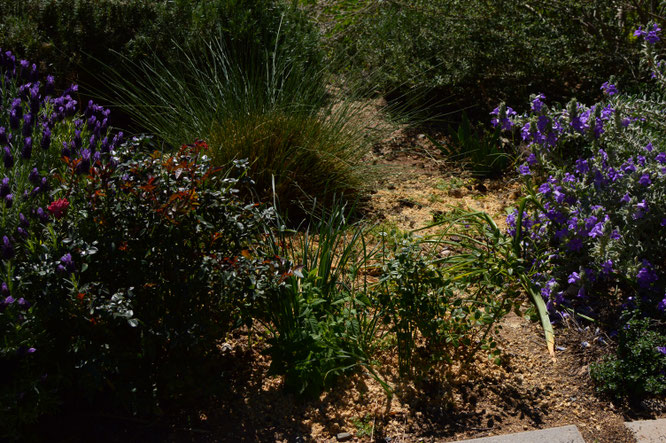 A little bit lost - and most unfairly so - in the excitement over the lavenders, is the blooming of Ozothamnus diosmifolius.  This Australian native is tucked into the top corner just next to the patio, so it rarely shows in my photos.  Although not small, it is a wispy thing, easily lost in the mix.  Here you can see it from the patio edge.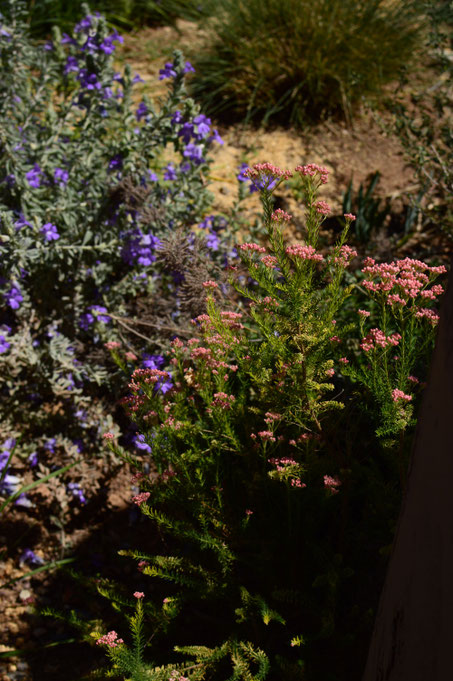 It still shows some yellowing from fairly severe chlorosis last summer, but it has recovered much better than I expected.  As a matter of fact, I was thinking seriously of removing it and trying it out in a container, but on the whole I much prefer keeping it here in the border.  I will try watering it more robustly this summer as it might simply have been a matter of salt build-up during the driest months.  
Its flower clusters dry well if cut in the bud (see also my notes from my last post).  I hope to save more this year as last year's have lasted nicely.  They are quite pretty!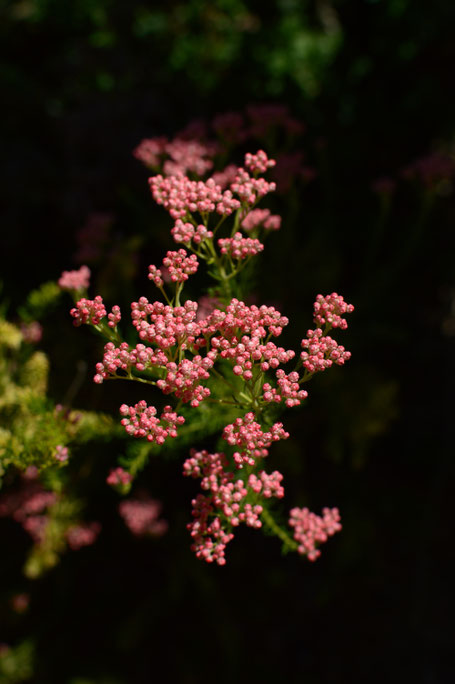 And leaves are sprouting again on the Crape Myrtles!  Here is the still very small Lagerstroemia indica "Rhapsody in Pink" at the back of the border.
I have just checked last year's records to find that it began leafing out at about this same time last year, when I was terribly nervous about it.  It seemed so late!  This year's wait was not nearly as nerve-wracking.  These have been excellent additions despite their need for a bit of extra water in the hot months.  One could hardly deny it to them considering their show of bloom at that time.
I do wish little Rhapsody would grow a bit faster!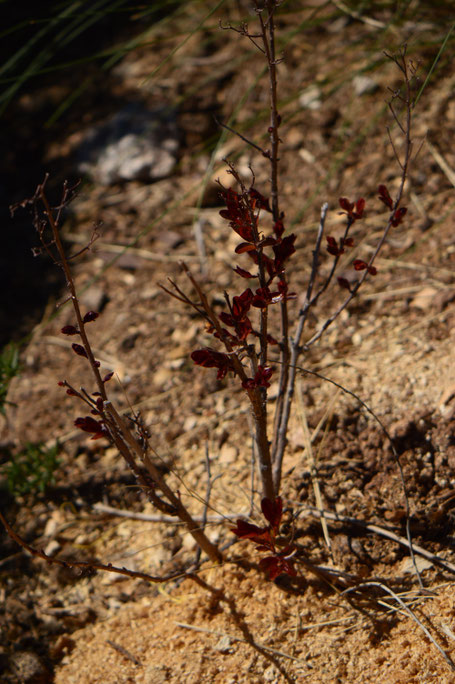 And finally, about the ornamental grasses.
Last week I was fairly discouraged about the gaps in the border, then realized that the worst of them are seasonal, left by cutting back the grasses, and I must simply adjust my annuals and bulb plantings accordingly.  I have struggled to learn how to time annuals here, as the winter and early spring months require those normally used in cool summer regions or planted for spring and autumn elsewhere, while the late spring flowers here are the usual warm summer annuals.  Confusing?  Quite.  The more so, as I've never used annuals very heavily.  So I definitely have a good deal to learn on this!
Meantime, I am interested to find that the Muhlenbergia leafs out and grows much faster than the Pennisetum.  This is more curious as Pennisetum will bloom during the summer months, while the Muhlenbergia (M. capillaris "Regal Mist") will wait until autumn brings slightly cooler weather.
We are getting something of a heat wave here at the moment: temperatures are climbing into the upper eighties and have reached 90 F/32 C the past two days.  The humidity is dropping as well.  All of this certainly changes the feel of the garden and has a strong impact on the plants.  It is pushing bloom into more of a late spring mode now.  There is much to show in the garden at present, and I am behindhand on posting about it.  I may put up several short posts this week to cover some of the action as there is something new to see nearly every day at present.
Meantime, this is a fairly complete look at the South Border for the Tuesday View.  Thanks to Cathy at Words and Herbs for hosting!
Weather Diary: Sunny and warm; High: 91 F (33 C)/Low: 56 F (13 C); Humidity: 15%-57%