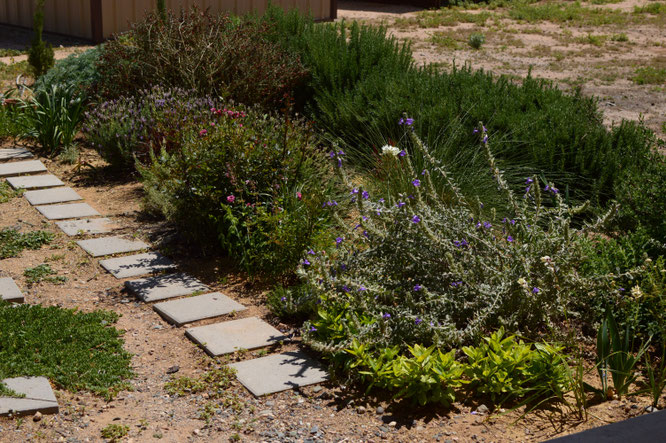 The South Border is showing the season more clearly now.  It is late spring here; the last few bulbs are in bloom.  These are African species planted spottily as the border developed, but coming back faithfully, and deserving their place in the limelight, as well as a more organized planting!  There is Ornithogalum arabicum, a little scanty on bloom this year but so pretty and generally flowering just around Easter...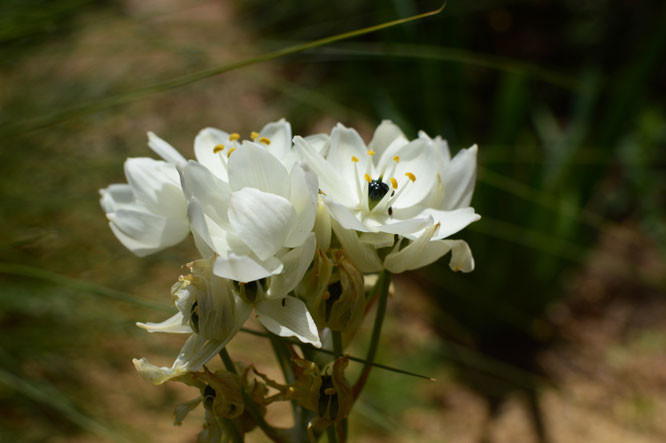 ...and Ixia, sold as a batch of mixed colors but all a pretty cream with a burgundy center.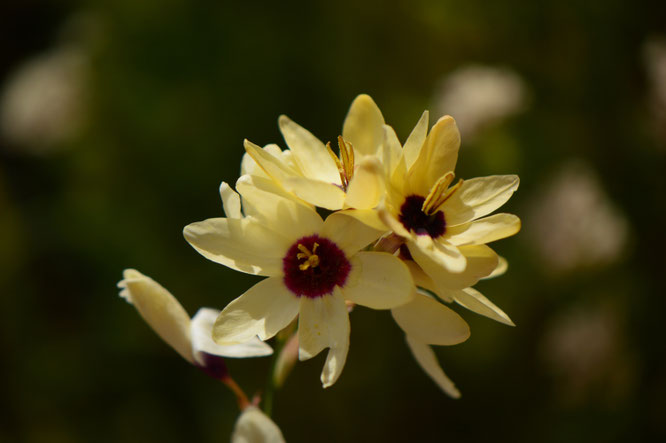 The irises are not flowering yet, not in this border at any rate.  I did have a magnificent surprise of early bloom in the East Border, where a beautiful yellow is flowering for the first time (see my Instagram post on the sidebar).  I am waiting eagerly to see what the various blue irises do in this border.
Meantime, the Spanish lavender is about done and, in the case of  my favorite, "Madrid", nearly done for.  Last week it collapsed in the center, and the whole bush looked so wan that I feared I would lose it entirely.
Admittedly, lavenders are not known for being long-lasting in the garden.  I was rather upset, for all that, partly because of the suddenness of the failure and partly because I've not seen this variety at the garden centers for awhile.  So, worried about my chances of replacing it, I am trimming it back to see whether it can be regenerated.  
I've never pruned a lavender this way before!  The question came up earlier and a couple of you mentioned doing it little by little, so that is what I am trying.  It looks quite a mess at the moment as I walk round it with the clippers, snipping the worst sections back.  But I intend to see if I can salvage it this way, unless by some chance I discover a replacement within the next few weeks.  It still needs a rigorous deadheading after its exuberant bloom a few weeks ago.  I really would hate to lose it now.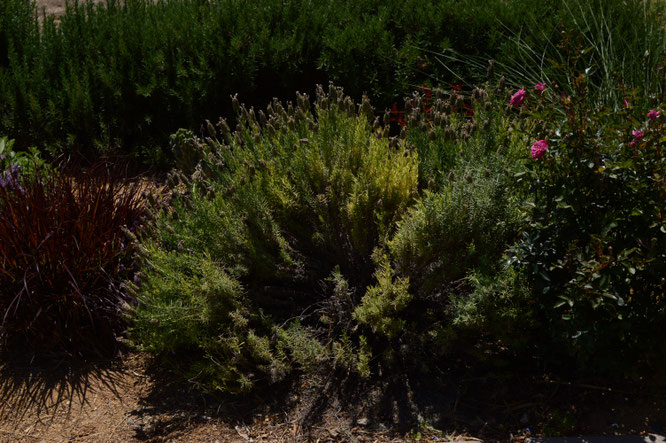 But if the lavenders are finished for the year, they are followed by roses.  In the South Border this means miniatures.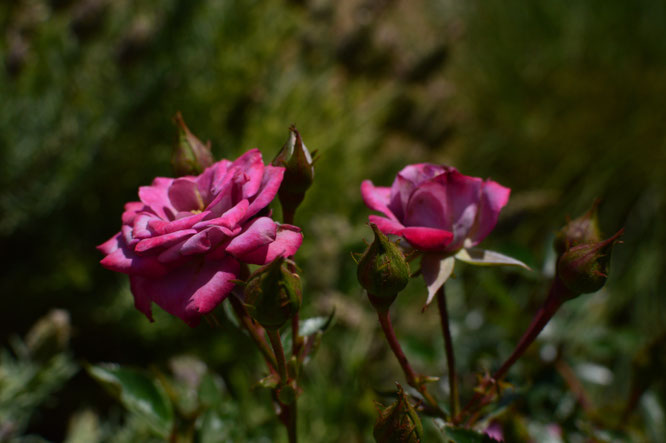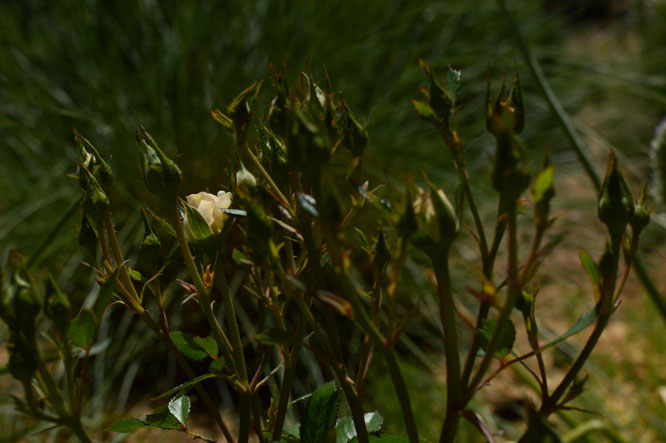 And mention should be made again of Eremophila hygrophana for its nearly constant bloom.  Although it has slowed production of its gentle blue flowers, there are still plenty, just not the blanket of mid-spring.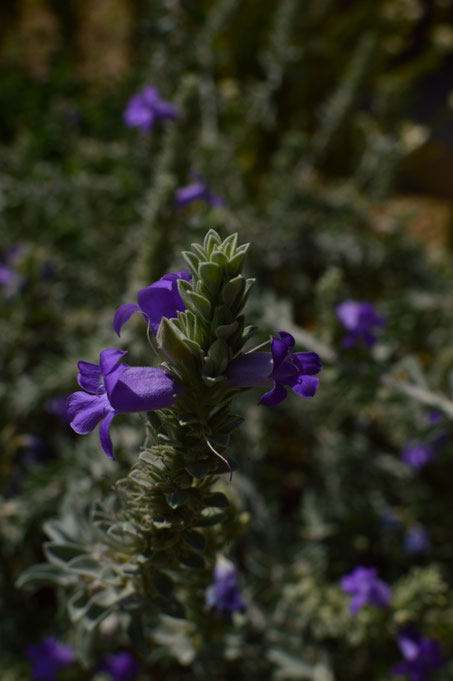 The color is a perfect mid-blue with a sheen of silver and shadows of purple, and it is one of the few blue flowers that the hummingbirds visit.  It grows well in the sharp drainage at the top of the border.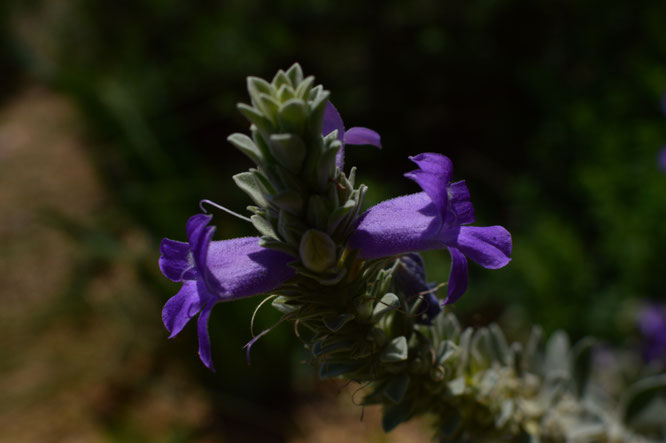 Beneath it is a plant that rarely gets much attention.  A tuft of lemon thyme has managed to survive multiple summers and still produce its sweetly scented foliage.  Last winter it browned completely so I cut the dead growth back as well as I could, and here it is again.  Now if only my lavender will respond the same way!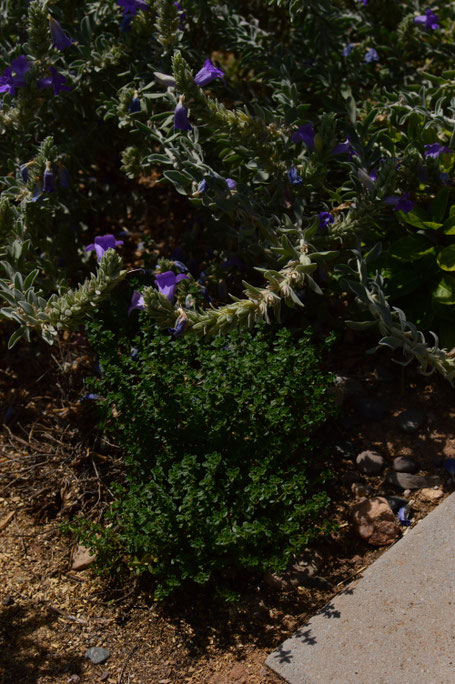 And that is my Tuesday View for early April, as the desert garden drifts gently toward summer.   I had planned for a transition period from annuals, but they have been difficult this year, and I am rethinking my approach.  More on that later, no doubt!
Thanks to Cathy for hosting at Words and Herbs, where spring is looking properly spring-like with tulips and a special viburnum!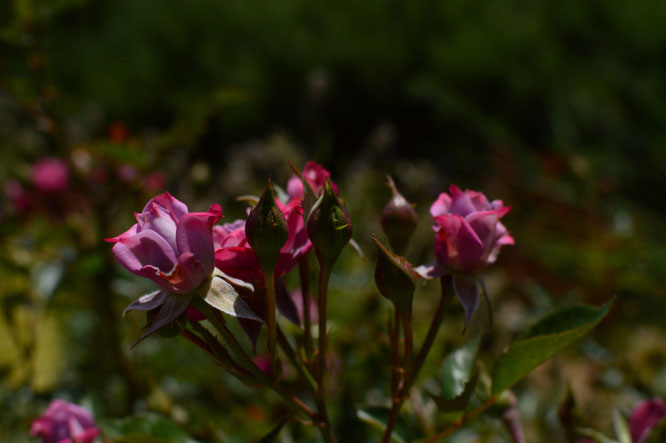 Weather Diary: Fair; High: 87 F (31 C)/Low: 55 F (13 C); Humidity: 6%-37%