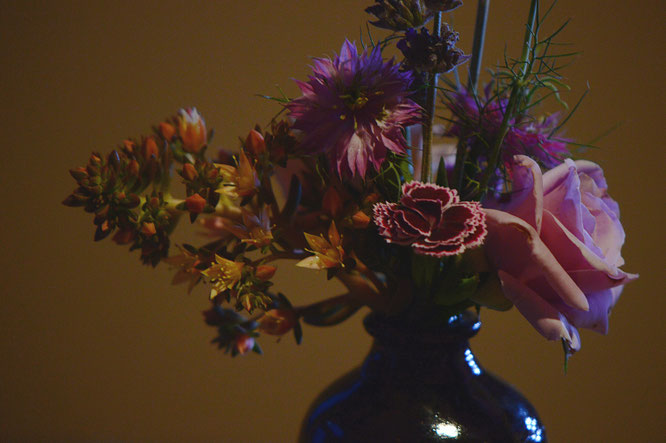 Only a short post for this week's vase, but I did want to share my little posy.  Two rosebuds, the lavender-hued "Sterling Silver" above, and the soft pink "Tiffany" below, are combined with Nigella damascena, dianthus, lavender "Goodwin's Creek Gray", and a spray of flowers from Sedeveria "Sorrento".
The vase is a dark-glazed stoneware bottle I made a few years ago.
As you can see, the photos were taken under artificial lights - a big thank you to my sister Sarah for helping me with that, otherwise there would have been no post at all!   As there is, I can link with Cathy's wonderful In a Vase on Monday at Rambling in the Garden!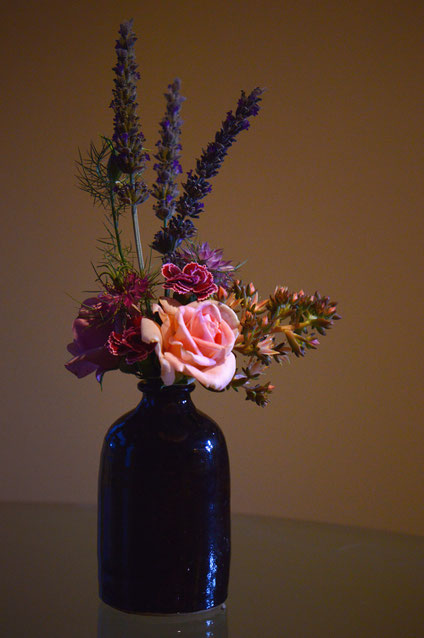 Weather Diary: Cloudy with rain and light thunderstorms; High: 76 F (24 C)/Low: 60 F (16 C); Humidity: 31%-76%