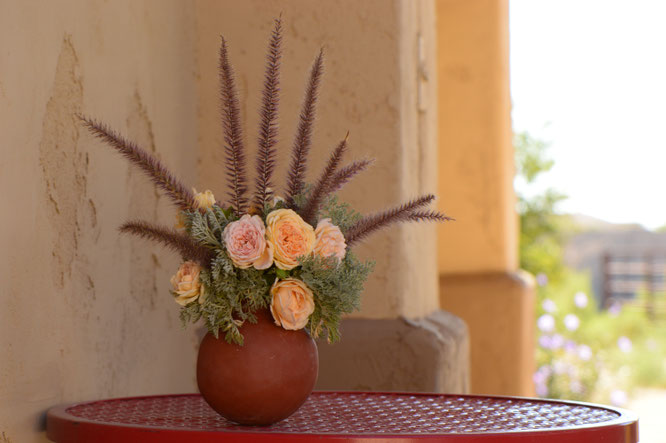 Roses again at last...
Two bushes in the rose border have begun blooming: Crown Princess Margareta (upper left) and St. Swithun (lower left).  
 As so many of the roses were beginning to put out new growth, I went ahead and gave them a feeding a couple of weeks ago, rather than trying to keep them quiet till summer is over.  This has been a very mild August so far, and the out-of-turn feeding seems to have been a good idea.  I have yet to get the shrub roses transitioned well between our very hot summers and a good autumn bloom cycle, so of course I'm trying to get it right this year... and am very relieved to watch a sudden flurry of roses on these two, at least!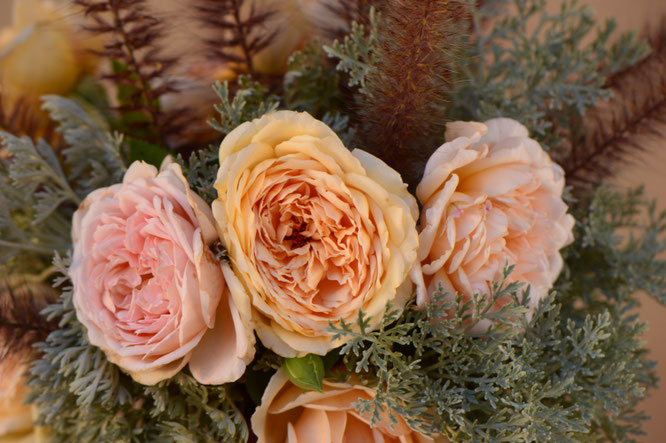 To keep with the soft colors, I've used Artemisia x "Powis Castle" and Pennisetum setaceum rubrum.  Even the Artemisia is ready to be cut back for the season!
The vase is one of my handbuilt pots in unglazed earthenware.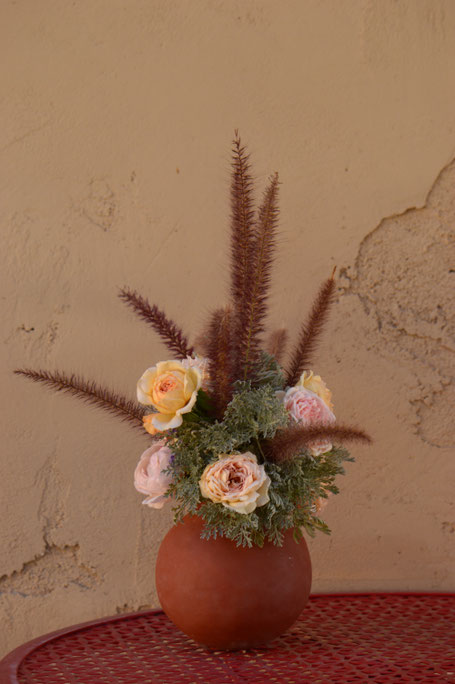 My yesterday's attempt to photograph the vase of roses was a disaster - not a single usable picture - so I waited for another try this morning - hence the delay in posting.  Now, being Tuesday, here is this week's Tuesday View as well.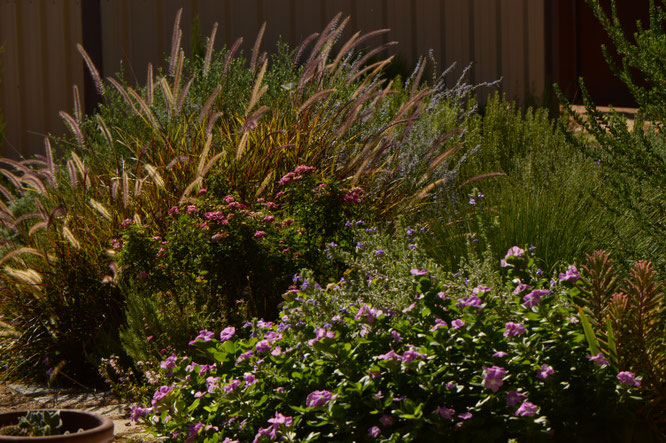 Overall, the South Border looks a good deal more refreshing than it did this time last month!  In addition to plenty of Catharanthus, the quieter Eremophila hygrophana has plenty of flowers again.  Unlike E. maculata "Valentine", this much smaller shrub has rarely been without a flower, but it has been pretty sparse through the hottest part of summer.  Now it seems to be recovering.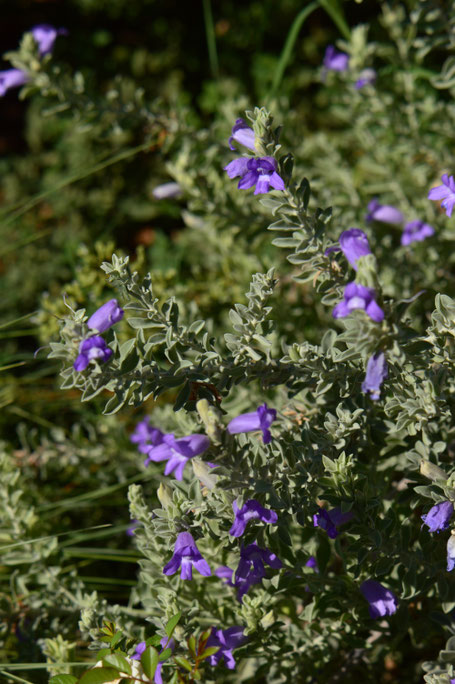 Kalanchoe x "Pink Butterflies" has done surprisingly well.  I hardly expected it to last the summer, but it seems to be thriving.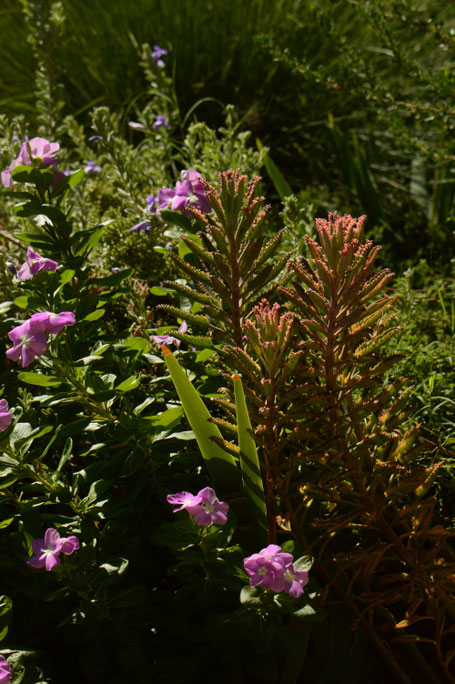 Toward the bottom of the border, the color comes from Pennisetum setaceum rubrum and, behind it, Perovskia.  Even the Perovskia had me worried for a while this summer.  Not now!  I think it makes a wonderfully soft blue mist behind the other plants, though I've certainly violated all the garden design height rules as the Pennisetum is actually the taller of the two when in bloom.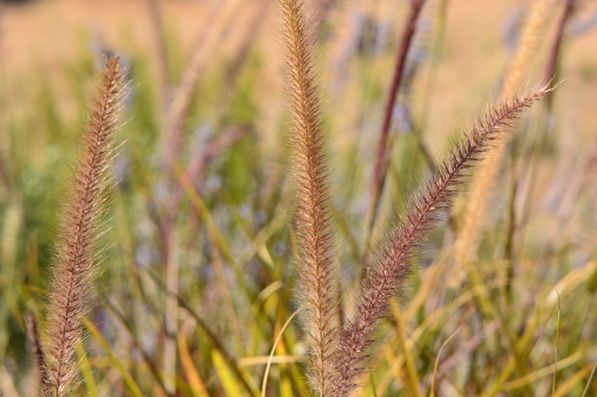 The miniature roses need a deadheading; I'm not sure I can keep up with them!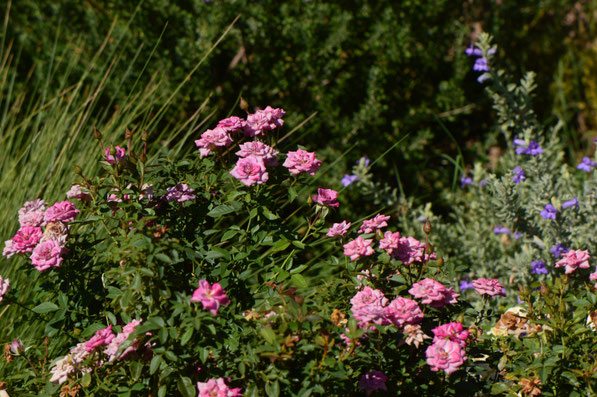 And here is a friend watching me from beneath the Pennisetum.  It has taken three years of gardening for the lizards to grow this tame!  I'm rather proud of my friendly lizards; when we moved in, they would skitter away between one breath and the next.  Now they wait and watch me, sometimes scuffing around for bugs in the dirt as I stand there looking.  I love the way they help bring the garden to life.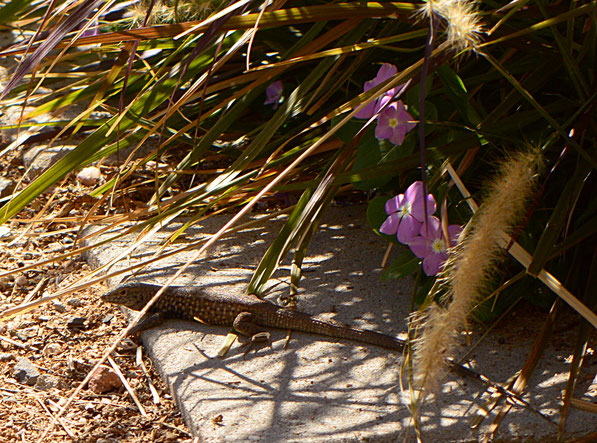 Having combined two of my favorite memes, I need to add my thanks to Cathy at Rambling in the Garden for hosting In a Vase on Monday, and to Cathy (also!) at Words and Herbs for hosting the Tuesday View!  I rarely combine posts like this, but I was so glad I got a second batch of pictures for the vase.  After all, it's the first set of roses as the year cools a little!   I hope you can see the difference in my South Border pictures.  Plants and gardener alike are enjoying the late summer in the garden!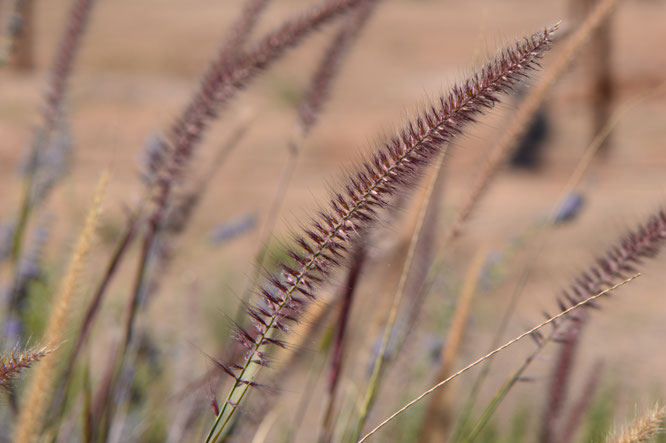 Weather Diary: Fair; High: 105 F (41 C)/Low: 79 F (26 C); Humidity: 12%-46%