This month I decided to try posting for August's Ten Favorite Plants at The Blooming Garden.  This has been a lovely August so far - warming up again at present, but this summer's monsoon season has seen a good mix of rain and sun - by desert standards anyway - and slightly cooler temperatures overall.
First is one of the smaller ones.  Salvia farinacea is a very consistent source of blue through the summer months.  It's a particularly refreshing medium blue.  The bees like it too!  
However, the prize for reliable summer color surely goes to Catharanthus roseus.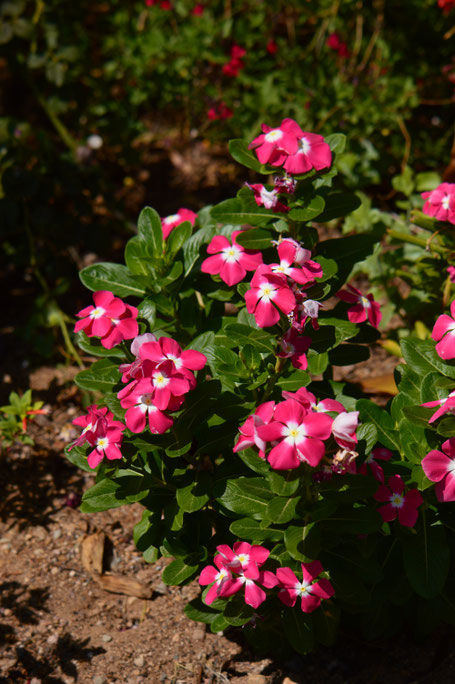 There has also been plenty of brilliant color from Lantana "Denver Red".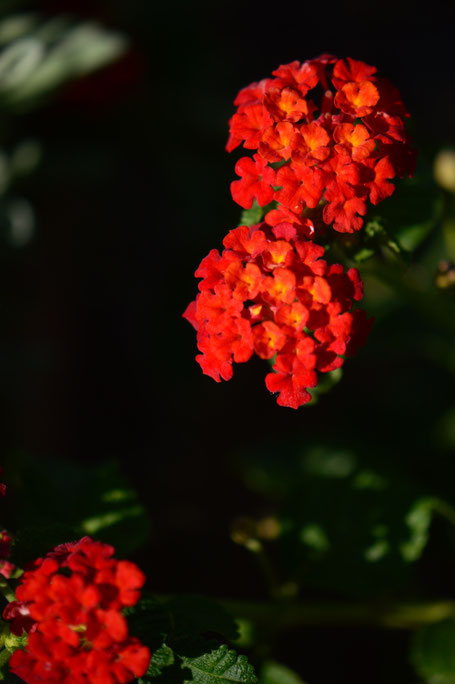 Pennisetum setaceum rubrum puts out a long, long season's worth of bloom...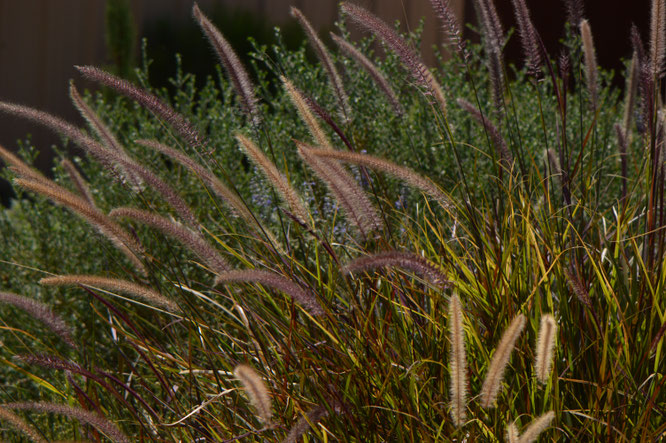 ...while Russelia equisetiformis manages to flower throughout the year.  It is having a fine blooming spree right now.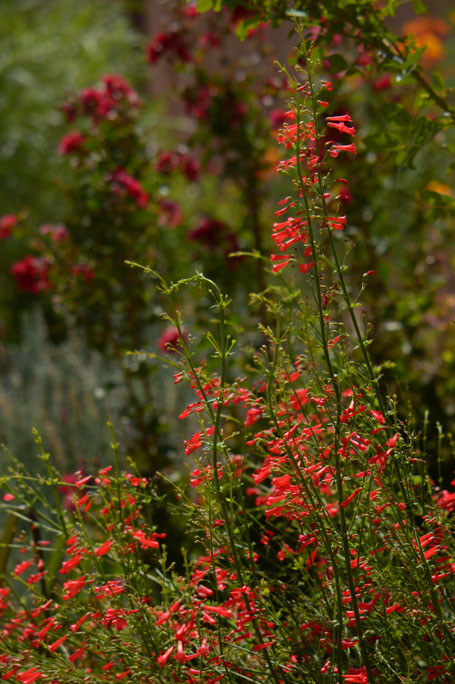 Among the chiefly summer-blooming plants is the wonderful Lagerstroemia indica "Dynamite"...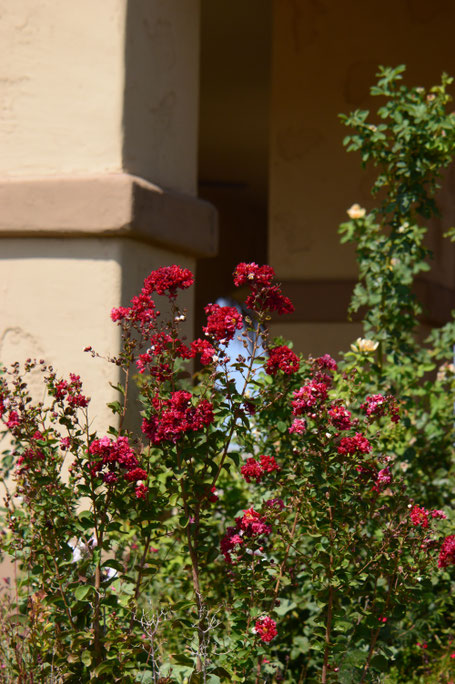 ...also Ruellia brittoniana, which blooms heavily in the mornings and drops the blooms in the afternoons.  It is quite a vigorous plant; in fact, it's the one plant I'm concerned about having added to the borders.  I'm already having to yank runners out of the ground.  But it takes the heat well while requiring very little water, and the hummingbirds love its flowers.  So for now it stays.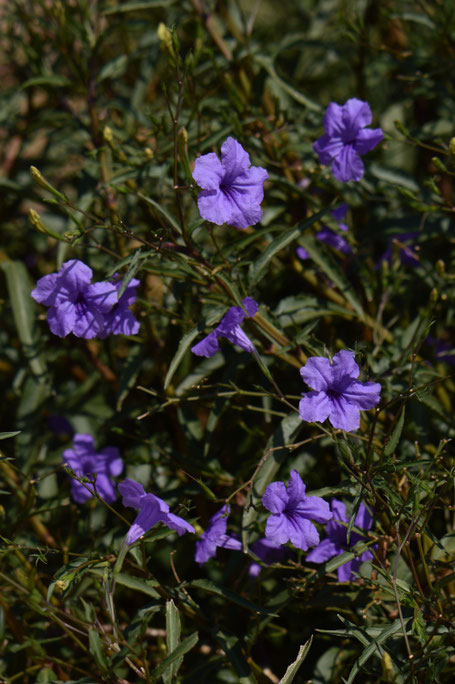 There is no question about Caesalpinia pulcherrima.  Tropical shrub that it is, its brilliant flowers and lacy leaves are one of the privileges of desert gardening.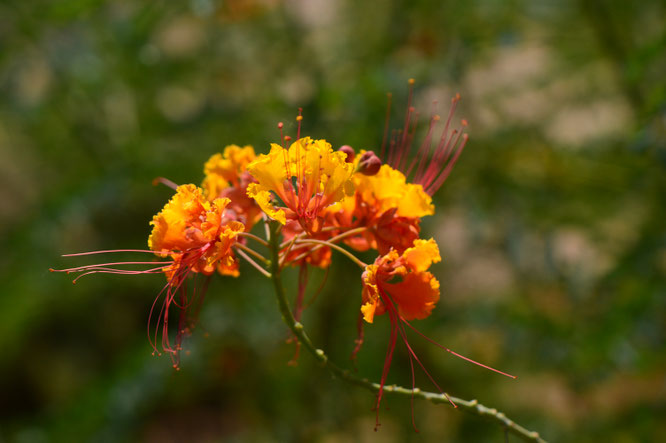 I rarely mention bougainvillea, but it deserves better.  This one is not in the garden proper but in a rather difficult spot on the west wall of the house.  It belongs in any list of favorites for August.  I've added a still-small, multi-colored variety at the back of the East Border in hopes it will be as tenacious a plant as this one.  It has a lot to live up to!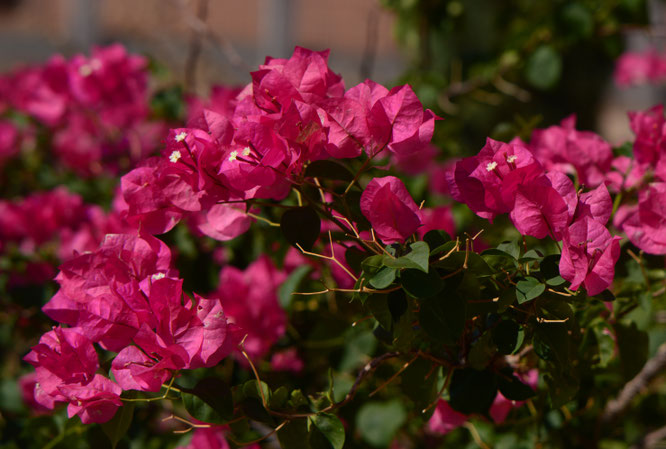 Lastly, but such a special part of the garden, come the miniature roses.  Clockwise from top left: "Lavender" from Kordes, "Daniela" also from Kordes (normally fully double; the semi-double blooms are a response to the heat), and a noID scarlet growing beside some lavender.
So there are my ten for the month of August.  Looking forward to September!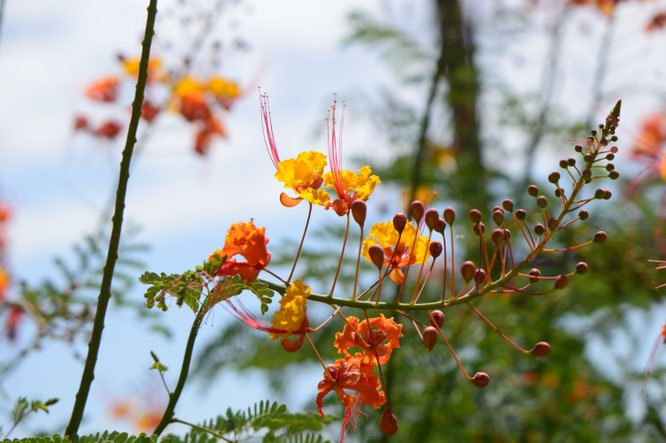 Weather Diary: Partly cloudy; High: 104 F(40C)/Low: 82 F (28 C); Humidity: 21%-45%