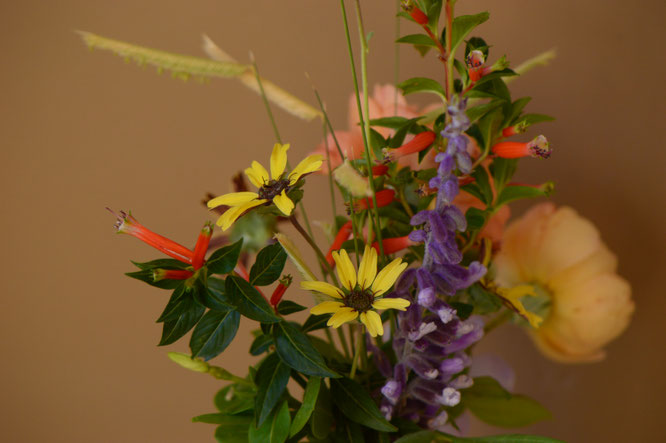 Well, I am getting back (I hope!) to scheduled posting after trying to juggle several projects, then taking time out for my sudden trip to San Diego.  Hopefully we are back to regular programming here at the blog, because I am much happier when posting regularly!
So here, after a two-week hiatus, is the last Monday Vase of September.  It is a small thing, but full of warm, autumnal color.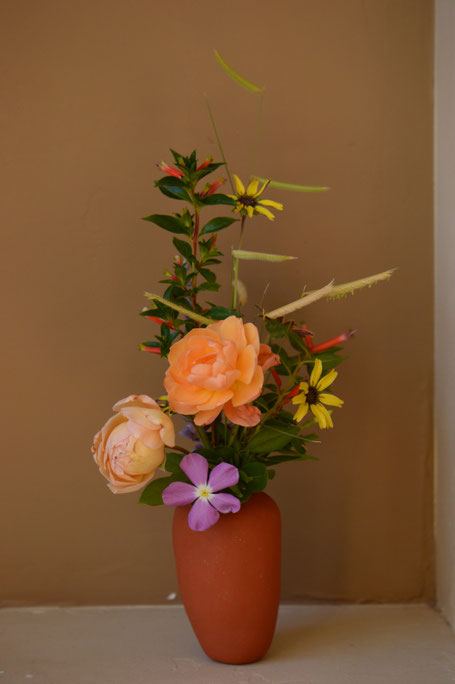 Admittedly, some of the flowers come from plants that have been in bloom throughout the summer months, while others represent a real change of season.
Berlandiera lyrata and Cuphea ignea "Vermillionaire", below, are among the veterans of a very long summer, as is the lavender-colored bloom of Catharanthus roseus.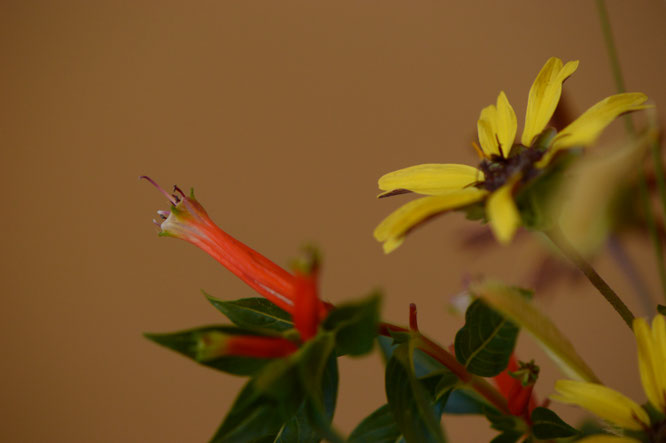 One plant that came into bloom later in the season is Bouteloua gracilis "Blonde Ambition"...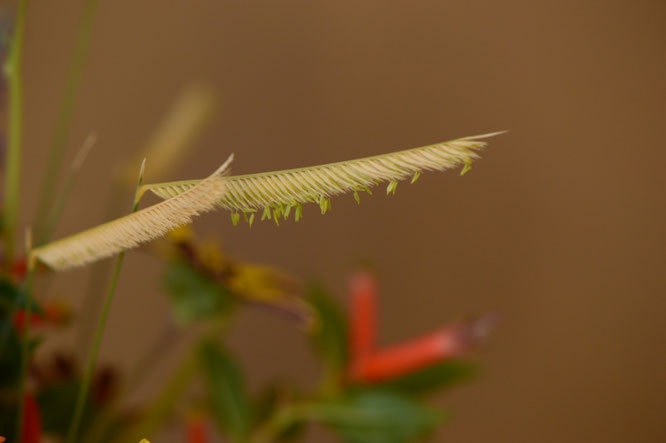 ...while Salvia leucantha "Santa Barbara" had just begun flowering when I got back home a little over a week ago.  This Salvia has been quite the tease, planted a good two years ago, looking repeatedly as though it were at death's door, then perking up to give a semblance of really coming to life.  Never quite bad enough to jerk out of the border as it was in a spot where I really wanted it, and never quite good enough to actually come fully into bloom.  At last it has succeeded at the latter, and here is a stalk of its fuzzy purple flowers.  Wish it well, as I hope it will now go on to become the fine shrubby perennial I know it should be.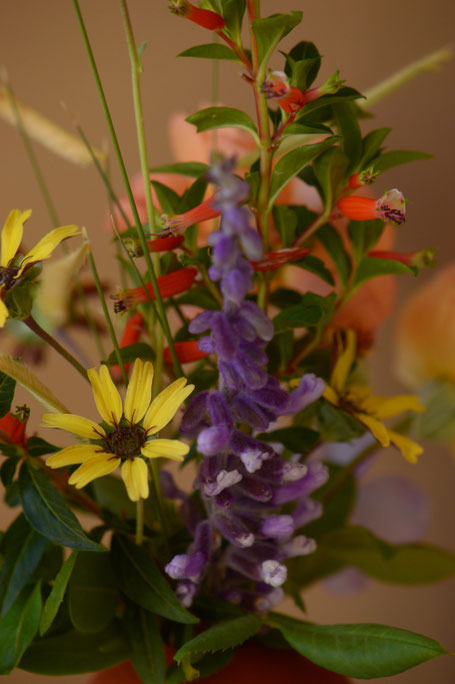 Most of all, there are a couple of roses.  They are neither in full size or full form, but they are lovely to have.  These came from Crown Princess Margareta, which has been trying to bounce back into bloom for weeks, hampered by our prolonged heat and the fact that I wasn't willing to ramp up its watering schedule until the heat really did break.  We have reached that point at last, and I am hoping to nurse my roses into a good autumn blooming, but who knows...!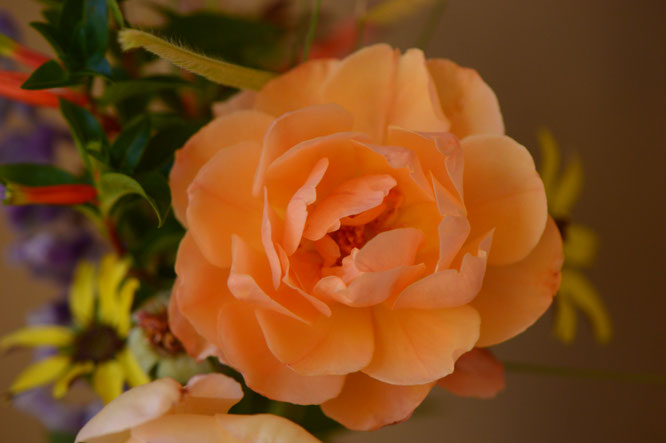 None of the flowers is very large, so I used a rather small vase.  Actually, it was made to be a seed pot - a lovely old use for pottery, particularly here in the southwest.  Pot mouths are made quite small as they are meant to hold only seeds.  In this case, though, I hadn't put any seeds in it yet, and it was just the size for my wispy little bouquet.  The pot is no longer than my hand and was built just by pinching and coiling the clay.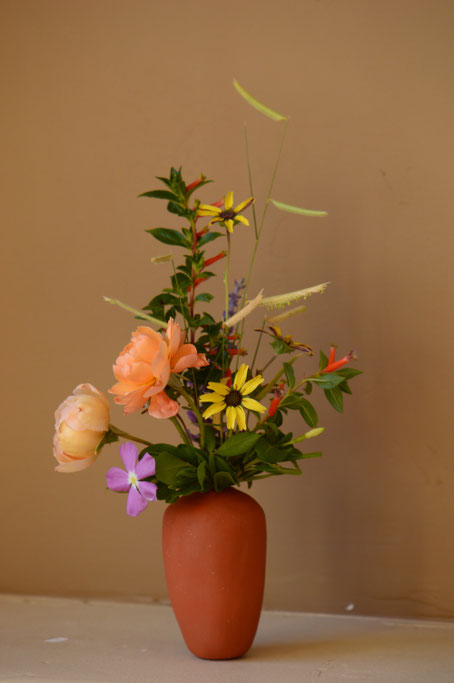 It's good to be back making Monday Vases; I've missed it over the past couple of weeks!  Hope all of you have a lovely week, and do check the many wonderful vases at Rambling in the Garden!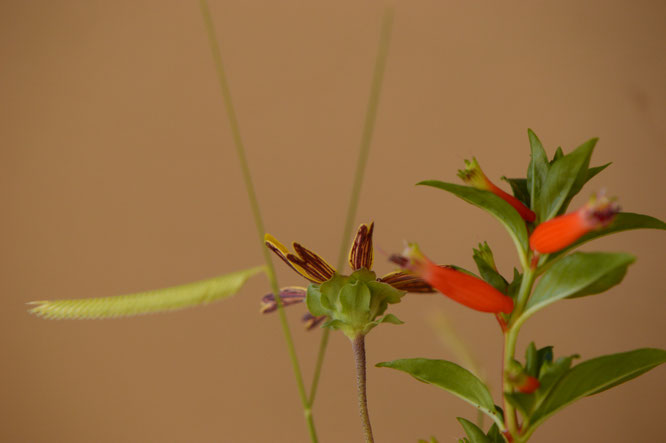 Weather Diary: Sunny; High : 87 F (31 C)/Low: 58 F (14 C); Humidity: 7%-32%