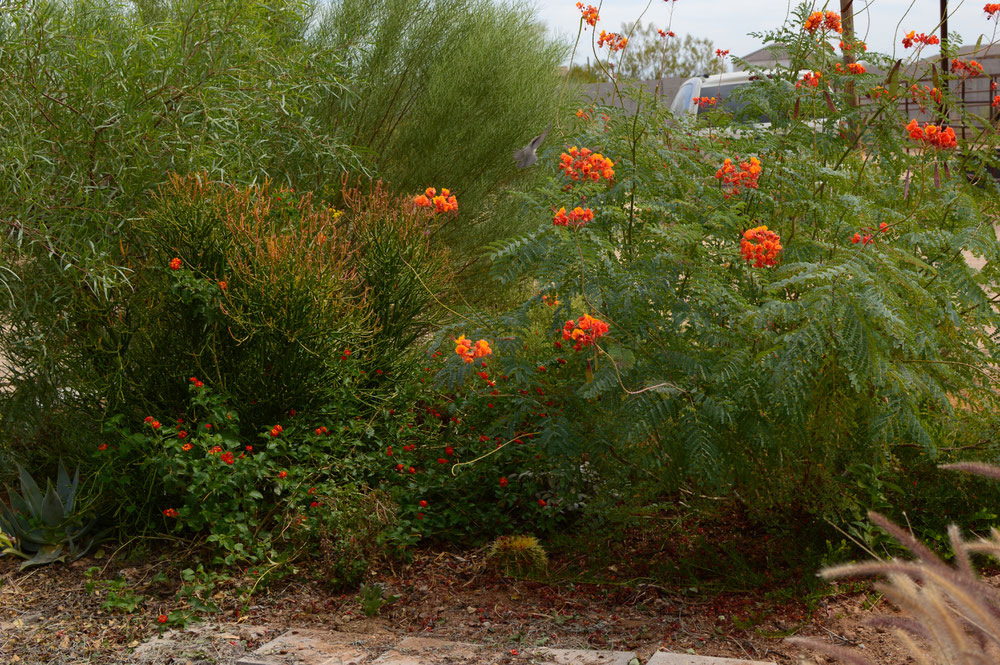 Work has begun on my overhaul of the East Border.  Only a little bit of work, and that little has left more of a mess already, mind you.  But it feels wonderful to have begun, to feel that this area, which has been a mess anyway, stands some chance of eventually looking like a garden border rather than a muddle.
Some things can be seen from the photo above, such as the partial but sharp clipping back I have given to the lantana.  I have clearly missed quite a few bits, however.  This one (below) is climbing some three feet off the ground, having supported itself on the cooperative Euphorbia tirucalli "Sticks on Fire".  The latter is also doing more than its share of propping up my still-floppy Acacia salicina.  I'm not sure when the latter will ever straighten its back and stand up on its own?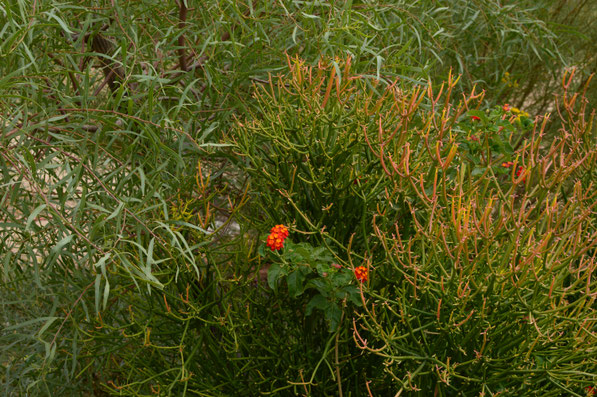 But a little bit of transplanting has been going on already in the corner between this and the South Border.  Here I have replanted a Candelilla (Euphorbia antisyphilitica) which was out of scale in the hurly-burly of the White and Silver Garden.  Also a small arilbred iris was shifted close to the Candelilla.
It is difficult to explain why I like Candelilla so much, but I do.  It is a very plain plant in its quiet way; I've not seen it bloom yet, or do anything else unusual.  To its credit, it has not died, despite spending the summer in a spot of unrelenting sun, plus the frequent whiz and blow of the nearby air conditioning unit.  But it is not just the reliability that makes  during the summerme like this plant; there is something about the soft colors, waxy stems, and clumping growth habit that I find attractive.  I'm prepared to rapidly remove it if the clay soil here makes the Candelilla too uncomfortable, but I hope it will thrive in its new location.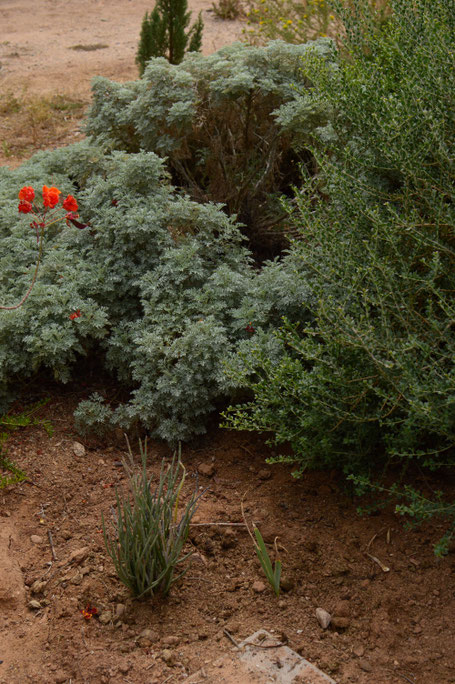 Another plant that needs to be shifted if possible is the Grama grass, Bouteloua gracilis "Blonde Ambition".  It is made nearly invisible by the spreading branches of Caesalpinia pulcherrima.  So much so, that it was difficult to even get a picture of it.  I hope to move those delicate seedheads closer to the front of the border.  Like so many ornamental grasses, they add a good deal to the sense of motion in the garden.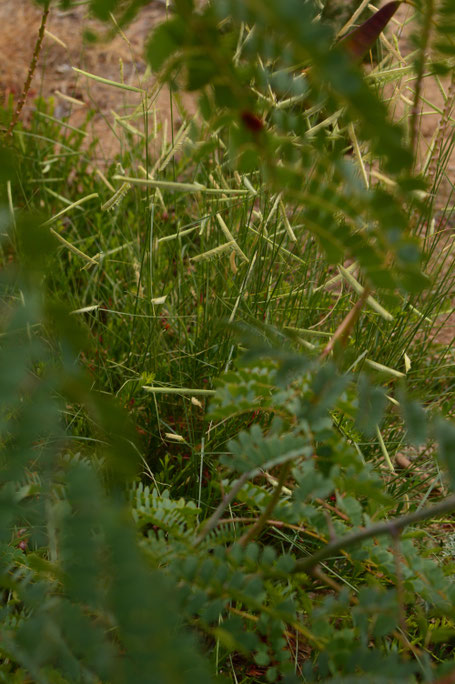 I have yet to find a really satisfactory angle from which to photograph this border.  Here is the other end of it, with Aloe striata "Ghost" looking very pleased with itself after a recent, thorough watering.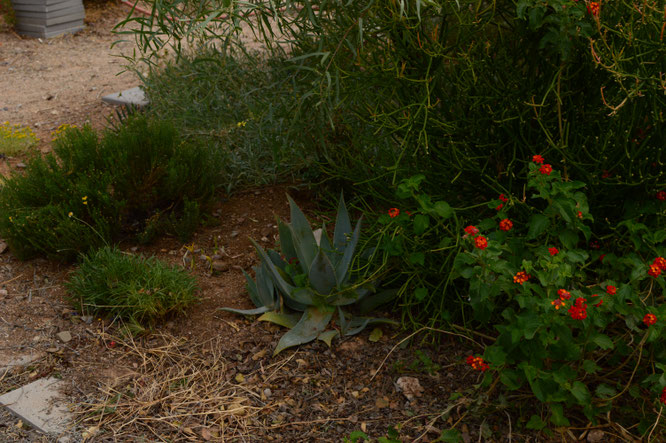 Bits barely to be seen in the above photo include a couple of out of season blooms on Chrysactinia mexicana (left, below) and the first flowers for this year from Sternbergia lutea.  I managed to miss photographing the first bloom, but there are plenty more buds emerging daily.
All this is in the bare corner, a spot which has seen many plants come and then disappear with a whimper of crisp, brown leaves.  As Bulbine frutescens "Tiny Tangerine" has proven durable elsewhere, I slipped in the yellow-flowered plain species here at this corner.  
The Ferocactus glaucescens will grow; there are a fair number of narcissus bulbs scattered through the dirt, and a bronze-flowered chrysanthemum has survived the summer (just under the acacia tree) and looks set to bloom in a few weeks.  A backdrop of Berlandiera lyrata sprawls over the ground, ready to be clipped back when basal growth begins to show up.  Until then, I will let it sprawl.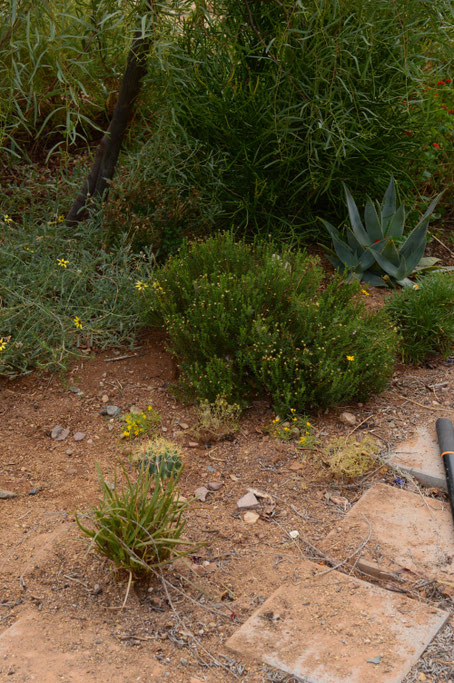 Please pardon the mess; I had to reset a paver, and I also had to replant the Bulbine after carelessly pulling it out of the ground with the garden hose.  A durable little plant, it hardly seemed aware anything had happened!
Thank you to Cathy for hosting the Tuesday View at Words and Herbs, a lovely blog which is just entering its seventh year!  Congratulation, Cathy!
I will close with a couple of glimpses of gaura.  It was very late in blooming this year, presumably because of the rabbit nest/dog scuffling episode in late spring.  It is making up for it now!
Weather Diary: Fair; High: 87 F (31 C)/Low: 60 F (16 C)