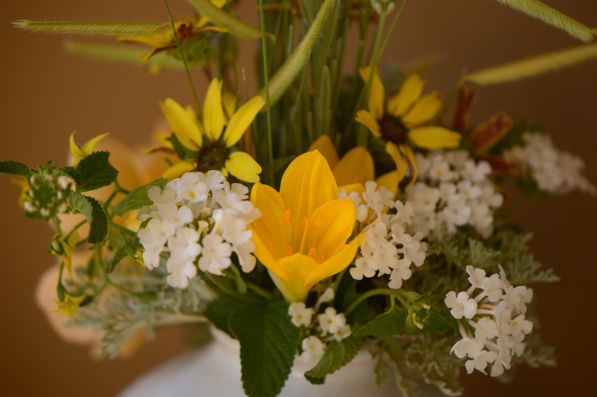 Golden crocuses, anyone?  Or nearly, as Sternbergia lutea has been blooming so freely that I added a few to today's vase.
It went on to be a play on yellows.  Not a color I have used much in the past, but there is more available now that the yellow-themed East Border is maturing a little.  Perhaps the most eye-catching flower in the border at the moment is Sternbergia lutea.  Its golden chalice blooms are among the most brilliant things I have planted, and there are more this year than there were last, which makes this gardener very happy!
But there are also a few yellow roses to be had now: a primrose yellow bloom from Wollerton Old Hall and two deeper-hued buds from a miniature yellow.  And Berlandiera lyrata with its dark centers, and the lightly fringed Bouteloua flowers.  Yes, there is a good deal of yellow this autumn!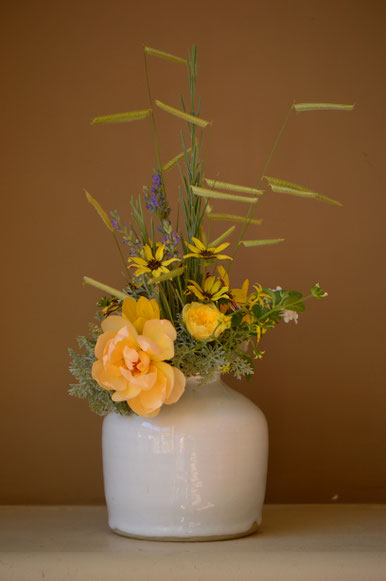 Here are the flowers I have used, clockwise: Berlandiera lyrata (and some Artemisia x "Powis Castle"), Bouteloua gracilis "Blonde Ambition" with Lavandula x intermedia, tomato blossoms, rose "Wollerton Old Hall", Sternbergia lutea with white lantana, and blooms from an unidentified yellow miniature rose.
My handthrown stoneware vase kept the effect bright with its white glaze.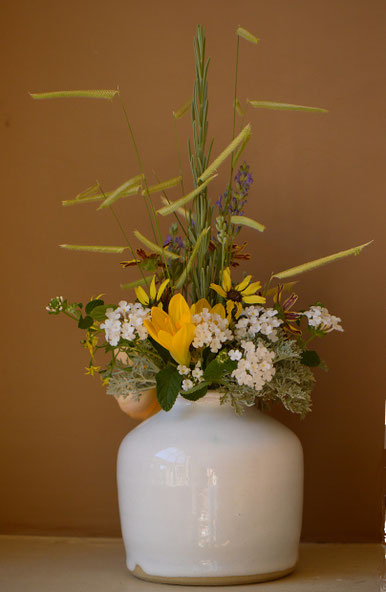 The colors of the Sternbergia, Berlandiera, and the miniature rose blended so effortlessly.
From one more angle, as I loved the effect of the tiny rosebud nestling into the artemisia...