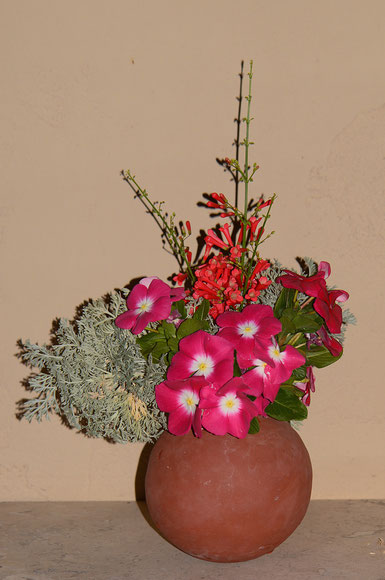 The trimmings in this case come from a rather overgrown Artemisia x "Powis Castle", which is undergoing its autumnal pruning right now - a pruning hastened by the need to plant bulbs nearby.  After all, it is autumn, and by this time of year my artemisia is a dishevelled mess of silver lace.  There is good new foliage sprouting from the base, so it is time to clip!
The brighter elements in the vase come from Catharanthus roseus - in solid pink and in pink with a white eye - and Russelia equisetiformis "Big Red".  The pot is one I handbuilt from red clay.
I do apologize for the poor photos this time; I am not used to activating the flash on my camera, but it had to be done tonight, even though I was shooting outdoors.  Clearly I need a bit of practice.  At any rate, I hope you can tell the bright effect of those Catharanthus flowers.  They are highly satisfactory both in the garden and in a vase.  On some, the flower heads have gotten so large that they resemble a very tropical sort of phlox.
Thank you to Cathy for hosting In a Vase on Monday at Rambling in the Garden, where I hope to check other peoples' vases when I get the chance tomorrow!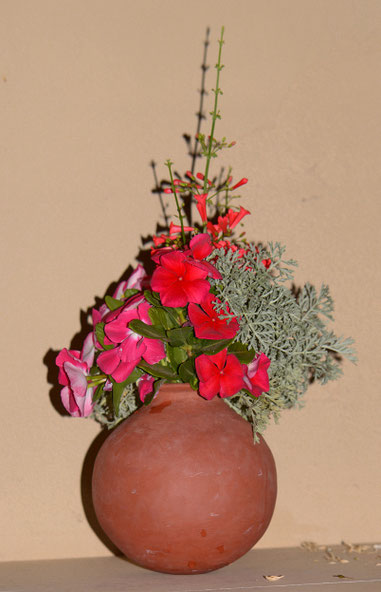 Weather Diary: Fair; High: 86 F(30 C)/Low: 65 F (18 C); Humidity: 7%-30%