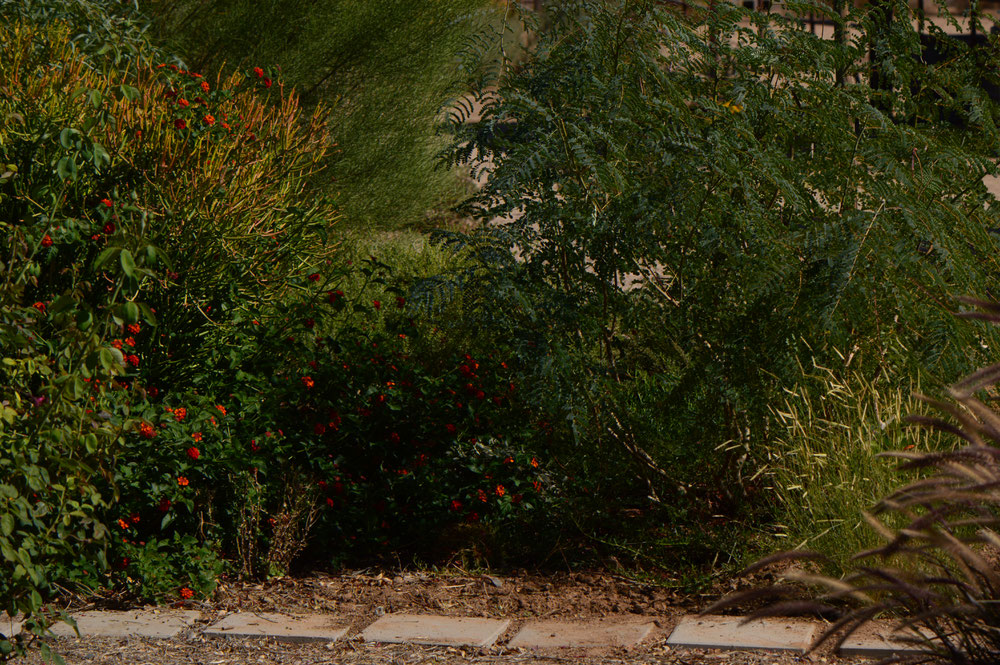 Yes, a little progress (emphasis on the adjective, perhaps) is being made in the East Border.  As you can see, Bouteloua gracilis "Blonde Ambition" has been moved to the front of the border (lower right).  And of course you can't see the narcissus bulbs planted next to it.  Nor, much more irritatingly, can you see the miniature rose bush planted near the lower center of the photo.  
Rabbits got to it first, or else some other destructive denizen of the garden.  I incline to the rabbit theory myself as they are always hopping out when I walk though.  The little bush has survived so far, but it now look like this...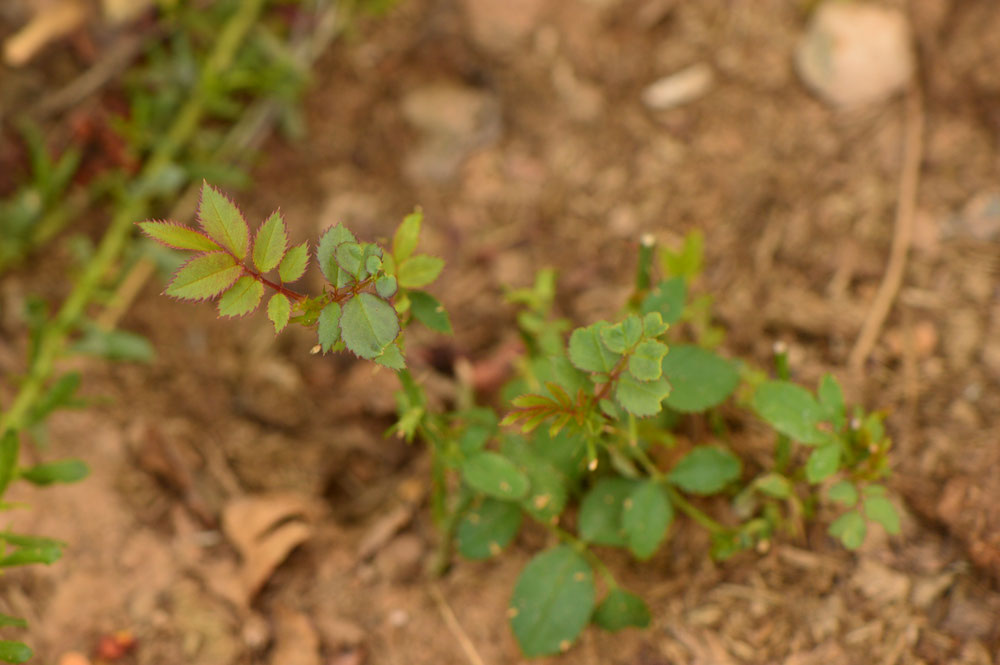 ...nevertheless, I am adding photos I took earlier, when the blooms looked like this!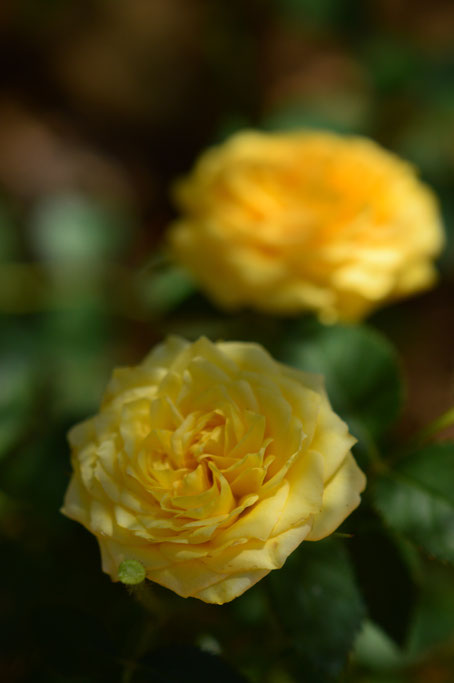 And now all of my normal readers may laugh at me - just a little!
Being a bit compulsive with these things, I hunted through the small-print list of patent names found on the back of the label.  I proceeded to search (partially!) through the list via Google.  
My best guess, given the rosette flower form, is that this is PACninetyseven - for what that's worth!
By any name, it's a lovely little rose; but I did want to know whether I could glean any information about its anticipated growth habit.  Judging by the patent write-up, it stands a fair chance of growing as robustly as most of my others, "Moderately vigorous.  Grows compact upright to bushy..." were the terms applied.  It has gone into the front of the border with - hopefully - enough space for that bushy growth.  I've begun to have a great deal of respect for just how big a happy miniature rose can get!  I have one scarlet that has remained very dwarf; the rest grow up and out, adding about an inch of growth with each new bloom cycle, and those are frequent.  Eventually they require a hearty pruning back; then the sequence begins again.
And in this climate they are quite healthy.  Need I say more?  I love the little rosettes on this one!
At the other end of the border, Berlandiera lyrata is badly in need of a trim, but Ericameria laricifolia has just begun its autumn blooming.  This is the yellow-frosted little bush in the photo below.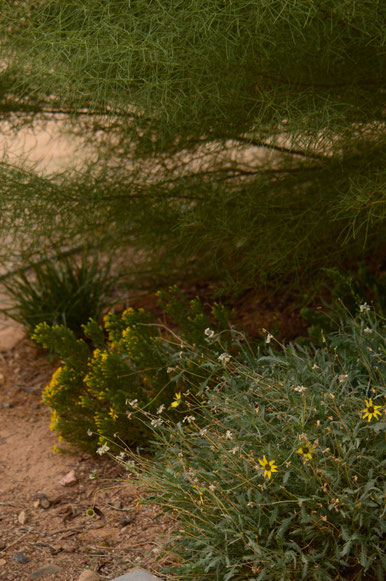 It is said to demand being kept fairly dry, and it is cold hardy.  I have paid little attention to it so far; but this season will change that, as the bloom is quite brilliant.  For the rest of the year it is a low-growing, evergreen, desert shrub.  The scent of the foliage gives rise to the name "Turpentine Bush", but I am not convinced.  It seems a nice enough smell to me!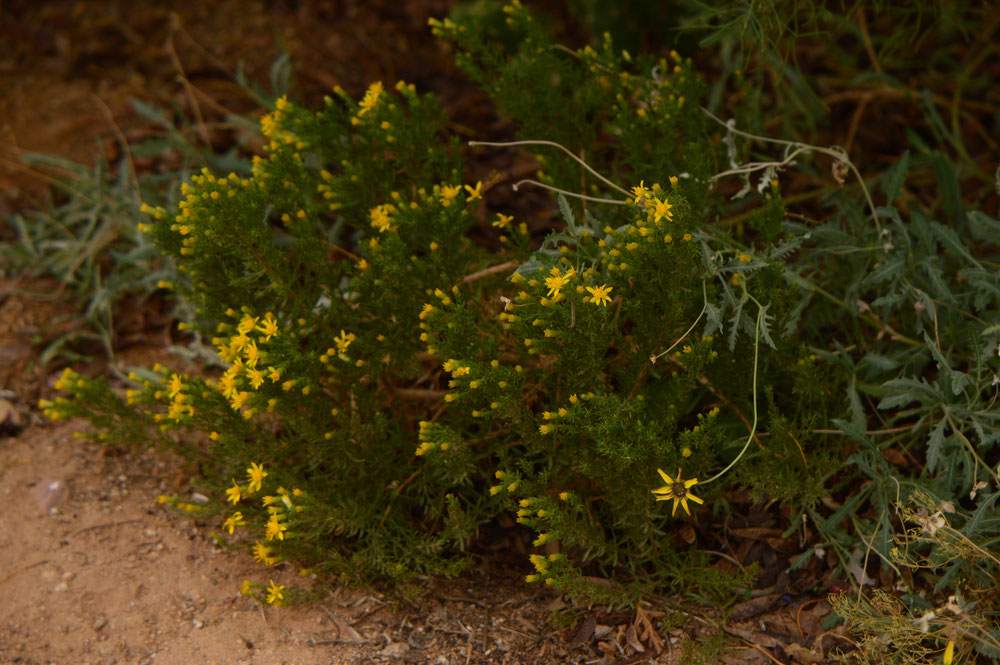 Curiously enough, the rayed flowers indicate it is from stock originating in the Chihuahuan Desert.  E. laricifolia also grows naturally here in the Sonora, but here the flowers are typically rayless - just little yellow centers.  For obvious reasons, the Chihuahuan form is preferred in the trade!
Thanks to Cathy for hosting the Tuesday View at Words and Herbs and being so patient about my perennially late posting for it!  At least this week I felt I could show the East Border again.  It was too disheartening the last couple of weeks, but now things are shaping up a little.  I hope there will be a lot more to come as I keep working on this area!
Weather Diary: Partly cloudy; High: 95 F (35 C)/Low: 64 F (18 C); Humidity: 14%-42%