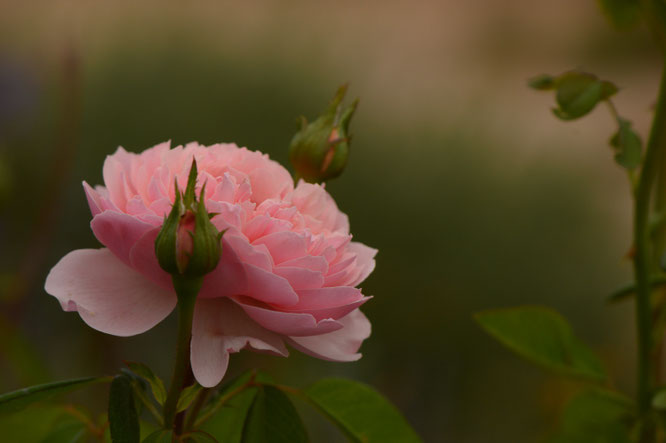 October is a beautiful month, one in which the heat of summer gradually (oh, so gradually!) gives way to milder weather.  It is the time when the garden begins to wake again after summer's stupor.  Last year I was disappointed with the amount that bloomed during autumn, and so this year I have been working to improve this transition of seasons in the garden.
As my efforts were made by guesswork, it has been encouraging to watch the garden reawaken with more color this year.  This has come from three sources.  First, there is continued bloom from a number of more or less ever-blooming plants which put out abundant new flowers as the season cools.  Perhaps the most spectacular - this year at least - is Russelia equisetiformis.  This is the cultivar "Big Red".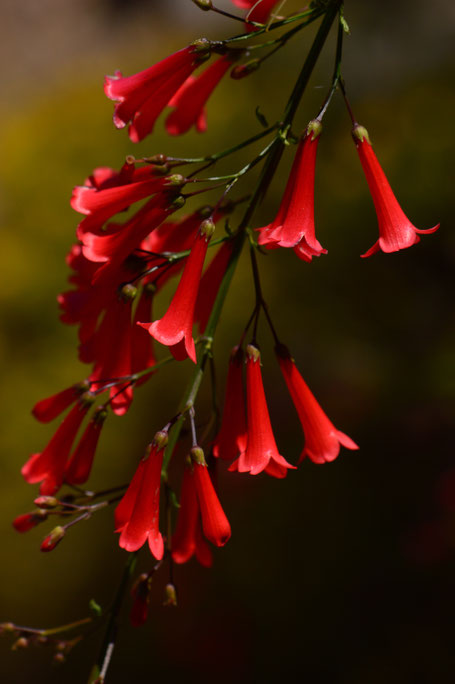 Then there are the roses; and this year The Alnwick Rose, in particular, is bursting into flower just as I hoped, which is certainly more than any roses seemed to do last year!  Getting the roses back into bloom for autumn has proven a bit trickier than I expected. To be honest, it does seem to have been chiefly a question of when and how much to increase the watering, which sounds simple enough.  But I had to work out the theory a little.  While the plants don't need as much water to withstand the temperatures, they need more to support their flowers, and this is still an utterly dry part of the year.  So I am learning...
The Alnwick Rose has to be one of the most beautiful roses ever.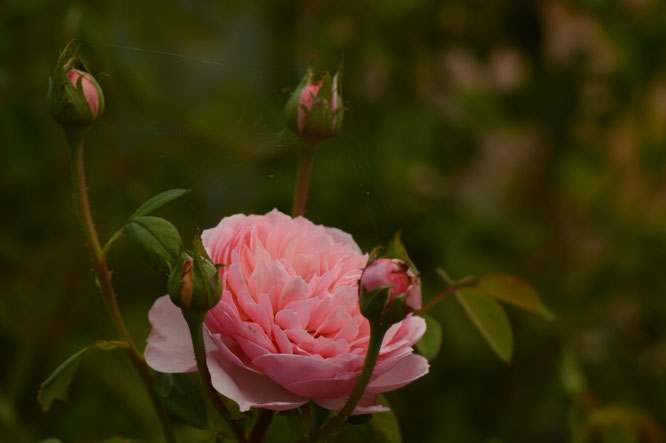 Thirdly - and the source of most of my autumn garden escapades this year - there are the genuinely autumn-flowering plants with their seasonal bloom.  I've added these three since last autumn.
There is Salvia reptans, a wispy, wiry, plant about 24 inches tall with minuscule but emphatically blue flowers dotted along its stems.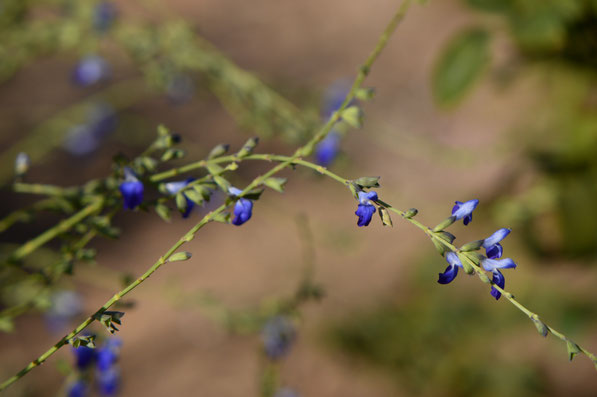 There is the beautifully textured Muhlenbergia lindheimeri "Autumn Glow", which I'm especially happy with because it begins the autumn season weeks earlier than its cousin M. capillaris "Regal Mist"...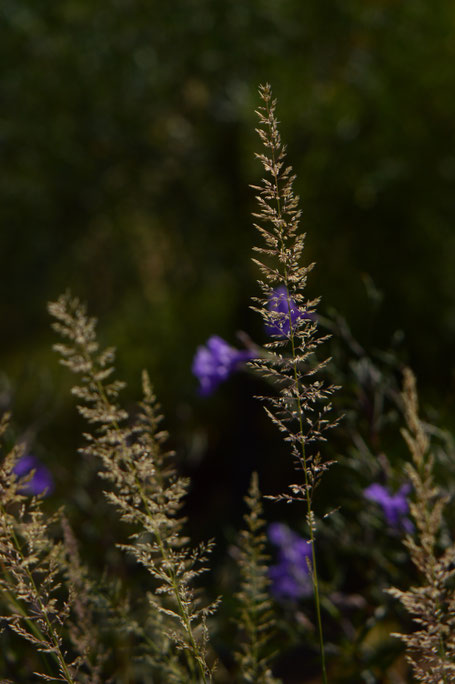 And, very cheerfully, there is the so-called Turpentine Bush, Ericameria laricifolia, a redoubtable desert native, a little evergreen shrublet with needle-like leaves.  It has just burst into bright yellow bloom this week.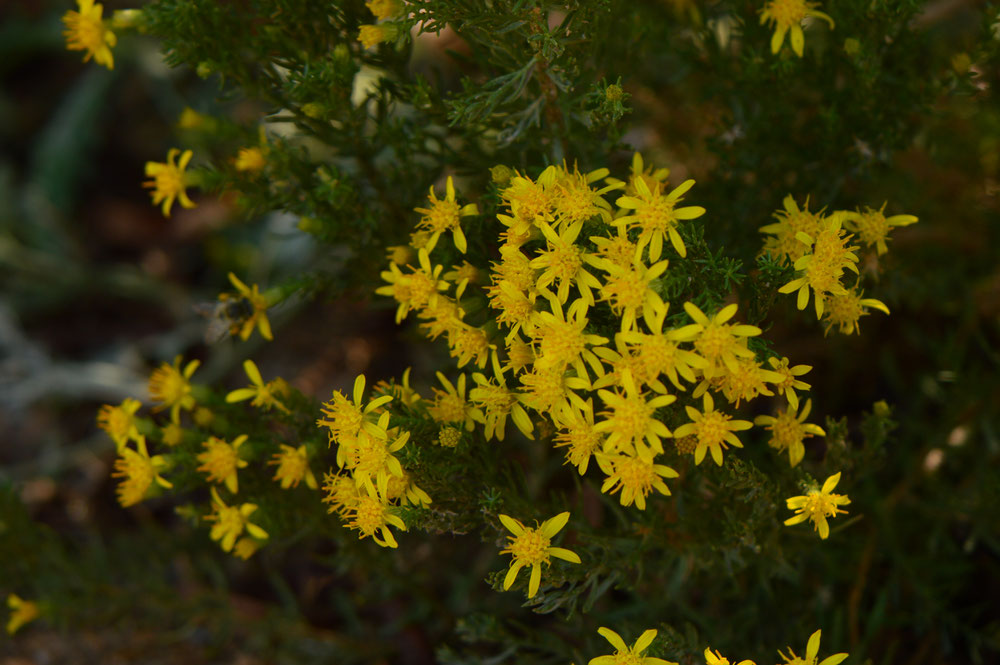 Like the related Rabbitbrush (E. nauseous), it is beloved of bees...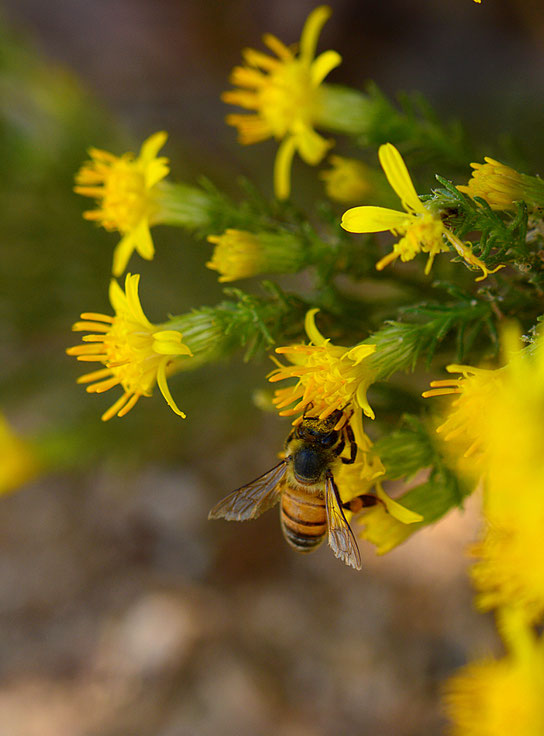 ...an assortment of bees.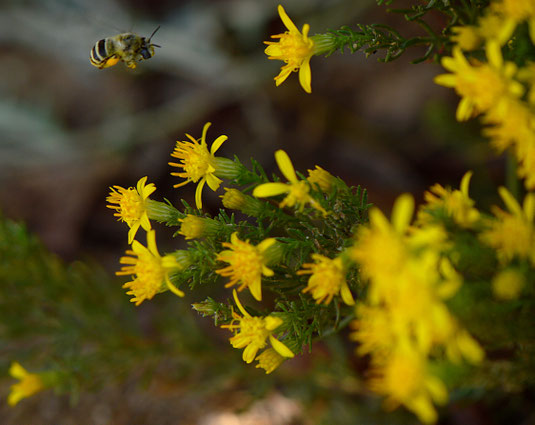 This post is quite late for this month's Favorite Flowers at The Blooming Garden, but these are certainly five favorites from my October garden, so I hope Chloris won't mind my linking in!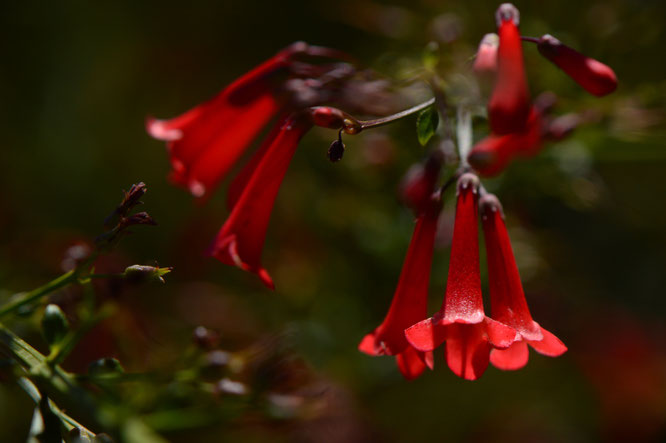 Weather Diary: Fair; High: 83 C (28 C)/Low: 59 F (15 C); Humidity: 13%-63%