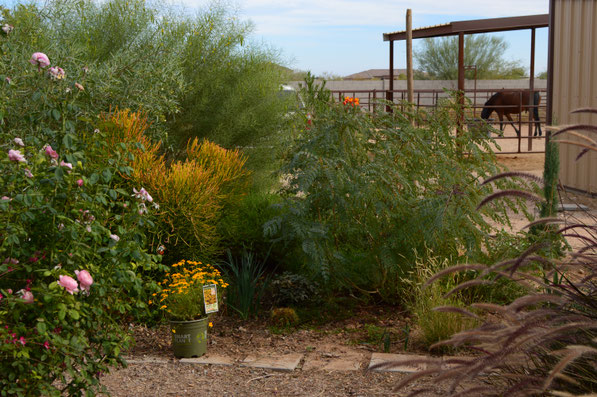 The East Border is showing signs of the changing season now, after its own fashion.  Euphorbia tirucalli "Sticks on Fire" can be seen coloring up for winter.  I don't understand the mechanics of it, but unlike so many colorful succulents, its bright orange and yellow must not be due to heat stress.  It goes green during summer, and it is at its brightest for me in the cooler months.
Also very visible in the above photo is a yet unplanted Tagetes, a hybrid between T. lucida and T. lemmonii.  I intend to plant it just back from where it is in the photo.  (Note: You know you have become a bit disorganized when you return from the garden center realizing you've just bought two plants slated to fill the same empty spot in the border!)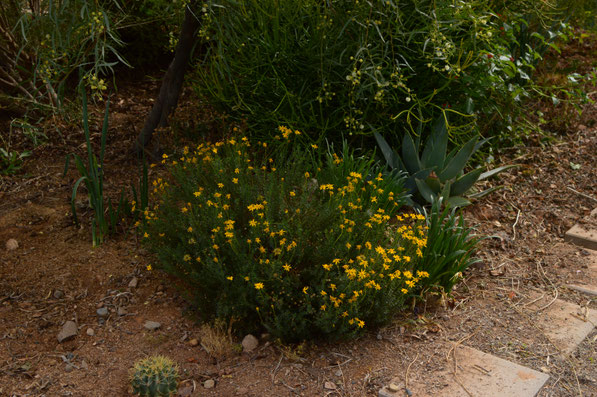 Further along the border, Chrysactinia mexicana is just finishing a fine blooming spree.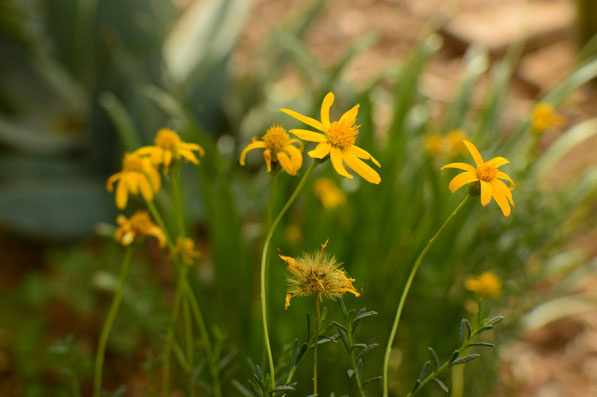 Visible just behind it is a clump of Narcissus "Autumn Colors".  It looks like I shall have one bloom by early winter, at any rate.
Finally, a late cluster of flowers from Caesalpinia pulcherrima.  I gave it a firm pruning some weeks ago, expecting that its season was finished.  It has responded with a good spurt of new growth.  And now a few flowers.  It will stop sometime soon because it is not happy with cold weather.  But temperatures are still fairly warm, and it has not stopped thus far!
I'm not sure whether there will be an official Tuesday View this week, as so many gardens are winding down with the oncoming of winter; but here is my look at the East Border in mid-November.  Thanks to Cathy at Words and Herbs for developing this meme!
Weather Diary: Mostly sunny; High: 83 F (28 C)/Low: 53 F (12 C); Humidity: 12%-44%