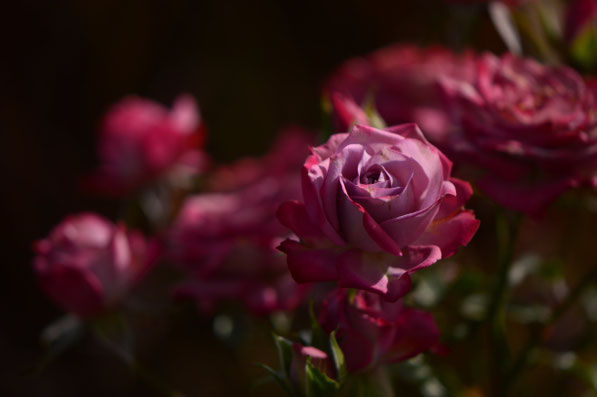 Well, there is much to tell about in this post, and not all of it plant-related.  I hope you all won't mind a digression from the garden!
First, the most spectacular bit: luckily I was outdoors last night when the sky lit up to the westward...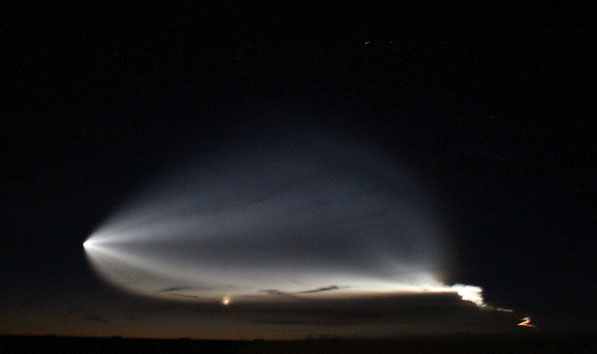 I yelled at my sister, who fortunately grabbed her camera, making up for my blitheringly failed attempt to use the video camera on my phone.  This is my edit of her shot - not too bad, considering we were nearly 500 miles away from the action and very much impromptu.
We had forgotten SpaceX had a rocket launch scheduled; but it wouldn't have mattered, as I never supposed we would see a Vandenberg (just north of Los Angeles) launch here in Arizona!  Well, actually it might have mattered, as it might have saved us some unpleasant conjectures.  Aliens were never thought of here (smirk); but because we live in the landing pattern for nearby Luke AFB (just beyond the low-flying aircraft zone), it was impossible not to fear we were seeing an F-35 disintegrating high above the desert.  Happily it was nothing of the sort, but a highly successful and particularly spectacular launch...
-----------------------------------------------------
But that was only last night.  Why have I been so absent meantime (not even answering comments - so sorry and I will try to get back to everyone now!)?
Because of the arrival of new friends, now living just over the garden hedge.  May I introduce my very own little herd of horses...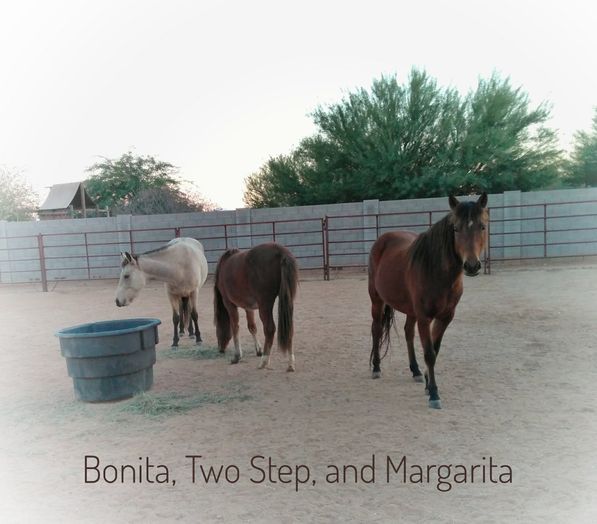 I say very little about my animals here on the blog, but horses have been part of my life and love for the past sixteen years.  When we moved out here to Arizona, we had two, Johnny and Treasure, my first little mare (Johnny's mother) having passed on the year before at the ripe age of twenty-nine.  This last summer we tragically lost Treasure (who belonged to my mother) to a severe case of colic, that scourge of horses and the people who love them.  
So I had left a fifteen year old Morgan gelding who was so distraught that for months I couldn't even put him into the pen that was adjacent to Treasure's old corral.  I began thinking hard about getting another horse.  To be honest, I had been thinking about it anyway, but circumstances definitely pushed it to high priority!
What sort of horse to buy?  We had always owned Morgans, a classic breed originating in early nineteenth century New England, with a romantic history of an unknown stallion (Justin Morgan) who created a breed of strength, speed, and great beauty.   A great deal of Morgan blood lies at the foundation of most of the breeds from the eastern US: Saddlebreds, Tennessee Walking Horses, even the racing Standardbreds.
But I knew that this time I wanted to buy a filly (young female) with the intention of eventually raising a few more horses.  I wasn't so sure that I was comfortable raising Morgans here in the desert.  To use garden terminology, they are very cold-hardy, but I've never felt they were particularly well-adapted to really hot summers!  Johnny does fairly well, having a very fine, light coat and unusually lean build, but his mother spent her later summers basking in the breeze of an industrial weight fan, and that was in Kansas City.
Perhaps it was perilous to be checking the rare breed listings on The Livestock Conservancy?  I looked, and looked again at the entry for Galicenos.  They seemed to have everything I wanted: originating in sixteenth century Mexico, range bred from the original Spanish stock, they would be much better suited to my hot desert climate.  Gentle, intelligent, trainable personalities were mentioned anywhere I could find any information about them - no small factor as I wanted to do some training.  And they are known for great stamina despite their small size.
For many people, their height might well be offputting.  For someone like myself, only five feet tall, it was rather nice to think about having a pony-sized horse to handle.
But the breed is now considered critically endangered, with fewer than one hundred known to the registry, and most of these not in breeding situations.  This is one of the earliest breeds ever developed in North America - believed to go back to horses imported by Cortez - and it is in immediate danger of dying out.  The background to all this is complex, and there is no reason to go into it all here; suffice to say that my plans slowly altered to include two young mares and a stud colt...
After a great deal of preparation, they arrived last Tuesday.
Doesn't this look good?!
I never, never post pictures of myself, but my these are my sister's photos of the horses the day after their arrival, and (because my sister took them) I am squarely in the shots, so...
This is Bonita...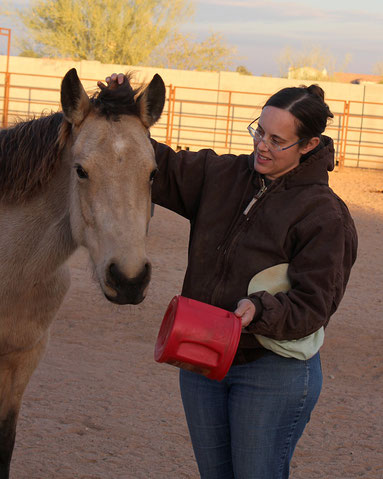 ...and this is Margarita, checking the all-important red can for more food.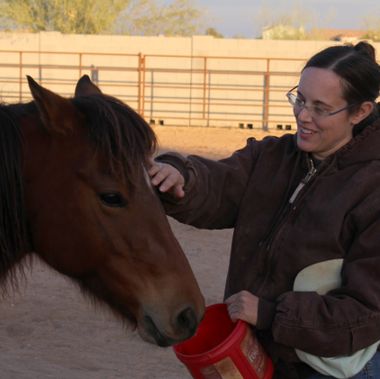 So I have my hands full!  And I am so enjoying it.
Meantime, in the garden, it is late December.  This is a normal period of lull between the refreshment of autumn and the renewal of spring.  With nighttime temperatures dropping into the thirties, the remaining crape myrtle (Lagerstroemia indica) leaves have finally turned red.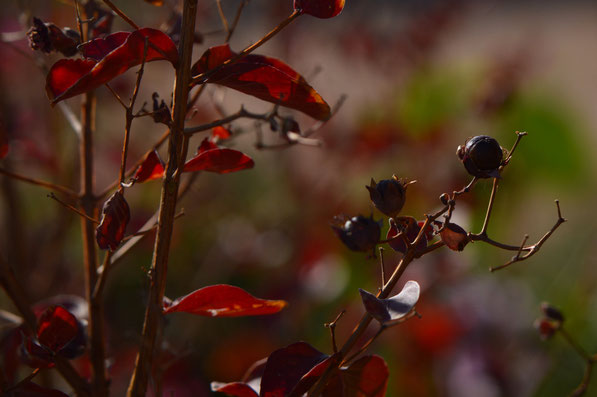 My ivy-leaved geranium (Pelargonium peltatum) rescued from, ahem... Walmart, at the very beginning of the really hot weather, is finally flowering below the now-bronze leaves of Hamelia patens.
The roses have no qualms about the temperatures.  I could not get a good shot of the latest bloom on Sterling Silver, which was a pity as it was a very nice one.  But it was too high up!  Mister Lincoln has a number of lovely buds.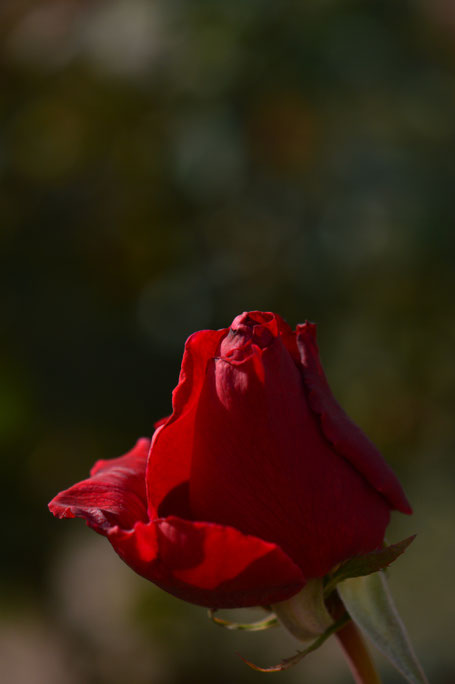 Wollerton Old Hall is tumbling over into the miniature 'Daniela'.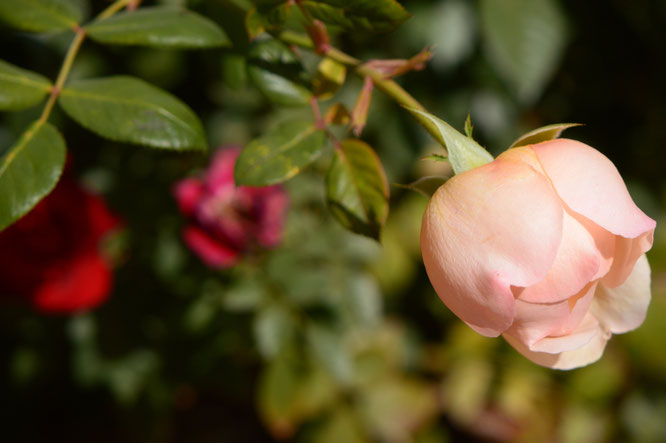 And my lavender miniature is particularly floriferous right now.
I hope to get back to all of you quickly.  And I hope to post for Christmas Day.  Somehow I am feeling very busy!  So in case I don't get another post in for the holiday itself, I will go ahead and wish all of you a very happy Christmas!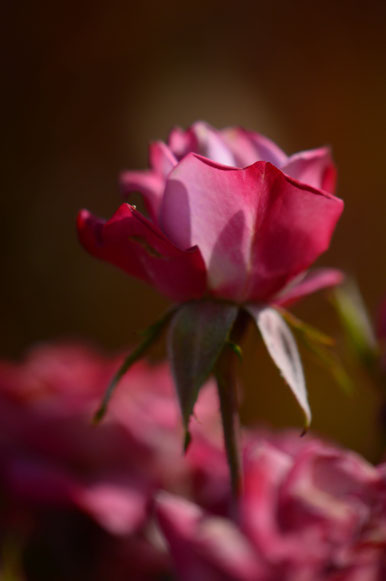 Weather Diary: Sunny; High: 65 F(18 C)/Low: 34 F (1 C)