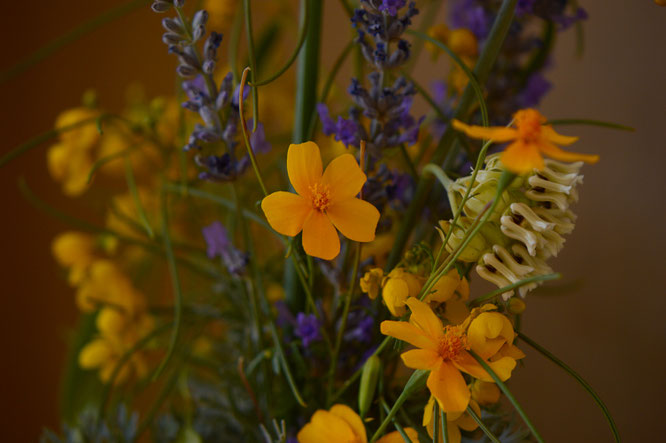 Here in the desert, 2018 has arrived with a rather drastic swing between daytime and nighttime temperatures.  Most days reach shirt sleeve warmth with nights a good deal colder, a few (to the hearty disgust of my tropicals) near freezing: a differential of thirty degrees (Fahrenheit) and more.  
So it is the hardy, winter sun-lovers that are in bloom right now: Senna nemophila and lavenders, Tagetes and desert milkweed.  And a handful of narcissus.  Combined, they make up the first vase of the new year.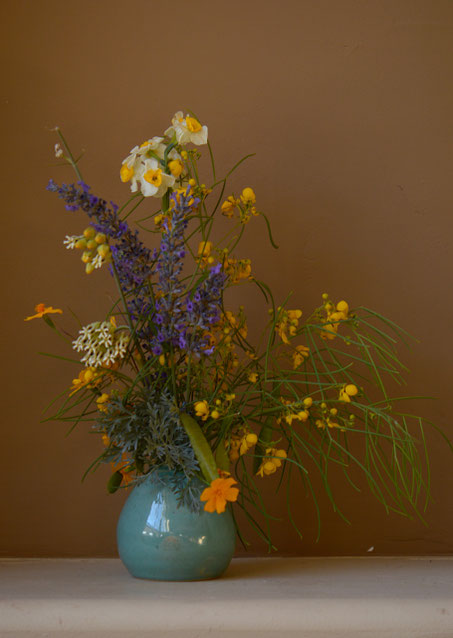 Senna nemophila has been flowering for weeks, its bright yellow blooms releasing their nearly chocolate smell as I walk by.
Even more fragrant is Narcissus "Autumn Colors".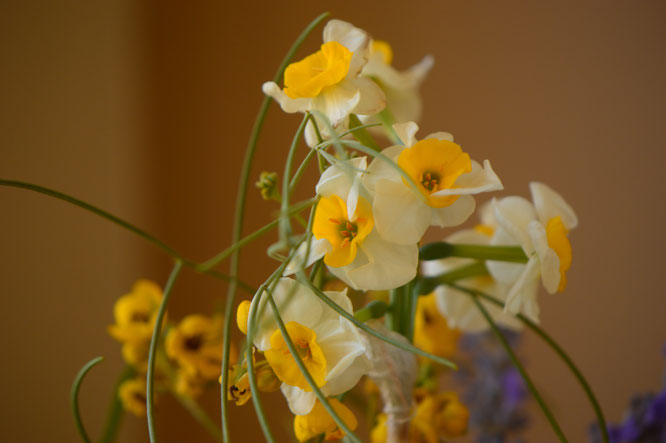 Then, with a much spicier scent, there is Tagetes x "Gold Medal"...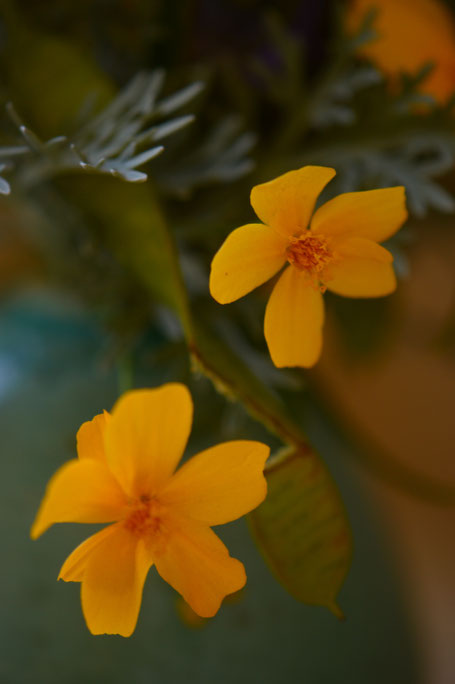 Also Lavandula x intermedia - that most fragrant French lavender - and Asclepias subulata with its strange cream-colored blooms on long, naked gray stems.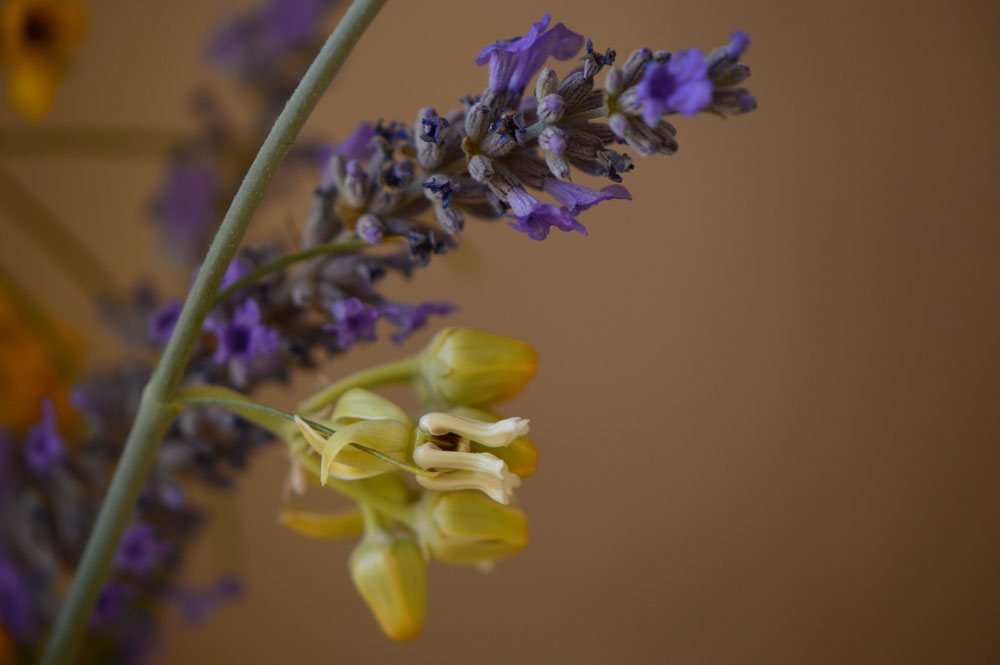 At the last minute I added some tufts of Artemisia x "Powis Castle".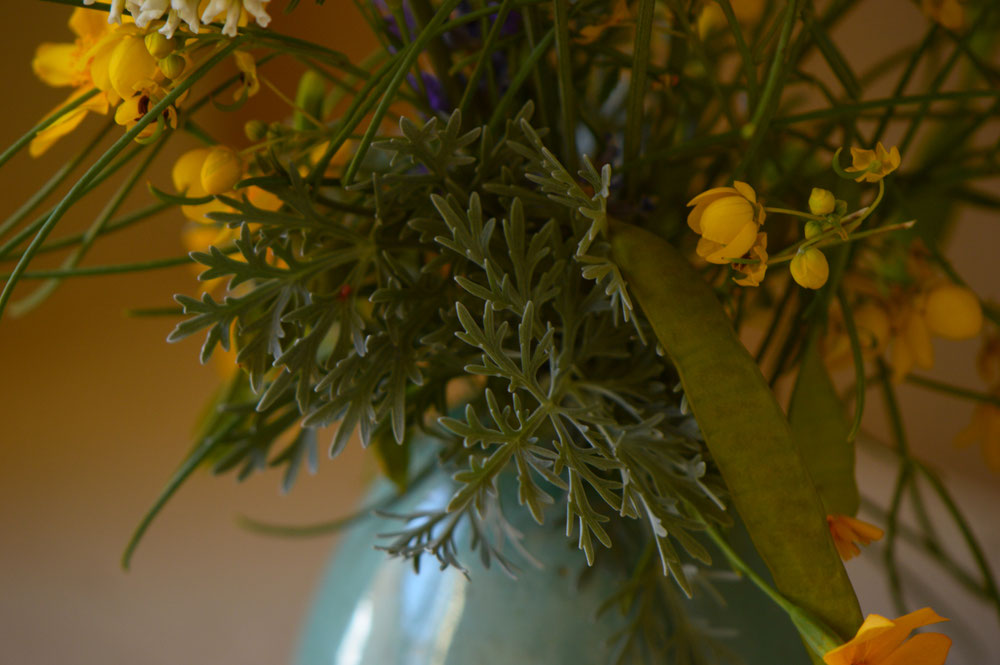 The vase was handthrown in a teardrop shape with a narrow mouth.  
The finished vase has a meadowy look, all the more so with the green pods and wispy leaves on the Senna.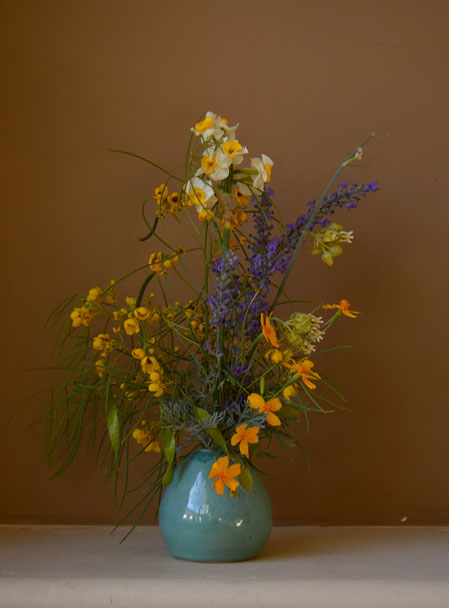 Now pictures from the garden.  When I first cut the flowers, I left them outside in some water for a few minutes before bringing them indoors.  The bees, nothing daunted, continued to work on the cut lavender.
But I brought it all indoors, where I can enjoy the whiffs of fragrance floating around the room.  After all, there is still plenty of lavender outside for the bees!
Thanks to Cathy for hosting In a Vase on Monday at Rambling in the Garden - especially on this very first Monday of the year!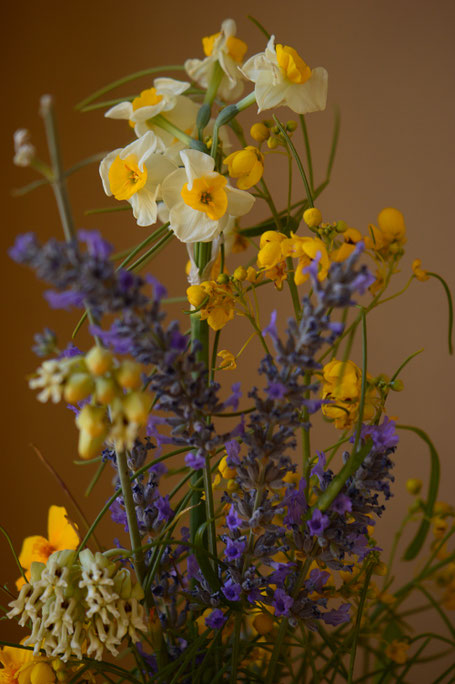 Weather Diary: Sunny; High: 72 F (22 C)/Low: 38 F (3 C); Humidity: 12%-55%