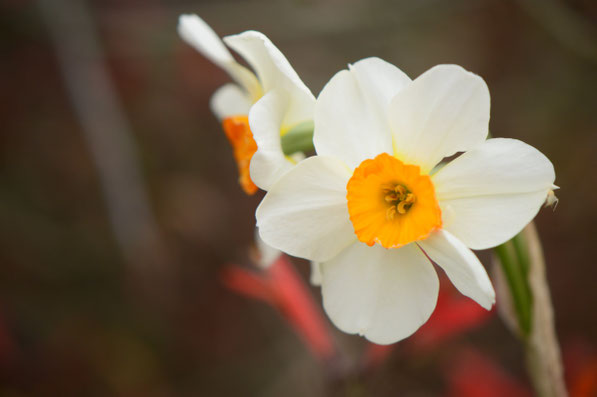 One of the latest-flowering narcissus I have planted (though 'Pink Charm' has just flowered now as well), 'Bright Spot' has large, lovely blooms.  It is said to be partially of poeticus origin, which is one of the reasons I am growing it - Narcissus poeticus recurvus is one of my very favorite species narcissus.  
I felt 'Bright Spot' might have a better chance of success here than its lovely ancestor, which is usually given a USDA zone 7 listing for southernmost growing regions.  Though that may not be accurate for growing in the cool-night, intermountain west, and perhaps I should give it a try on its own account.  In any case, 'Bright Spot' has grown quite well on reasonable watering. 
They are fragrant as well (no surprise there!)
The only surprise is that in my garden the cups are rather yellower than the description of 'blazing orange-red'.  In fact, after seeing them flower for the first time last spring, I contacted Bill Welsh (Bill the Bulb Baron) to check whether there had been any error in variety.  He assured me my flowers were 'Bright Spot', but added that in desert sun there might be a question of 'bleach spot'.  So I am considering moving the bulbs to a shadier location to bring out the color of the cups.  I haven't done it yet, as they grow and bloom quite successfully where they are.  Just the cups are a paler hue than I expected.
Still very vibrant, as you can see!  And a pretty foil to the dusky bright hue of chuparosa (Justicia californica) behind.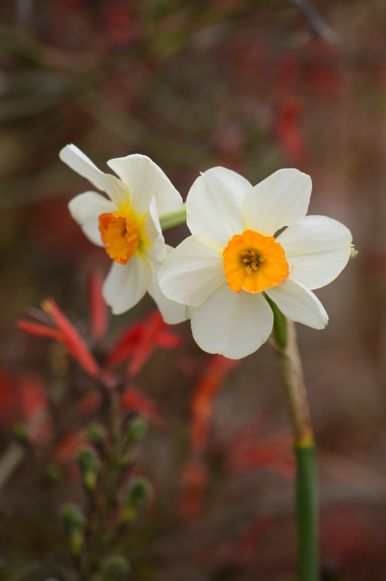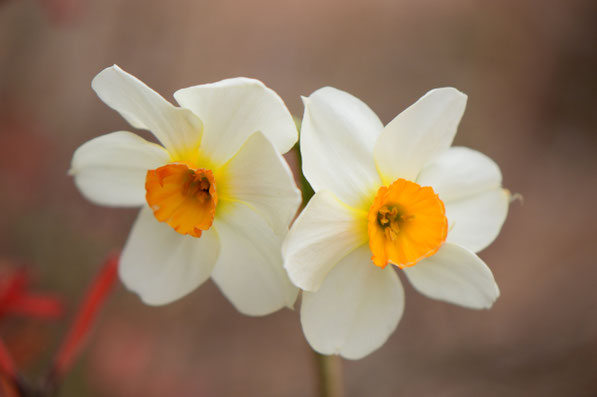 Weather Diary: Partly cloudy; High: 73 F (23 C)/Low: 53 F (12 C); Humidity: 14%-50%