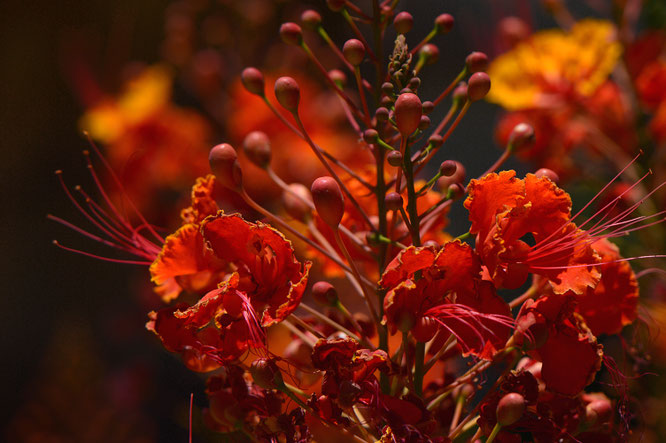 This post began life as my Ten Favorites for June with Chloris at The Blooming Garden. Unfortunately, for days I found it impossible to get into my website for editing.  I still can't access it from my laptop.  Bandwidth seems to be the culprit, as host Jimdo has checked the site from their end and finds no problems.  I could make some remarks about the folly of ending net neutrality, but perhaps better not...  Out here in rural Arizona, we never have quite enough internet signal anyway, so it's quite a headache to suddenly have even less.  However, I didn't write this post to complain but to celebrate flowers!
So here are some wonderful flowers from the month of June, which is the heart of summer in the garden.  As we move into July, we can hope for some rain; but the flowers of June must brave the absence of any moisture save that supplied by a slow garden hose.  They're a wonderful lot!
Colors range from very bright...
...to soft and delicate.  Catharanthus roseus comes in a wide range of red and purple tones.  Over the past few years I've planted mostly the simple purple ones, a variety of bright pinks, and white with a red eye.  They are the classic bedding stuff one gets at garden centers.  Now they have had to time to seed themselves around a little, I am quite happy with the additional colors showing up - often much more elegant, I think.
Just in time for the end of June, we saw a first flush of bloom on Leucophyllum frutescens - not only in my garden but around town as well.  Any particular flush is brief, rarely more than a few days, and I missed photographing this at its height.  But I certainly enjoyed it - one of my favorite desert shrubs in bloom or out.
A couple of June plants are particularly approved by the bees.  Perovskia is quite the bee magnet.  Mine admittedly is not very lush at present, but that wasn't stopping the little creatures.
...among the most determined summer bloomers are the above Caesalpinia pulcherrima and lantana (below).  I tried not cutting the Caesalpinia back hard this spring, and merely pruned out the winter dieback, which wasn't much.  So far results are satisfactory, with full flowering beginning noticeably earlier than last year, though this was probably also due to our early heatwave.  With this treatment it will be a much taller shrub, as well as leggier, by the end of the season, so I've not decided whether I want to cut hard or lightly next spring.
I have been identifying my red-flowered lantana as 'Denver Red', but David C. of It's a Dry Heat has kindly put me on track that it is probably 'Dallas Red'.  Please don't tell the Chambers of Commerce... ;-)  I confess to not keeping proper notes on lantanas!  
They are invaluable here for summer color, despite the need for a periodic hard trim to keep them in bounds - at any rate in areas where other plants are getting water!  Foliage will die back in summer if it is left unwatered in this climate, and again when temperatures drop near freezing. It becomes rather a mess at those times, but they do offer a respite to its tendency to spread.  Otherwise it would be taking over the landscape.  It is a serious invasive in regions with a little more water and no frost.  Here it is merely very, very tough.  Therefore very useful!
And finally it is time to celebrate the lush plumes of Pennisetum setaceum rubrum, perhaps the most definitive midsummer arrival in the garden.  It will bloom now until cold weather sets in in earnest.  And that is a long time away...!
On to July and the monsoon season!  There is a possibility of rain towards the end of the week - the sort shown as '20%' - not very convincing, I'd say, though they've spread that over several days.  In any case it looks like we will have some serious heat first, as tomorrow is forecast at 113 F/45 C.  Summer in the desert...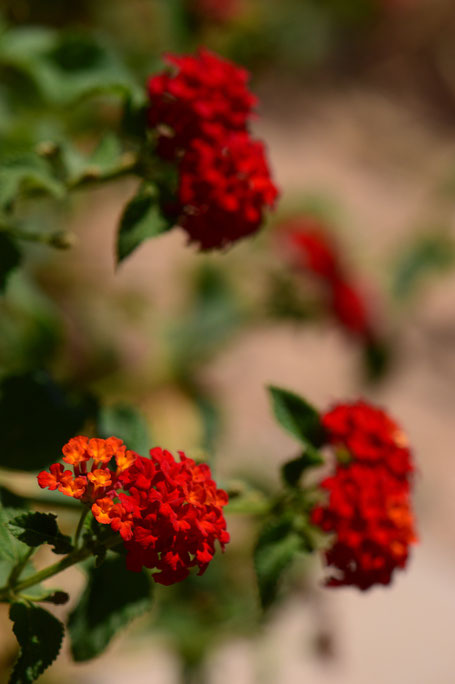 Weather Diary: Fair; High: 105 F (41 C)/Low: 82 F (28 F); Humidity: 9%-37%