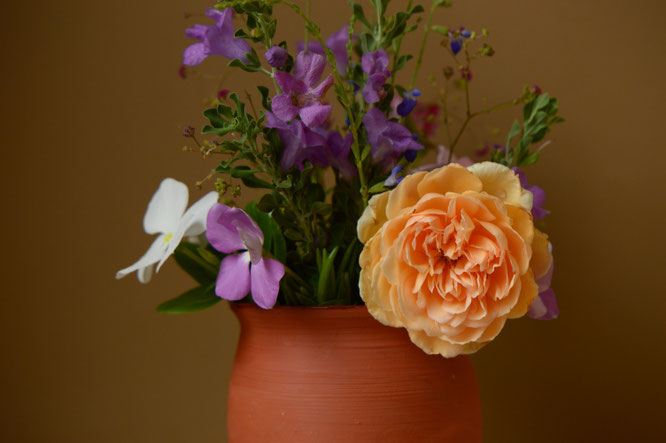 The heat has finally broken here in the Sonoran Desert. Yesterday afternoon a slow rain moved in on cool air. Today it continues to drizzle, a luscious moisture refreshing the soil, the plants, the garden creatures, and the people. 
The garden is changing almost as I watch, leaves greening and flowers brightening the borders. The native plants in particular are beginning to bloom more.  Calliandra californica is misting the Central Bed with a froth of bright red.  Leucophyllum frutescens - sometimes called barometer bush because of its uncanny capacity for flowering several days in advance of rainfall - predicted this rain a couple of days ago, when the skies were still only lightly cloudy.
And the roses are coming to life again too. Today's vase centers on the arrival of a lovely bloom on Crown Princess Margareta.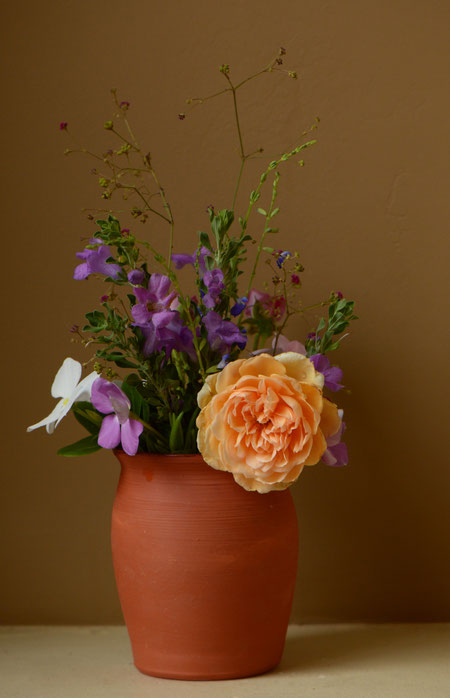 I included some stems of Leucophyllum as well, though the flowers drop very quickly.  And there are the brilliant blue dots of Salvia reptans 'Sapphire Skies'.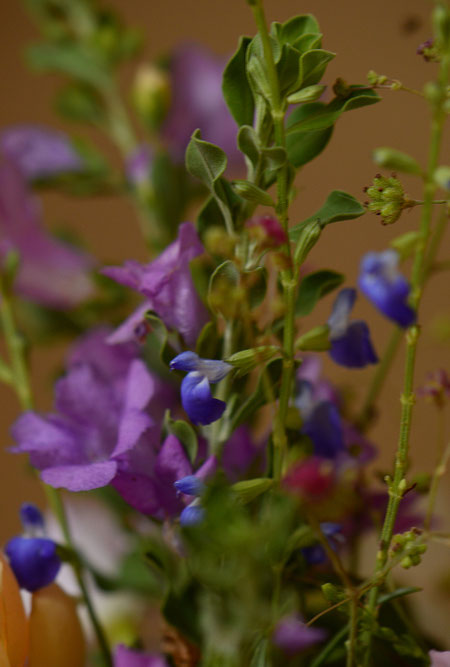 Smaller still are these pops of intense pink from an unidentified wildflower that has sprawled its way onto the patio.  If it were any less graceful, it would be a weed, but it is pretty and bright and unassuming, so I am slow to remove it.  In any case, like most desert annuals it removes itself very quickly and completely when it is done flowering.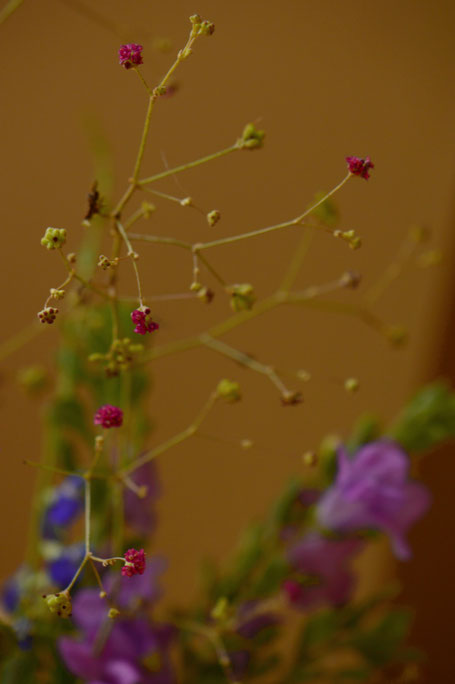 Even Catharanthus roseus is all the better for the cooler weather...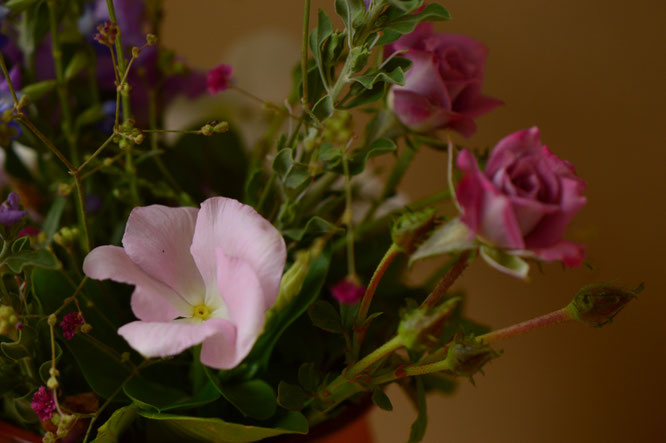 ...as is the miniature rose 'Kordes' Lavender'.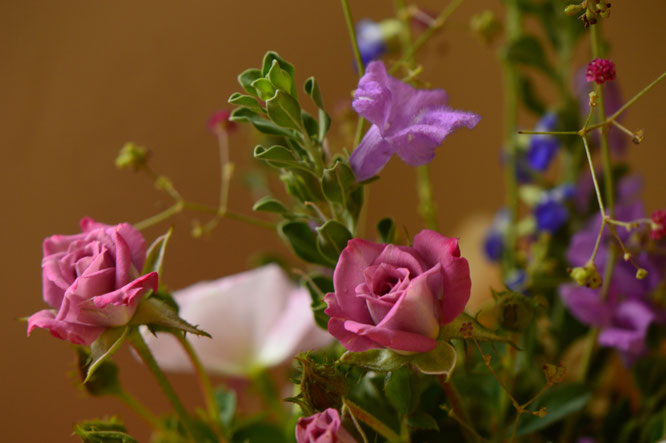 I have used my recently made vase again.  The exterior is unglazed red clay such as I make my flower pots with, while the inside is lined with a dark glaze.  The glaze is still in experimental stage, and I'm hoping to run some more tests this week.  The goal is to have a glaze that does not craze (crackle) quite so much.  Some crazing is to be expected, as this is a borax-based recipe, but I would prefer to reduce it a little!  Higher temperatures in firing will help, but I will be tweaking the recipe too!  Such are the cogitations of a potter who can't resist engineering her own clays and glazes...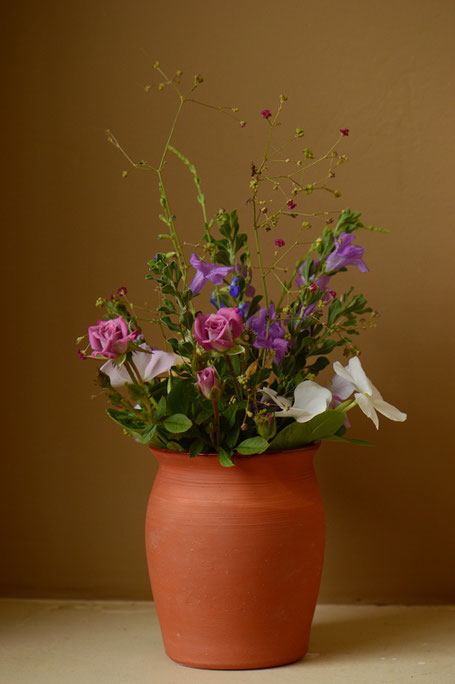 A big thank you to Cathy for hosting In a Vase on Monday each week!  There are autumn flowers in her vase as well - just a different set!  
Happy new week!
Ed. I think - at any rate I have to hope - that this post contains more obvious and egregious errors than any others I have published to date.  To refer to a current tropical storm as Flora instead of Rosa might be a natural slip for a gardener.  But to get one's months entirely mixed demands a little more explanation.  So, to explain...  While posting, I was still fretting over my failure to complete and publish another post - one to be entitled something like 'Blue in September' or 'September Blues' - about Salvia reptans, to my mind a most fascinating and arguably underused member of its genus.  And somehow the 'September' got mixed into this post despite the successful recent arrival of October.  The rest of the tale lies in too much stress and too little sleep lately.  I still intend to get the other post up, but will most certainly be changing the title!
I would change the title of this post rather than have my bleary mistake blazoned in 24 pt, or whatever it is, across the top of the page; but I suspect that would mess up all the links, so I will simply leave this note for the patient reader...  Cheers!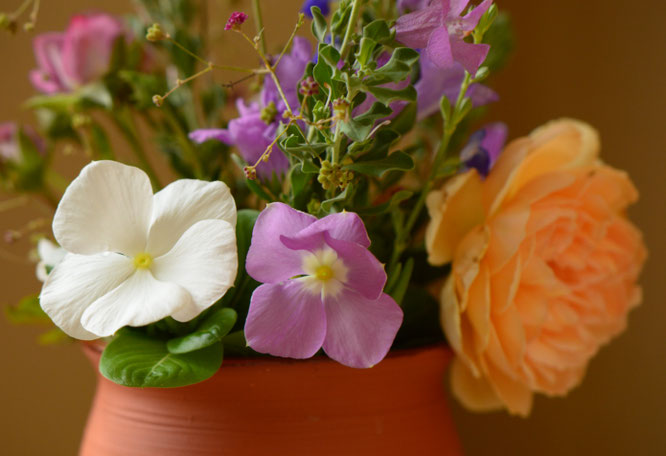 Weather Diary: Cloudy with rain; High: 83 F (28 C)/Low: 76 F (24 C); Humidity: 47%-89%  We are expecting heavy rain tonight; this is after all the remains of Hurricane Flora, so flash flood watches are in place.  Fortunately I just stocked up on horse feed, as our neighborhood does get cut off by flowing water during major storms.