I'm not sure what it says about me that of the first batch of bulbs and rhizomes taken up and potted for trundling along to a new garden, most have not yet bloomed in this one.  I'm an incurable romantic, perhaps, always looking to the next season, but also no doubt laboring under the suspicion that some of these plants (particularly the irises) might actually thrive better in the new location.  It is worth noting, though, that even plants which eventually grow strongly here often get off to a slow start.
In any case, here is an Amaryllis belladonna - hopefully a bright cherry pink version of the more familiar pale pink - purchased from Bill the Bulb Baron last year. It is coming up strongly as weather turns cooler, but it was still quite easily dug and replanted.
Also visible are fans from one of several arilbred irises.  I'm afraid I have lost track, but I believe this is the little blue 'Pixie Power'.  Small though it is, it had multiplied nicely, though I am still waiting for those first flowers.
What can just barely be glimpsed in a corner of the photo below is a cluster of my beloved Freesia alba.  I'm not even checking to see whether Freesias like to be moved in the green as there really isn't any choice.  So far they seem to have transplanted well.  They have certainly become one of those bulbs I don't want to be without, climate permitting. 
These had been caught in the shadow of a rapidly growing Lavandula dentata, so they really needed to be lifted in any case as they could hardly have bloomed under all that bushy lavender foliage.  They may well be breathing a sigh of relief!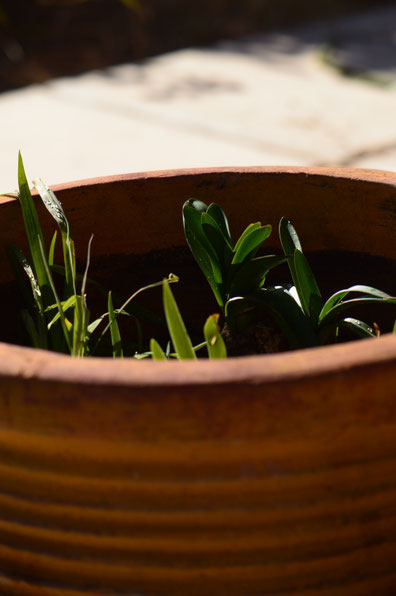 Lastly, a vignette of miniature rose 'Lavender' with Muhlenbergia capillaris "Regal Mist' because it's that season again...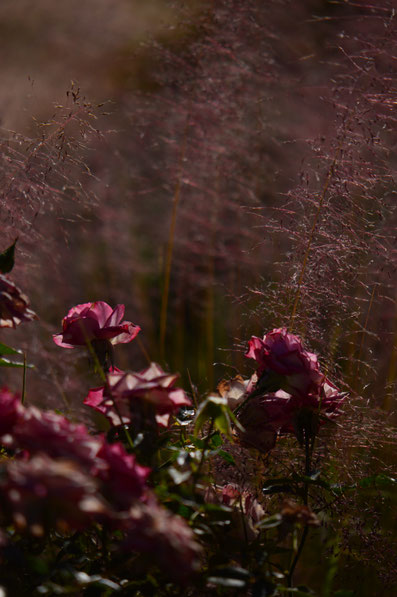 Weather Diary: Cloudy; High: 70 F (21 C)/Low: 53 F (12 C); Humidity: 26%-56%; expecting rain tonight and/or tomorrow