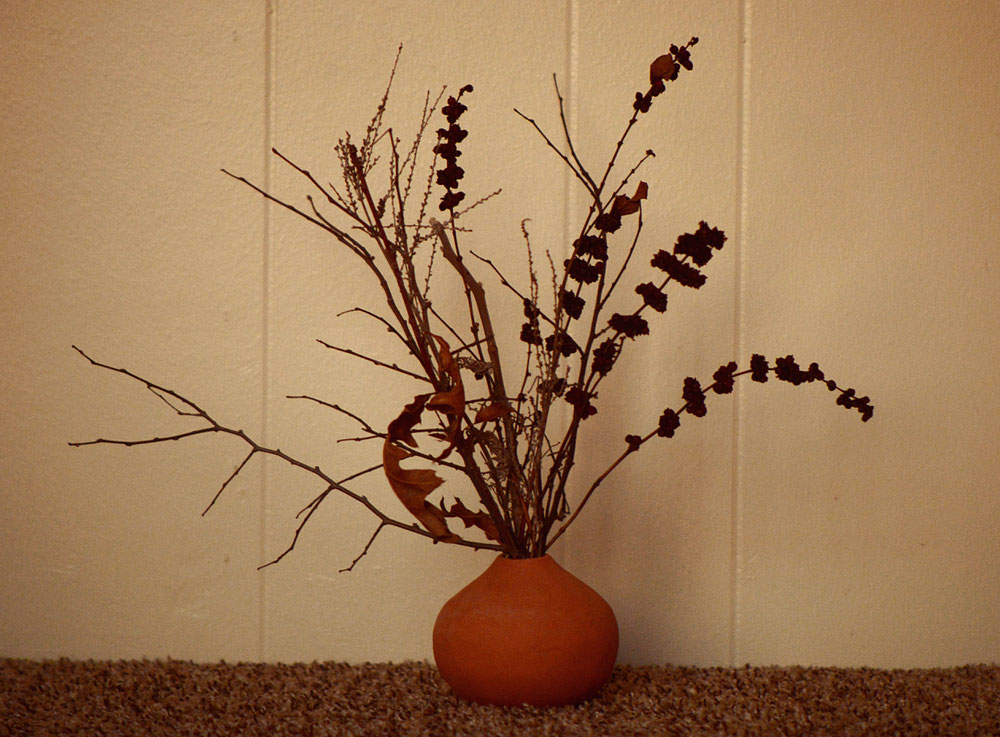 Definitely foraged.
To be honest, I don't know what any one of these bits of dried material is, except that the stem with the elegantly curved leaf looks rather like a pin oak (Quercus palustris).  Everything was cut from the bare winter twigs at the southeast corner of our new property, where there is a little thicket and, just below it, the roadside ditch.
The berries are quite intriguing, dry drupes now mostly blackened, presumably by the cold.  Our realtor gave me the common name when we looked at the property, but I promptly forgot it.  There were so many other things to think about!  They - the berries, that is - grow on vines clambering over the partially derelict barbed wire on the west side of the yard.
The pot is one I made for my sister a couple of years ago.  Not a vase, except by present use, it was designed as a seed pot especially for her carefully harvested nasturtium seeds, selected for color and vigor.  It fits neatly into the hand but still holds plenty of seeds.  I believe her most recent batch is still in the bottom of the pot.  I managed to grab it and slip it into the truck bed as I left our house in Arizona - one salvage job among many.  (We came near to losing a great deal of what we owned and even much of what we had made with our own hands.  For a brief timeline of the past two months, please see my last post.)  At one point we had to collect spilled seeds from all over the bottom of the bed liner,  but back they went into the pot, which, thankfully, remained intact through thick and thin and a couple of rides on a tow truck.  When she suggested I use it for today's vase, I thought it just the thing for dried material.  I like the way the small mouth holds the stems and twigs...
Well, I am finally back to posting for In a Vase on Monday - thanks to the ever-inspiring Cathy at Rambling in the Garden.  Do check her post for many more links to winter (and perhaps summer) vases!
Weather Diary: The weather is doing its best in terms of variety.  In the wee hours of this morning, temperatures were up to 61 F/16 C, and now they are down to 25 F/-4 C, which is the forecast low.  And tomorrow may see freezing drizzle, 'then drizzle likely'.  Ha!