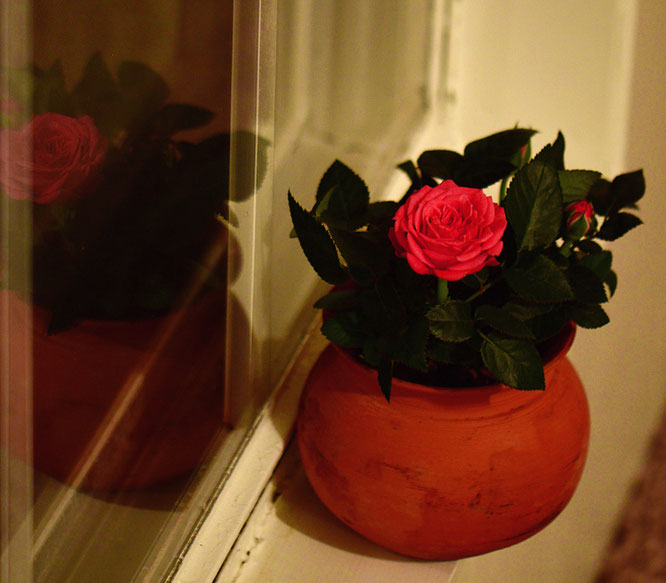 It had to happen eventually.  I am a very flower-hungry gardener.  In the middle of a cold, gray February.  And there was a whole stack of miniature roses in front of the check-out at the store.
Does anyone else feel sheepish over buying gift plants for themselves?  Valentine's and Mother's Day are my downfall because that is when the miniature roses pile onto the stands at any grocery or Walmart in the US.  This tiny rose was clearly meant for the Valentine's Day gift market, but a rose is a rose is a... It fell into my shopping cart somehow, as others have before!
I hope Cathy will pardon this rare deviation from the letter of 'In a Vase on Monday', her inspiring weekly theme at Rambling in the Garden.  This is not anything - flower, foliage, berry, or bud - in a vase. It is unquestionably a plant in a flower pot.  Yes.  To excuse myself, the thought of bringing it home, potting it up, and posting about it for today was part of my rationale for purchasing it.  Why exactly I needed a rationale I can't say, but there it is.  My sister must understand, as she was the one who managed to suggest it!  And it does seem doubly appropriate somehow, in light of Cathy's own unusually rosy vase this week!
The little pot is one of my own making.  For the past two months or so it has been loosely tucked into a much larger pot that contains much larger roses: about five rooted suckers which I dug shortly before leaving Arizona.  They are all off of the antique 'Communis', the first known Moss Rose, a sport from Rosa centifolia.  Amazingly, at least two of them appear to be in good health, with little pale buds forming at the joints of old leaf axils - a sight guaranteed to warm a rose-lover's heart.  After all they have been through I had thought there was no chance of any survivors.  But those grand dames of rosedom are grand indeed, and very sturdy.
In any case, the little pot came indoors recently and was available for a very tiny rose bush to be slipped into it tonight.  Shall we say that at least the indoor component of the new Small, Sunny Garden has begun?
I think we shall!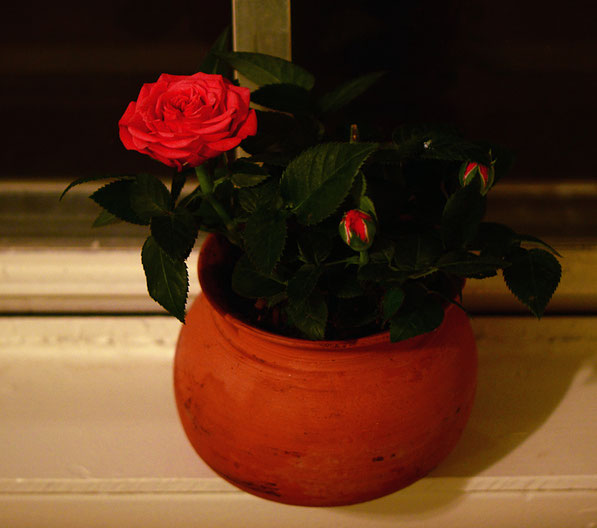 Weather Diary: Overcast; High: 36 F (2 C)/Low: 32 F (0 C); Humidity: 93%-100%