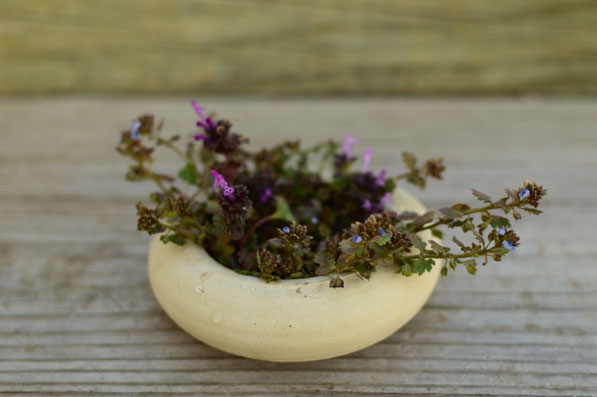 Sshhh...  Don't tell anyone I picked weeds for today's vase!  Let's refer to them as wildflowers, shall we?  At least there are a few fresh blooms in it!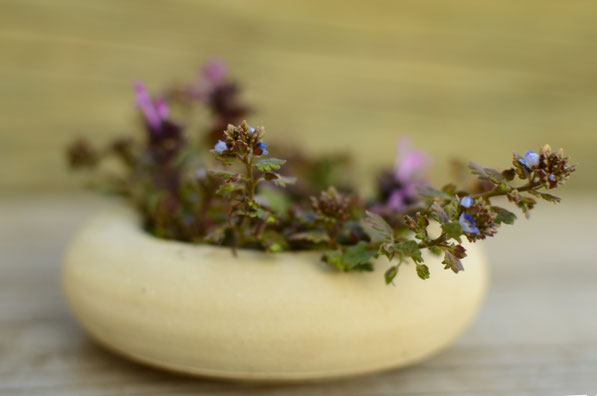 The snow has melted (again), the sun is shining, a few tufts of grass are showing some green, and the breezes have been downright luscious.  I have seen a robin and heard cardinals and a killdeer, so spring is surely flying cautiously in on those breezes.
However, the trees are still quite bare, and the predominant color is definitely brown.  I wasn't at all sure I could find anything fresh for today's vase, but twigs and such seemed a little ho-hum with the warmth and sunshine.  So I checked the narrow strip of ground right up next to the front of the house and found these minuscule magenta blooms, some on longish - relatively speaking, of course - stems.  I don't recall seeing these plants before.  They are clearly weedy but rather welcome at the moment!  Small as they are, the flowers are quite extravagantly splotched with darker magenta spots ringed with white.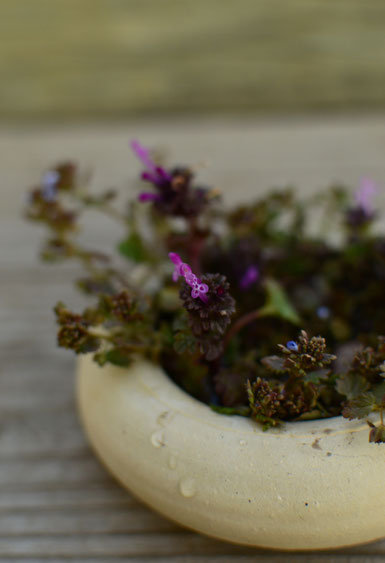 And then my sister mentioned another patch of wildlings out by the shed, where I found the tiniest of blue flowers huddled in among mats of green foliage.
As everything was so low-growing, I got out this small, low stoneware container (one I threw on the potter's wheel quite a few years ago), filled it with water, and laid the mat of blue-flowered stems and leaves atop the water.  Then I tucked in the longer-stemmed magenta flowers.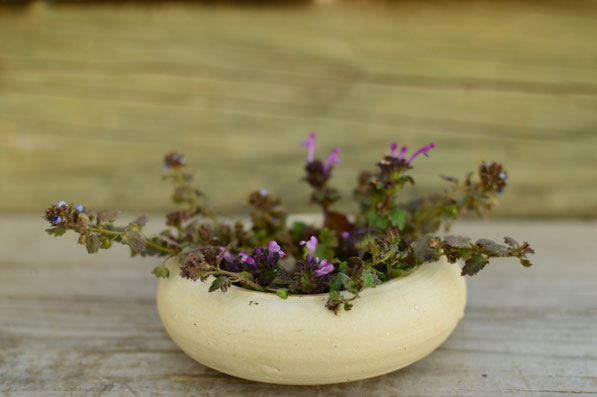 Clearly I need to start planting the garden!  
But this is a start - a little last bit of winter, first of spring.  Do go check the many other spring vases at Rambling in the Garden!
Weather Diary: Fair; High: 55 F (13 C)/Low: 36 F (2 C); Humidity: 44%-71%