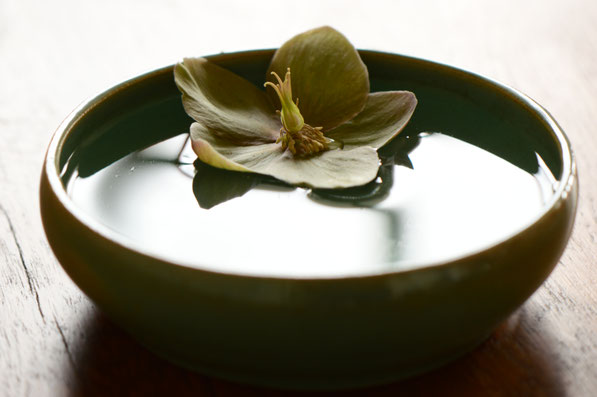 Last night's search at the hardware store (because one must always check the plants, no?) netted hellebore 'Ivory Prince' among the still sparsely filled plant benches.
Hellebores are beauties.  They were becoming very popular here in the US as I was just beginning to garden.  That begins to feel like an unconscionably long time ago, but I find that most of my early garden loves remain firmly in place, with the exception of a flirtation with nearly black flowers.  A few too many were either downright funereal or else were simply red. 
But back to the hellebores.  They are, in fact, one group of plants that I would probably have tried eventually even in the desert, no matter how forlorn the hope of success, so it should be no surprise that they are high on my priority list as I begin a new garden in a much more suitable climate.  Even at that, I remember finding mine more drought-tolerant than I expected, with the caveat that drought-tolerance in Missouri is an entirely different thing than in Arizona!  
More than ever, I find my preference lies with the simpler forms, and so it was easy to decide to purchase 'Ivory Prince', with its single flowers and soft, creamy green coloring.  I floated it in my handthrown stoneware dish, whose soft blue-green glaze seemed right for the dreamy flower colors.
I'm afraid I cut the blossom too soon, hence the collapsed stamens?  Many of you will know more than I about cutting hellebores.  I always used to leave all my flowers in the garden.  In a Vase on Monday has cured me of that!  Thanks to Cathy at Rambling in the Garden for encouraging so many of us to bring a touch of the garden indoors at least once a week!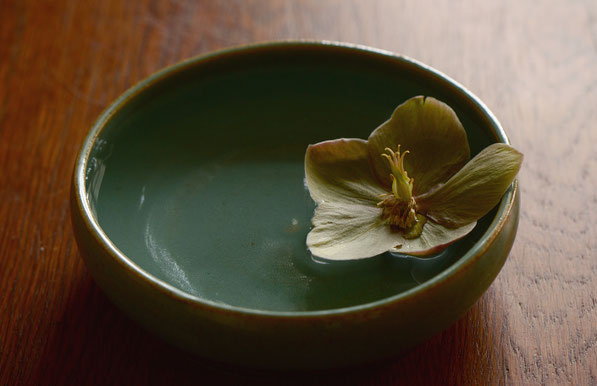 Weather Diary: Overcast; High: 54 F (12 C)/Low: 48 F (9 C); Humidity:  63%-94%