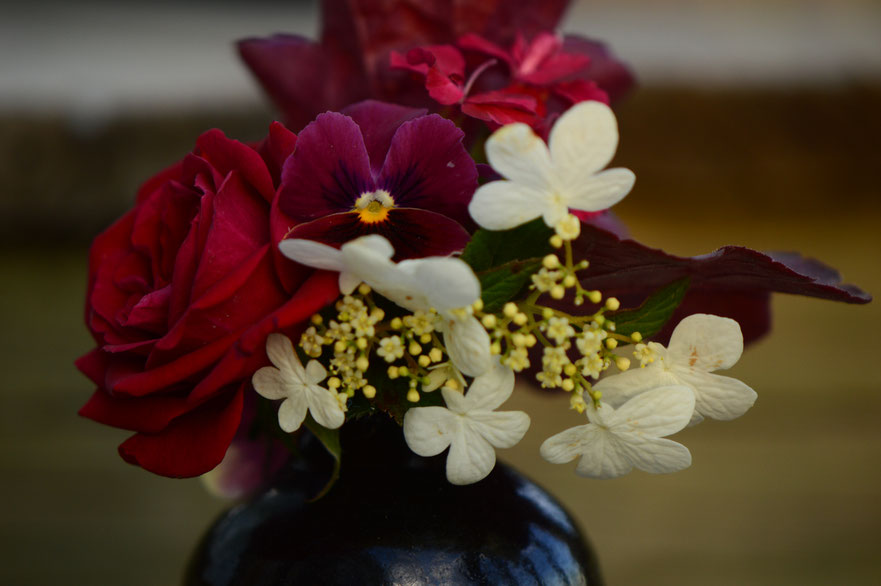 It would appear that my predilection for red hues has come with me to the new garden and, therefore, to today's vase.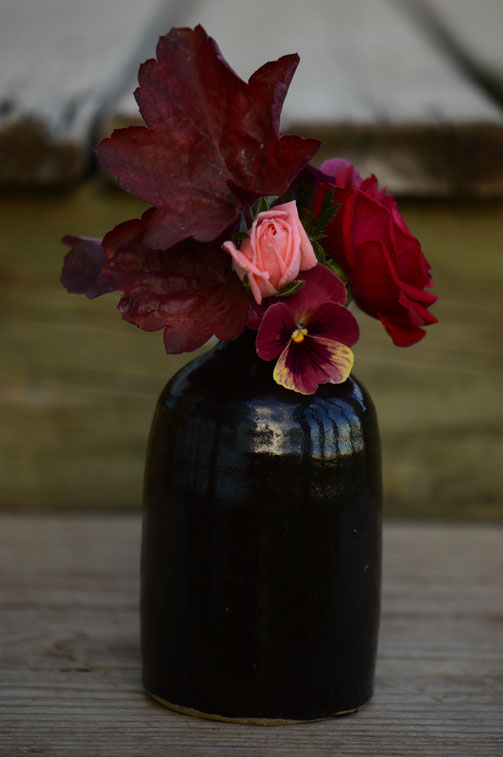 In addition to the Heuchera foliage ('Carnival' series), I have clipped an assortment of red-toned flowers.  There are some burgundy violas and a pink miniature rose...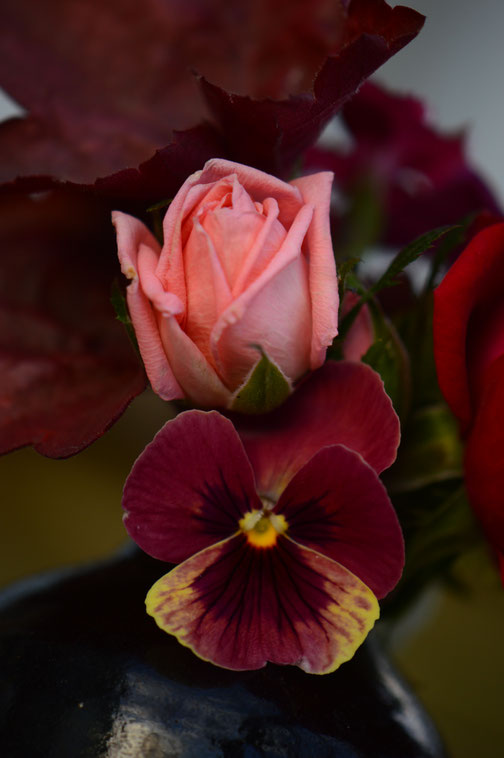 ...also a deep red, very full miniature rose...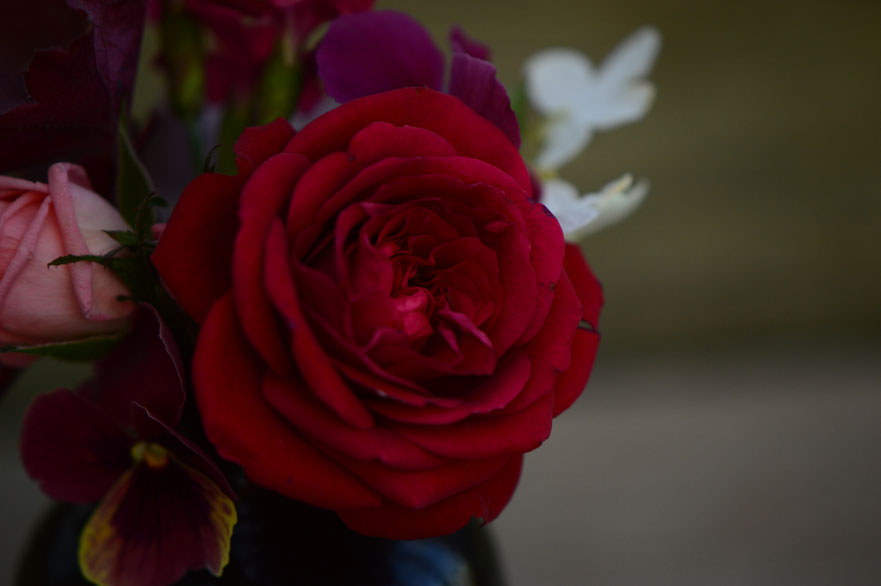 ...and small flowers of Dianthus x allwoodii 'Frosty Fire'.  This was picked up today, I suppose mostly because I have been eyeing various Dianthus for weeks and finally had to have one.  From reports on the Dave's Garden platform, as well as a naive guess that 'Frosty Fire' might be similar to 'Firewitch', I was in hopes that it would fare relatively well in heat come summer.  Further browsing this evening leaves me more dubious.  We shall hope for the best!  The scent is lovely; it kept wafting around the inside of my truck after I plopped it in the back seat - a very pleasant perfume to be driving along with.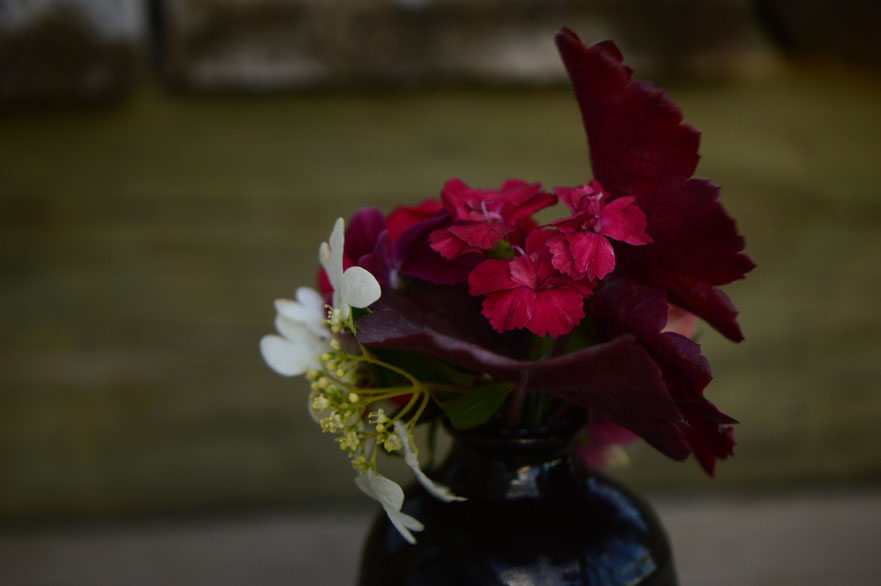 The exception to the red-toned flowers is the white lace of Viburnum plicatum 'Summer Snowflake'.  I believe this shrub officially belongs to my sister; we talked each other into purchasing it, and she seems to have a spot planned on the east side of the house.  If it does well, it should be a lovely thing.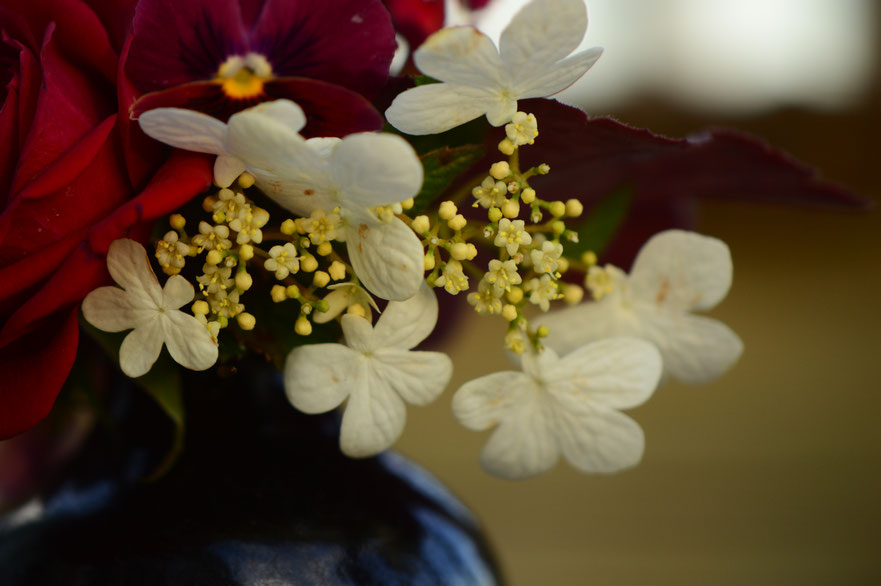 As for the miniature roses, I had been looking at the tiny, fancily potted minis set out for Easter decor.  Then I found myself prowling around the garden section of, shall we simply say, a major box store.  Against a back wall, I discovered a trolley with shelves full of miniature roses at $3.49 each.  They were large enough to make that a terrific bargain, other than the fact that the plants in question didn't look overly robust.  But it seemed to be mostly a case of having been hauled too long, so I decided to rescue a couple of them...
I shall have to keep a close eye on them for a while.  In my experience, minis are all too likely to arrive with spider mites.  Other than that, I think these will be much the happier for some fresh air and water.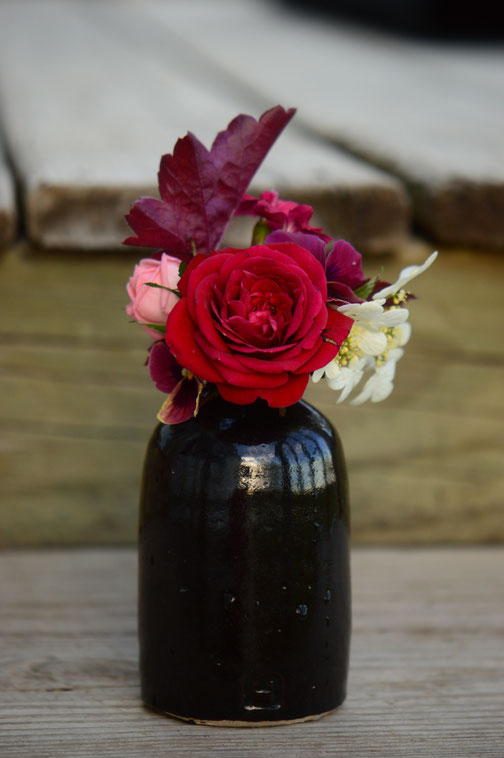 So there is my small posy for today's In a Vase on Monday, the weekly meme at Rambling in the Garden.  It's a medley of deep reds, a touch of pink and white.  I put the blooms in my small, dark-glazed, stoneware bottle.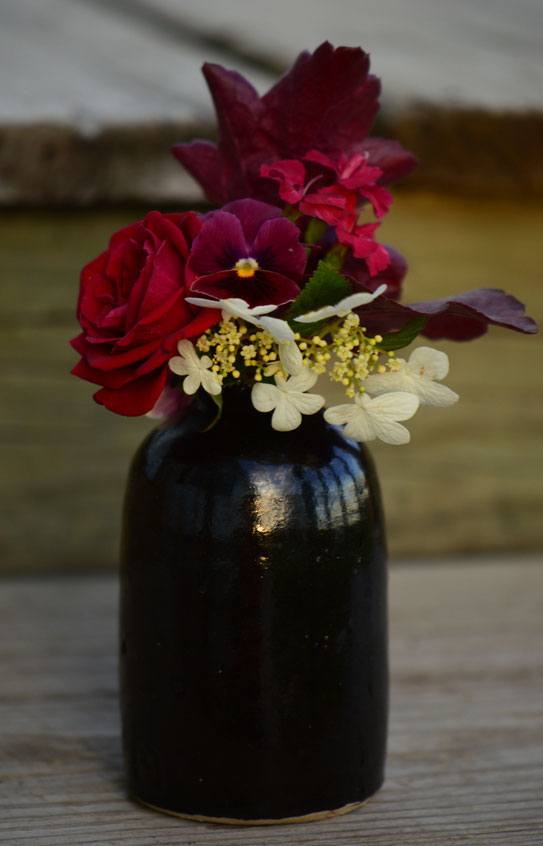 I spent all too much time today frozen in horror, watching the reports as the cathedral of Notre Dame de Paris was burning.  A tragic day...  Here it was all bright sunshine and warmth (happily our cold snap is over), green grass, and the first newborn calves across the street.  And I heard the first whippoorwill this evening.  But a sad day for all that.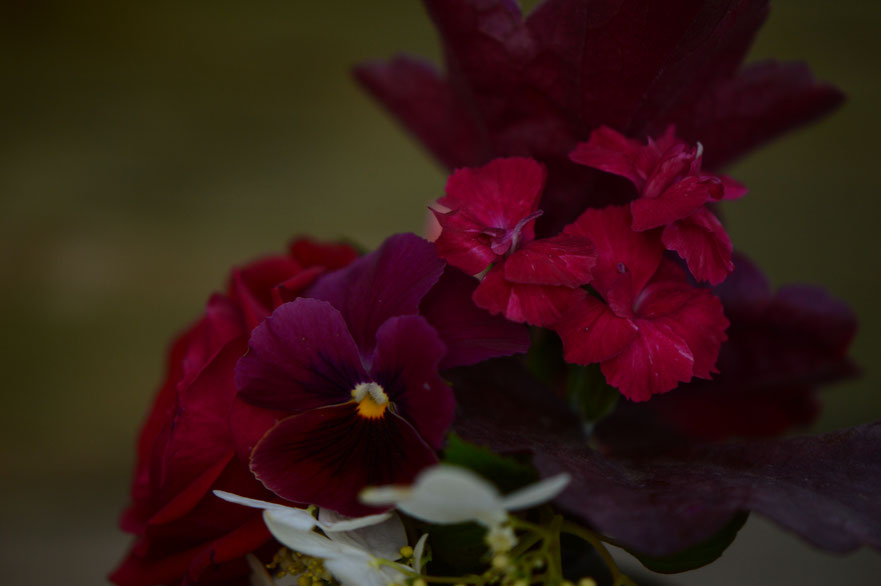 Weather Diary: Fair; High: 79 F (26 C)/Low: 39 F (4 C); Humidity: 28%-81%