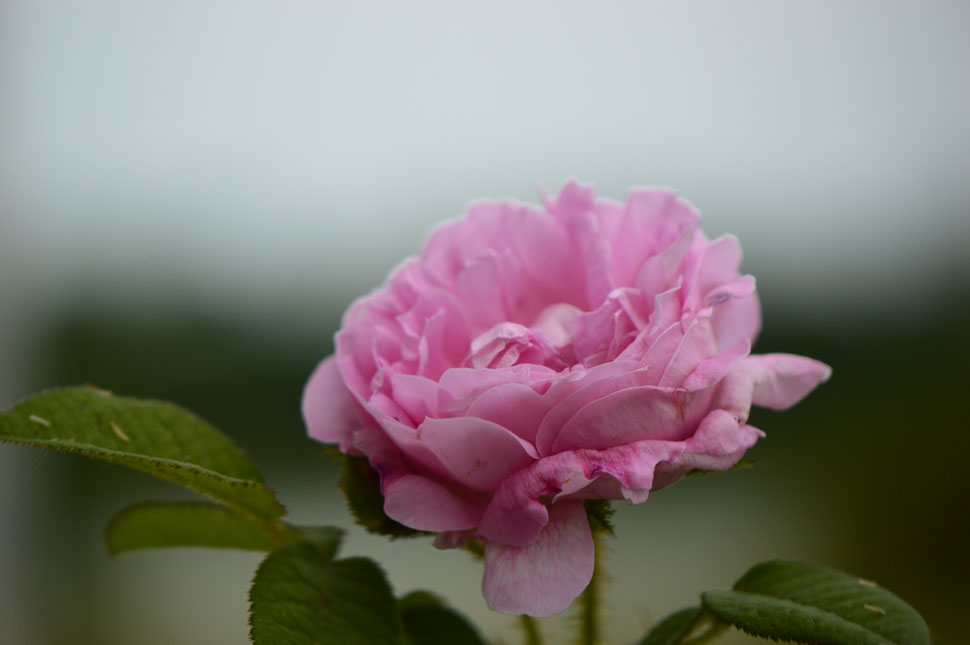 The Common Moss Rose is a rose with a past.  Firstly because it is indisputably an antique of importance, being the original mossy sport from Rose centifolia and thereby the founder of the Moss rose family.  Secondly, for me personally it has a special place, as I grew it for some years in my first garden, along with a small number of other old rose varieties.  My own feelings toward it are expressed simply by the fact that this was the first rose I searched for when I was ready to grow antique roses again.
I bought a plant while still in Arizona.  It came as a five-inch band so would have flowered for the first time this year in any case.  When I left, in all the turmoil I managed to dig some suckers from the base of the plant as it had certainly begun to flourish even if it had not yet flowered.  And incredibly the suckers took hold and remained healthy in their big pot, despite being subjected to a good deal of winter cold and despite being stuffed for months in the lightless back of my covered pickup bed.  
I was still not expecting any blooms this year.  But here they come, just a few, just this week for the first time.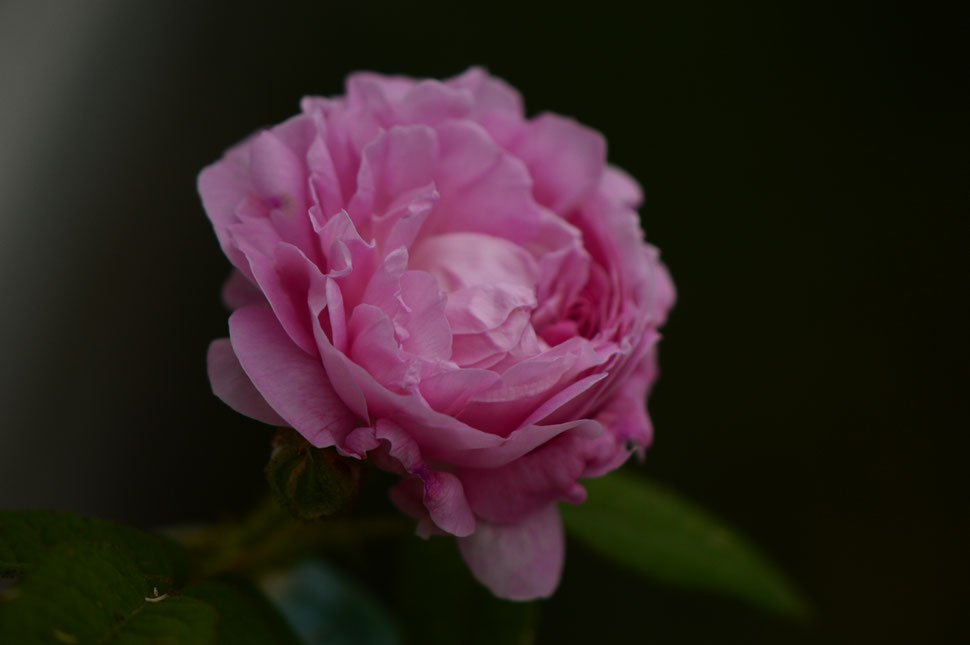 The Common Moss, also known as Communis and Old Pink Moss, carries smallish blooms but plenty of them.  Like other once-blooming roses, a mature bush is a mass of flowers in season, a display which has no exact counterpart with the repeat-bloomers, which cannot afford to flower with quite such abandon.  And there is the scent, just a most perfect rose powder scent, rich and full, no surprise as it stems directly from Rosa centifolia, one of the roses traditionally used in perfumery.
So of course I had to bring one inside today.  A single flower went into my stoneware vase.  I left most of the leaves because they are so attractive.  (Please pardon the grass seeds on them!)  The vase was handthrown and glazed similarly to the bud vase in last week's post, with just a small ring of flow glaze around the rim.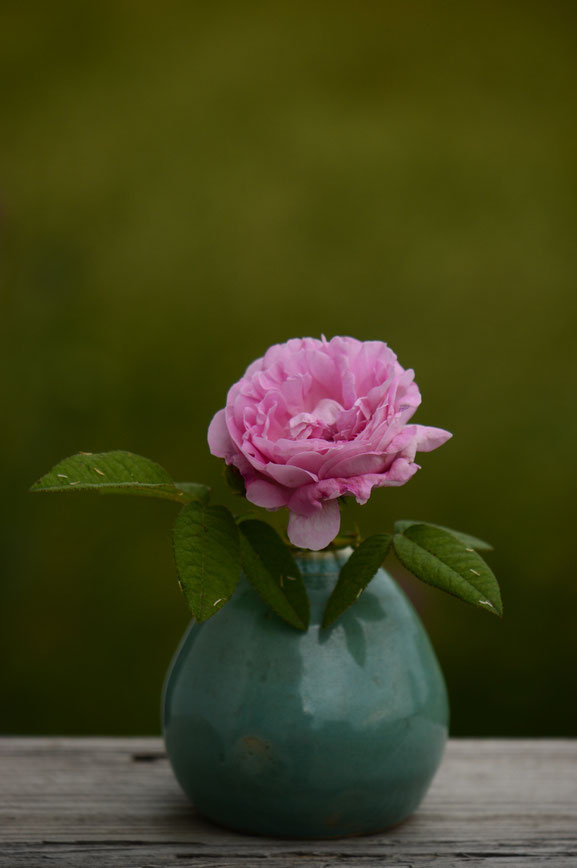 In the photo below, the moss on the accompanying rosebud is just visible.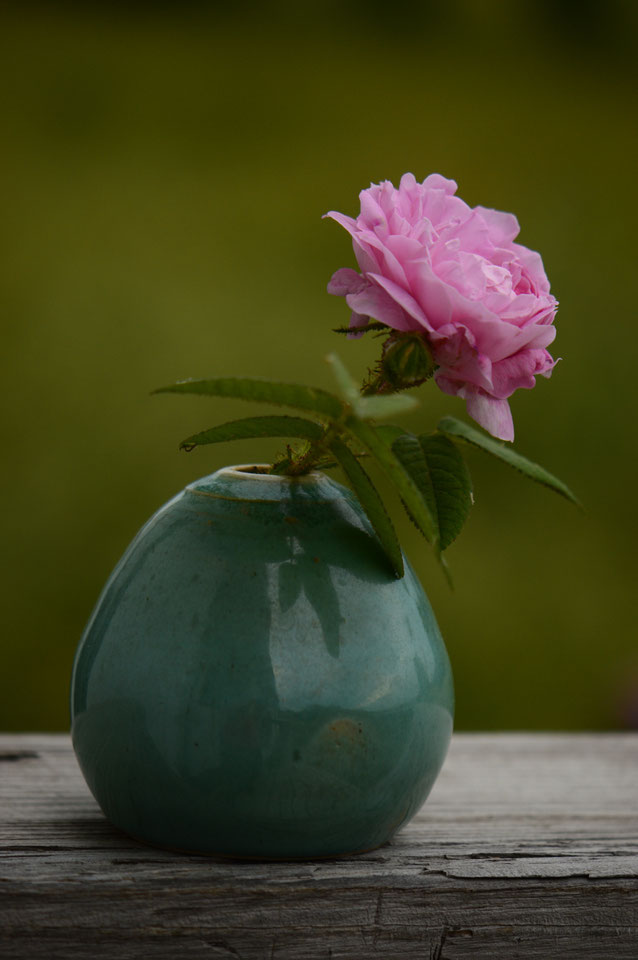 So this rose is a story of durability and triumph, a long-loved rose through the centuries and a personal favorite of my own.  And certainly one I am happy to share for Cathy's In a Vase on Monday at Rambling in the Garden!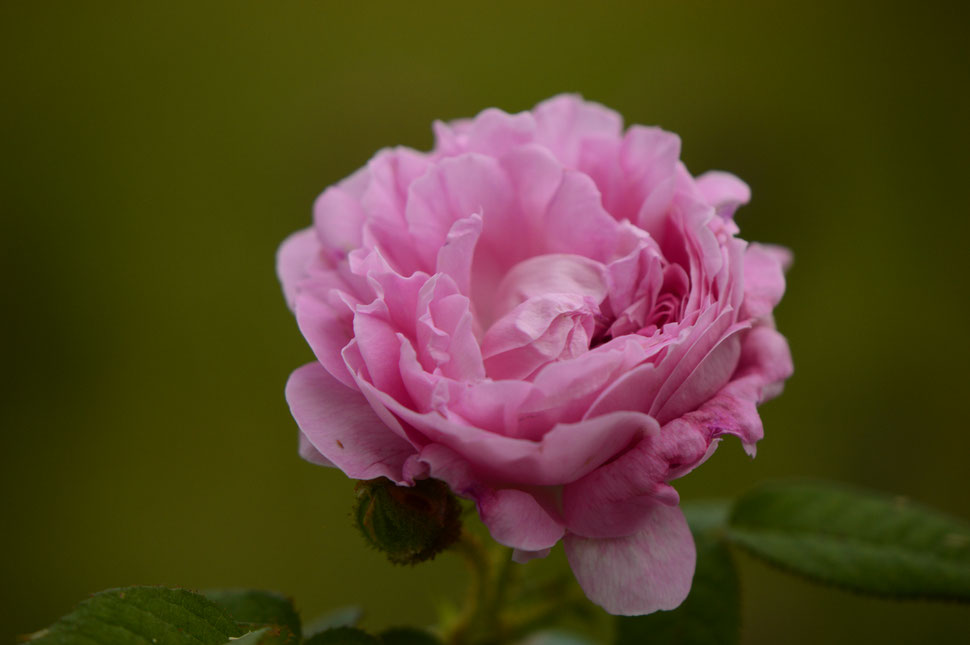 Next Post: Midsummer Wildflowers