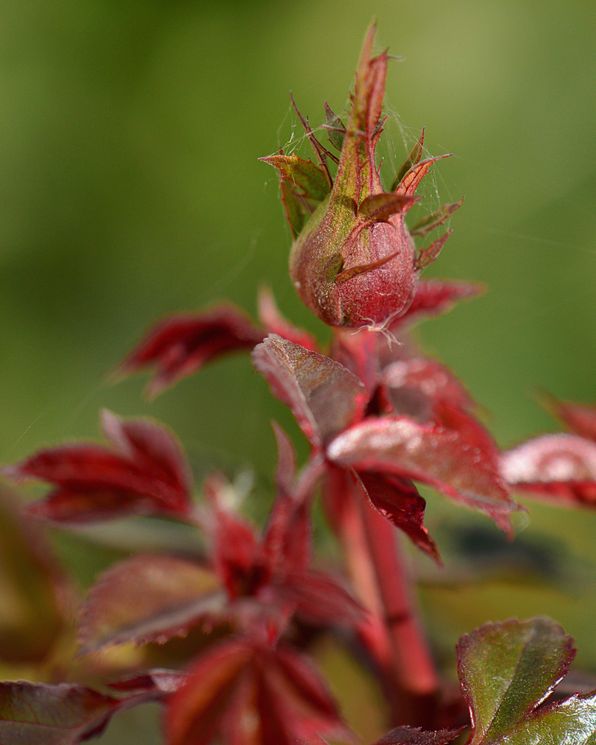 The miniature rose bush that I planted earlier this year is trying to continue as though there were no such thing as winter!
I have done my best to help it harden off for the season.  I stopped all feeding and deadheading in September, but it still thinks it can keep on sending up new growth.  We have had our first big snow of the year, a good month earlier than is normal here.  Temperatures dropped into the single digits (Fahrentheit).  It caught the buds of the small rose, but it doesn't seem to have dampened its enthusiasm very much!  Hopefully it will manage to survive the season despite its mistimed jollity.
So yesterday I wrote a poem for it...
Request to a Very Small Rose Bush
You teacup tufts that greet the day,
Enthusiastic bits of bloom,
The snow and ice have said their say;
You don't approve of winter's gloom,
No more do I, but still I know - 
Whatever you may think, my dear - 
You'll have to sleep through winter's snow,
And winter is upon us here.
So please be good and fall asleep
And let your leaves turn brown and go
To join the autumn's drifting heap;
At least you must not grow and grow!
I have your blanket ready, Rose;
It's waiting here with shovel, rake,
To keep you safe when winter blows.
Just now you're much too wide awake!
I have been writing a good deal of poetry lately, publishing it here on Medium.com.  It is something that I can do during this strange and somewhat difficult period of recovery and regrouping.  And it is allowing me to do more writing, which was after all my first love.  So that is all to the good!
Wishing all of you a lovely week!