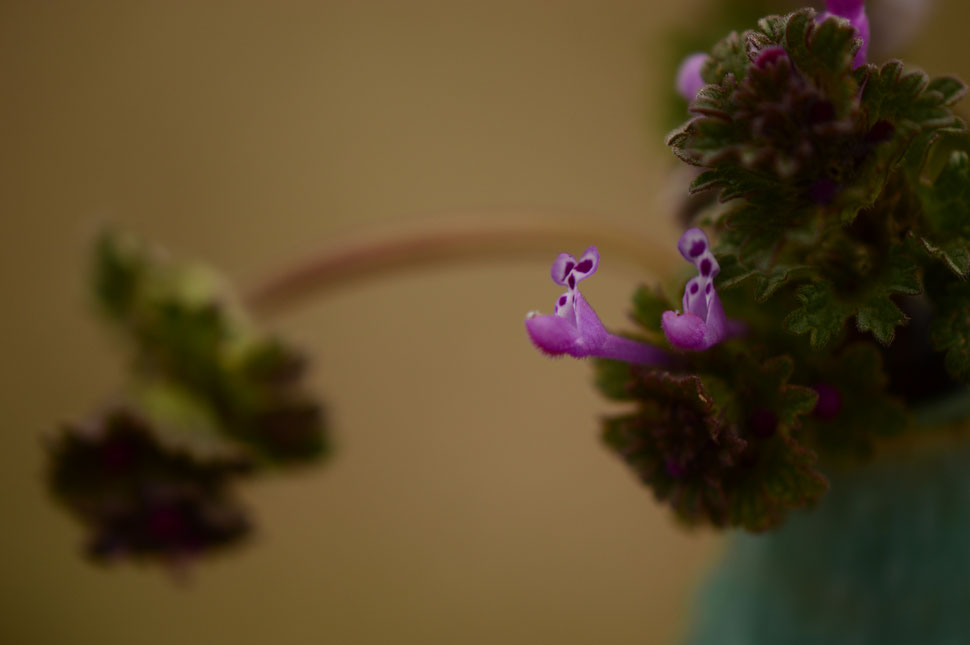 Well, this is my first IaVoM post for the year.  It's not my first vase, as I made one a few weeks ago, just Heuchera foliage and a few dried grasses, then failed to get photos, therefore, no post.  
I checked the Heuchera again today as a good starting point for a vase, but the leaves are now thoroughly mud-splashed and tattered from our last few storms.  No new leaves are large enough to pick; but it's worth noting that the plant has never gone fully dormant, instead producing fresh foliage off and on all whole winter long.  This, despite our occasional nighttime excursions into the single digits.  I think the lowest we've gotten was 2 F/-17 C, but temperature swings have been wide all season--admittedly, quite normal for the area!
But enough of my admiration for Heuchera!  Today's vase is all about a tiny wildflower because it is pretty much the only thing flowering at the moment.
Henbit (Lamium amplexicaule) is an introduced weed here, but apparently a harmless one.  Suffice to say there really aren't any native plants that go to the trouble (or risk) of blooming when the weather is still this unsettled and often still quite bitter.  It has taken its place at the start of the bloom cycle on our still rather unkempt hillside.  It likes to grow in the disturbed soil right around the house. A brand-new garden border  has not yet cramped its style much.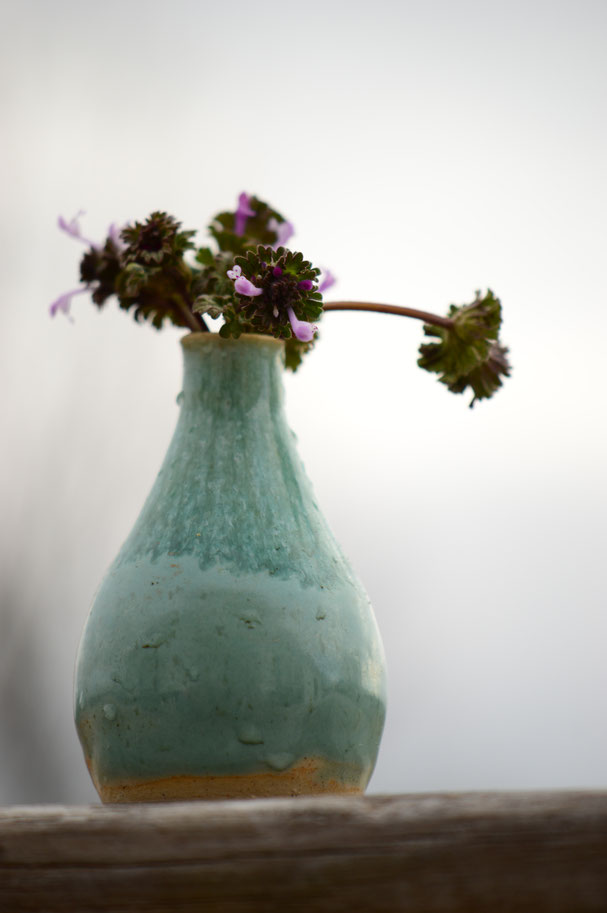 So I pulled up some stems with blooms on them and slipped them into my smallest bud vase.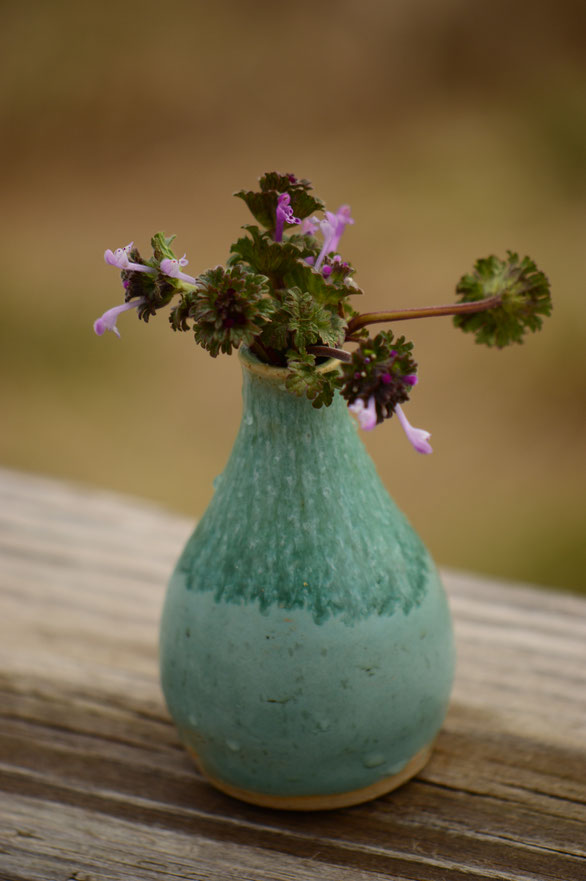 I still think they are quite pretty, if you look closely.  Very closely...  They are such tiny flowers; but after months of winter, they are quite welcome.
Pale pink to magenta with vivid blotches, they are actually a bit exotic in both form and color.  But you have to get right down to see them!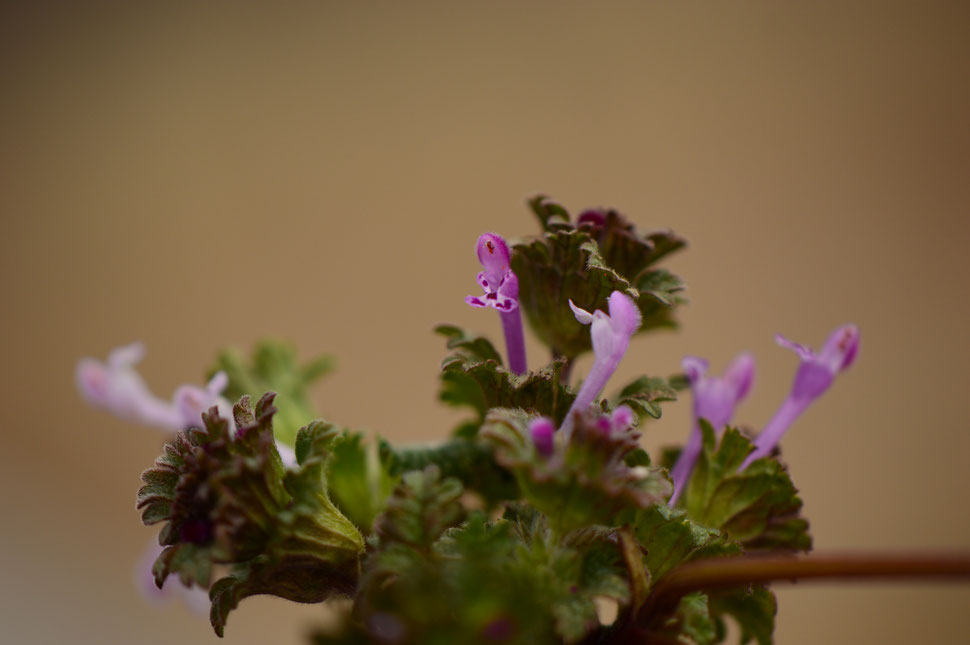 I suppose this would be classified as a foraged vase: picking weeds out of my own border...!
Happy new week, and do check the vases at Rambling in the Garden.  Spring is in full cry elsewhere in the world!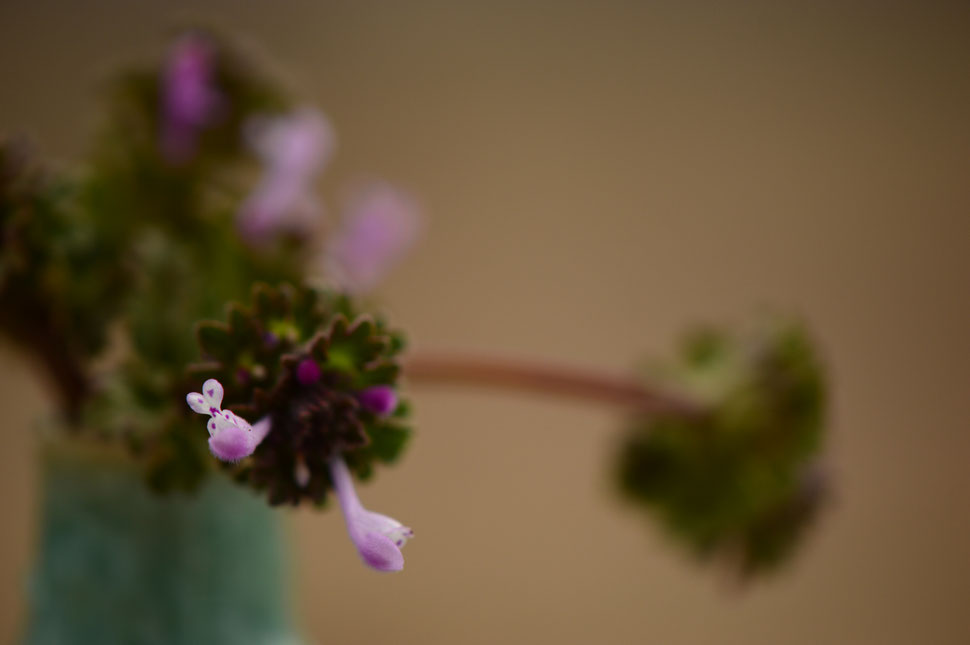 Weather Diary: Partly cloudy; High: 57 F (14 C)/Low: 41 F (5 C); Humidity: 62%-94%