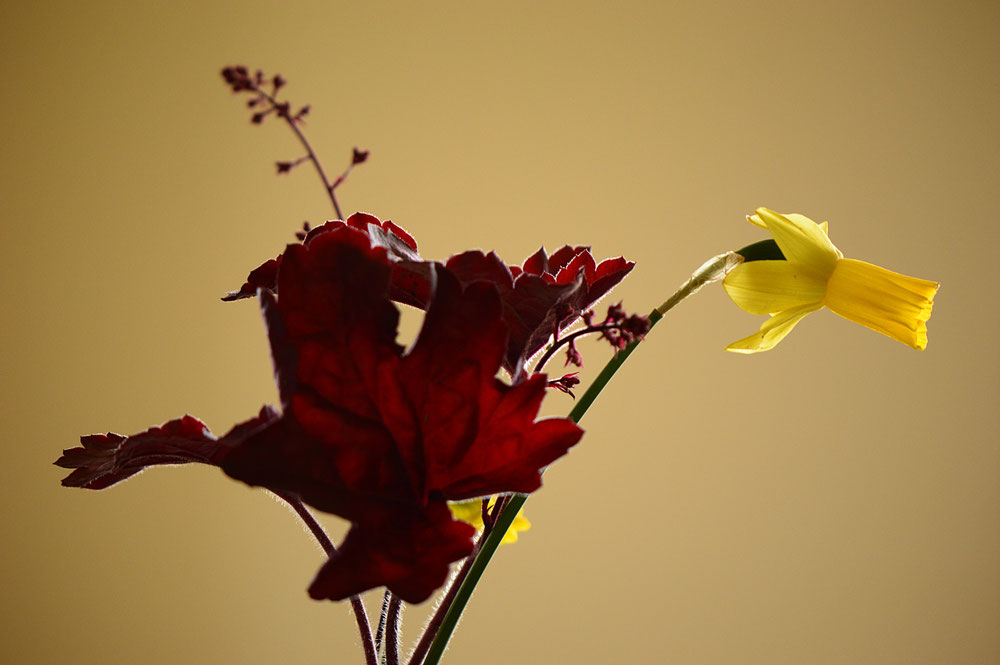 When I picked the contents for this vase, I expected to add, cut, rearrange, and so forth.  But when I looked at the way the Heuchera leaves and Narcissus flowers were distributed from my initial plonking, I liked it so well that I decided to leave it. I cut one Narcissus stem a little shorter and slipped it back in where it had been.  The whole vase had a warm Ikebana effect that was just right for the table.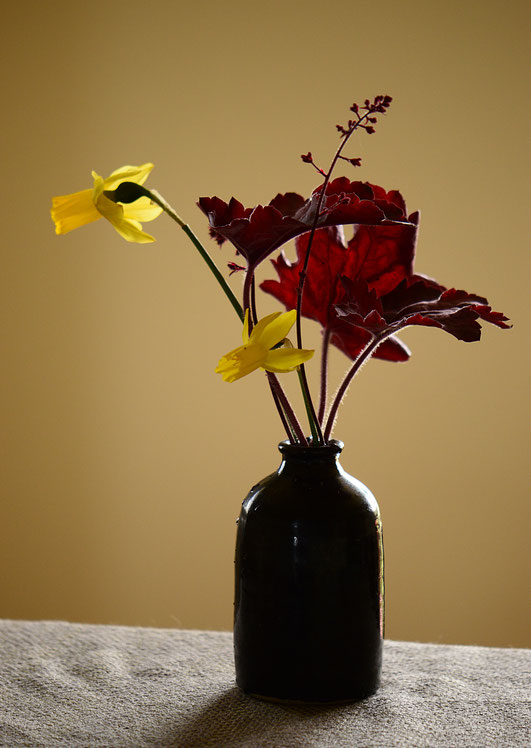 The original inspiration actually came from the budding stems of Heuchera "Carnival".  The flowers aren't open yet, but they already create a dainty, lacy look.  And the large leaves are as spectacular as many a flower.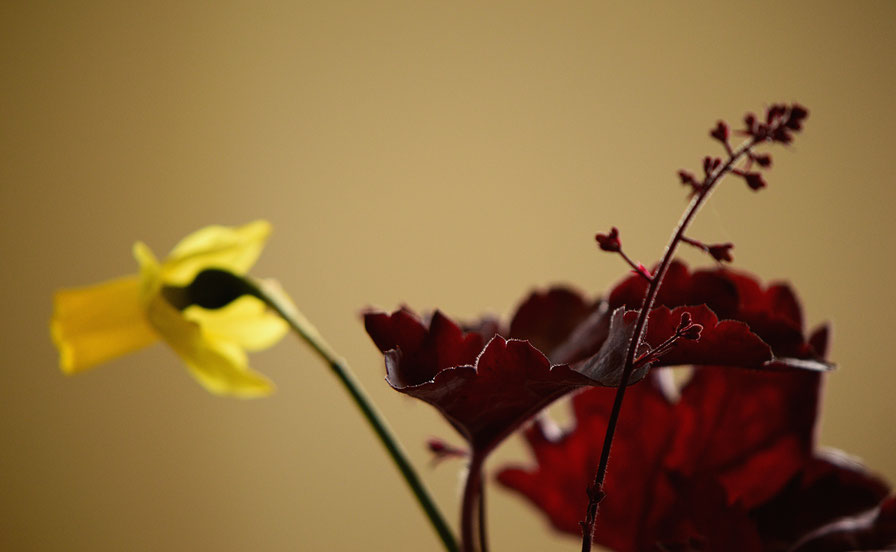 Two of the last little yellow Narcissus went in alongside them.  N. cyclameneus "Rapture" has been an unqualified success this spring--early, bright, very attractive with that distinct cyclameneus form, and sweetly fragrant.
They are almost entirely finished for the season, and buds are just breaking on some of my later Narcissus, so the timing was about perfect.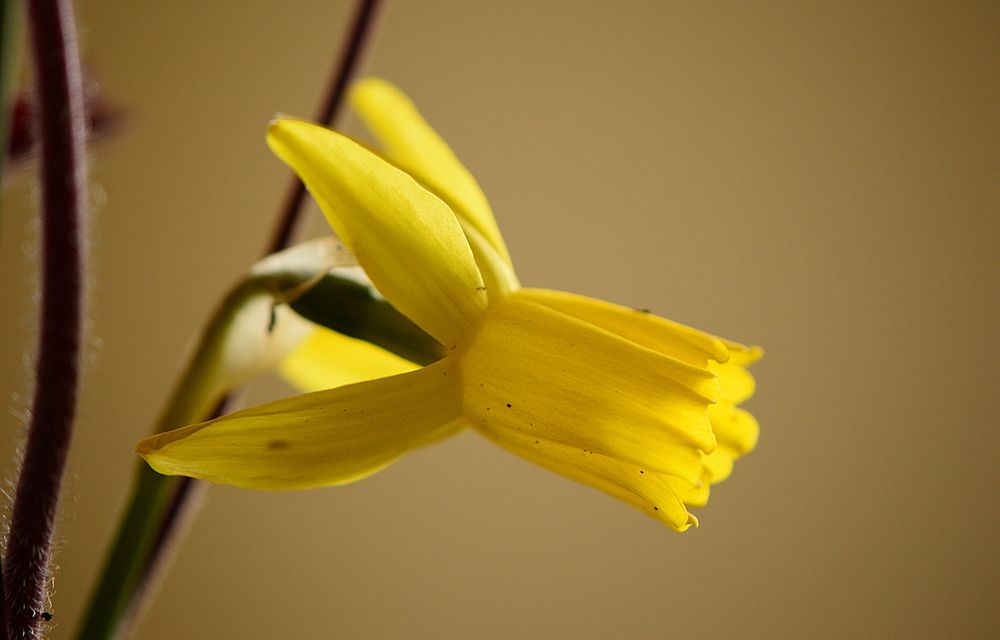 I used my dark-glazed stoneware "ink pot" bottle, which I made some years ago and like to use for bouquets with thin (or few) stems.  Its simplicity complemented the overall effect.  And the cloth under the vase is one which I wove.  Its light gray color is a blend of darker gray and gold threads, plain woven.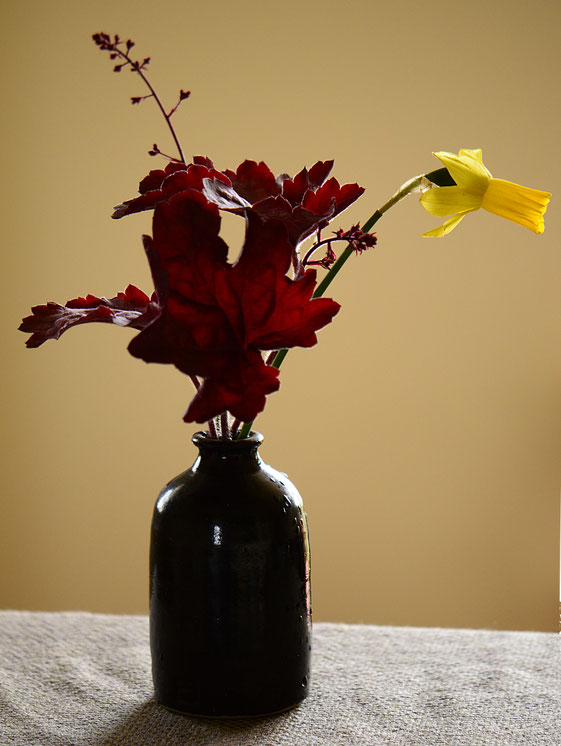 Please pardon my late IaVoM post!  I have been trying to get two separate posts up for days and perhaps this blogger just overloaded a bit!  Linking to the weekly In a Vase on Monday post at Rambling in the Garden...
...and hoping to post shortly about a spectacular new iris!
And, also belatedly, hoping all of you have had a lovely Easter Day despite the strange situations so many of us are dealing with.  Stay safe as we gardeners enjoy the reassurance of growing things!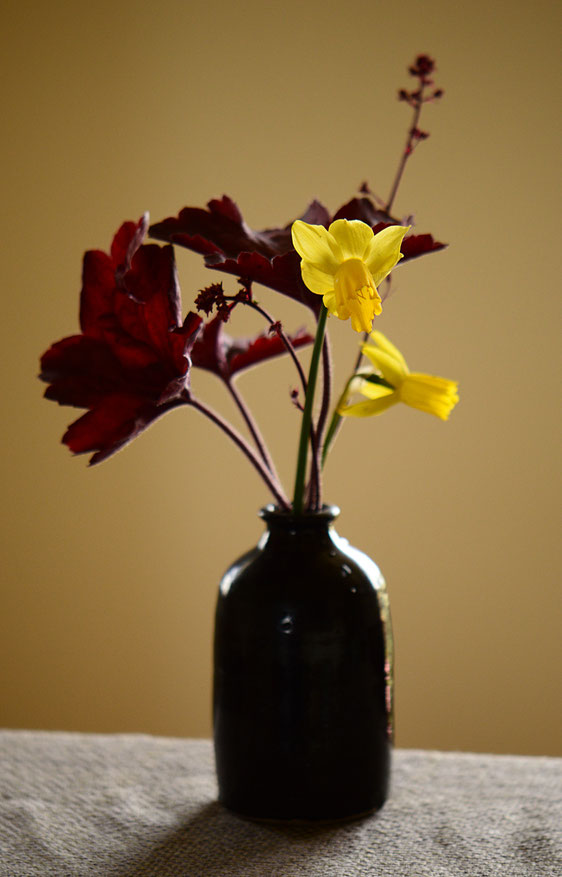 Weather Diary: Fair, windy; High: 46 F (8 C)/Low: 34 F (1 C); Humidity: 25%-75%