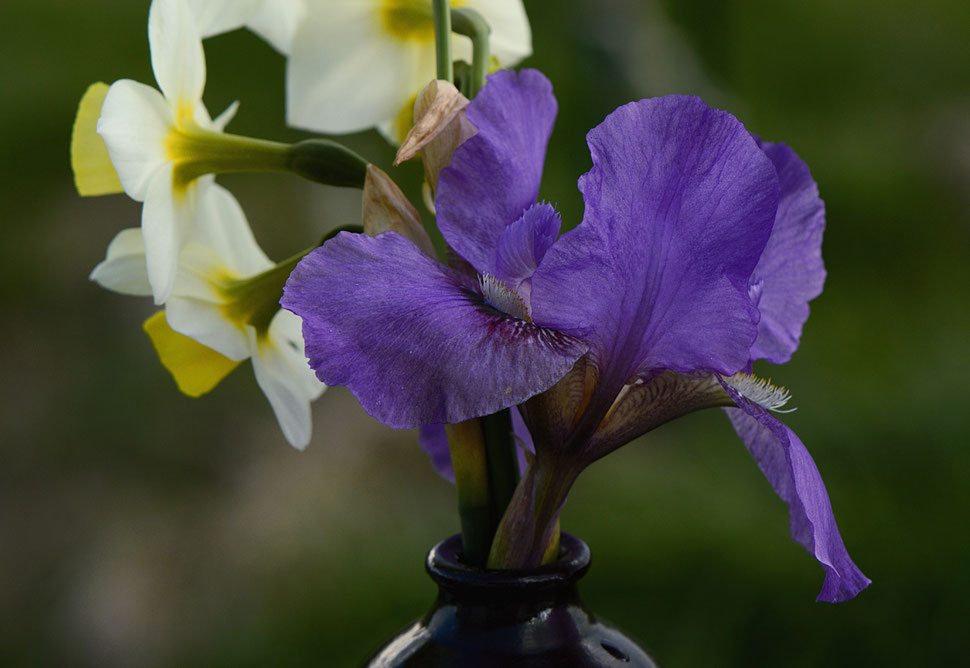 Like any other season, spring has its stars and its supporting cast in the garden.  There are the little bulbs that can be slipped into the soil by the handful in autumn to supply all the charming miniature blossoms that carpet the borders in spring.  Then there are the big, bold sorts that catch the eye with a single stem.
Today's vase contains two of these latter.  The first is Narcissus "Silver Smiles".  It is not actually so very large, being a jonquilla type, but it is quite eye-catching. (And, indeed, my little strip of border between the walkway and the housefront is too small to house anything very large.) 
First, as they open, the twin-flowered heads hang sharply downward with an elegant poise.  Second, it is a delightfully sophisticated color--silvery petals with pale yellow cups that fade to champagne, according to the catalog.  The very first flower is just now fading as advertised and still has a thin rim of yellow on the cup and a splash of yellow at its base.
The effect can be seen more clearly in this photo, where three blooms show the succession.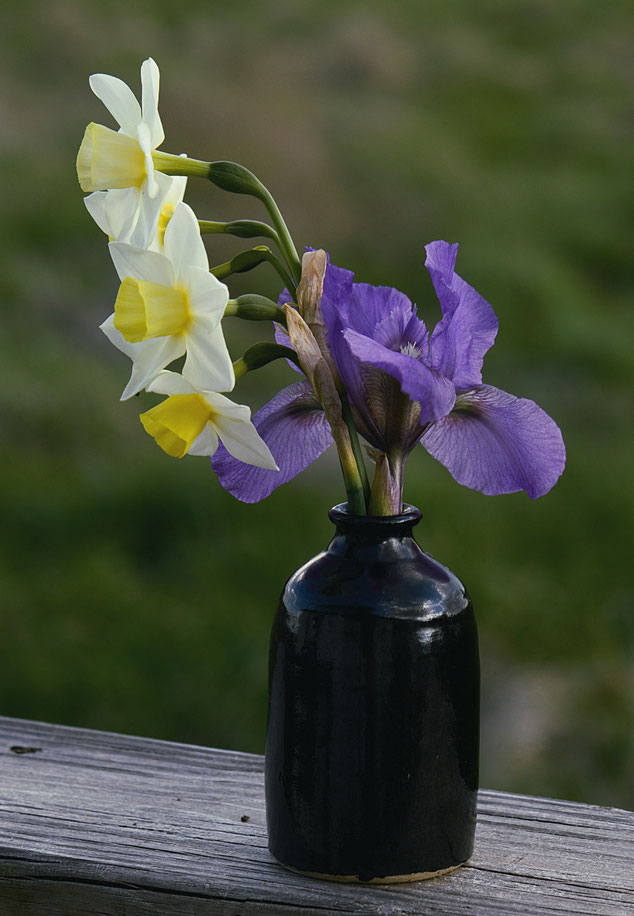 The second star is the spectacular arilbred Iris "Pixie Power".  As bearded irises go, it is not so very big either.  But its intricate detail and beautiful color do stop me in my tracks as I am walking past.
I told the story of "Pixie Power" in my last post.  It has continued to flower robustly, and I didn't intend to pick any blooms from it because it is just so happy-making in the garden.  But I decided it would look very nice in with "Silver Smiles", and it is (I think) finally nearing the end of its blooms, though I have thought that before and been quite wrong!  In any case, there will be more irises soon as the first of my heritage irises now has buds.  This will be the old "Indian Chief" from 1929.
So I talked myself into cutting a stem from "Pixie Power" to bring indoors.  Certainly it is well worth admiring up close!
Last week's Heuchera leaves went into another vase so that I could reuse my small "ink pot" bottle again today.  
I hope all of you are staying well and enjoying the season's bounty!  Many thanks to Cathy for encouraging us to bring some of that bounty indoors each Monday!