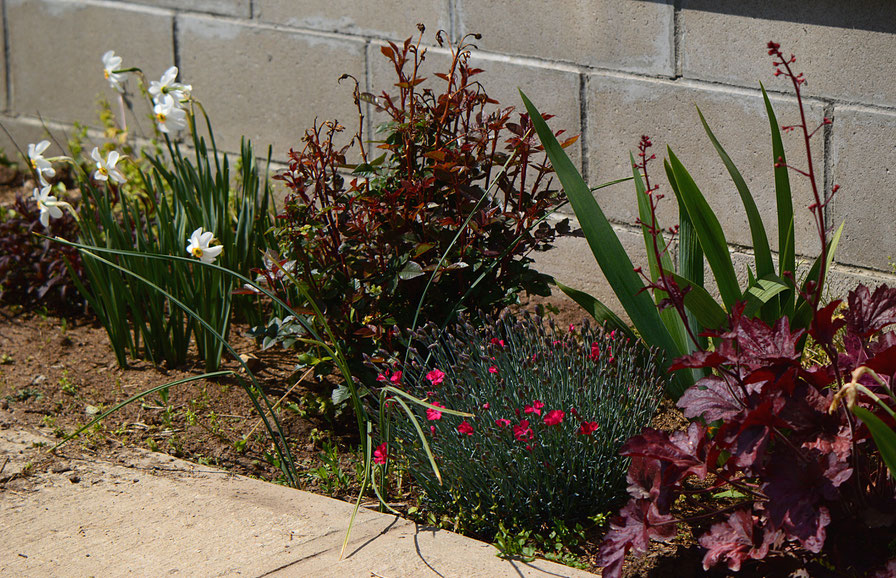 At long last I can introduce at least a few little vignettes from the garden.  There's not much to show yet, but plants are filling in and plumping up, and for the first time they are combining to create the dance that is a growing garden.
Creating even a very small garden border has been excruciatingly slow.  The fact that any bulbs were planted at all last autumn is largely due to my sister's encouragement and kind help with the digging, because my fatigue levels were too high to do it all myself. As for my hopes of filling the rest of the border this spring, those have been dashed by everyone's nemesis: the necessary Covid-19 lockdown has prevented me stocking up on new plants.  As it is, my list of plants to complete the border focuses on late-bloomers and good foliage.
So it's just a little patch of garden that I am showing you, but it's nice to be able to post it.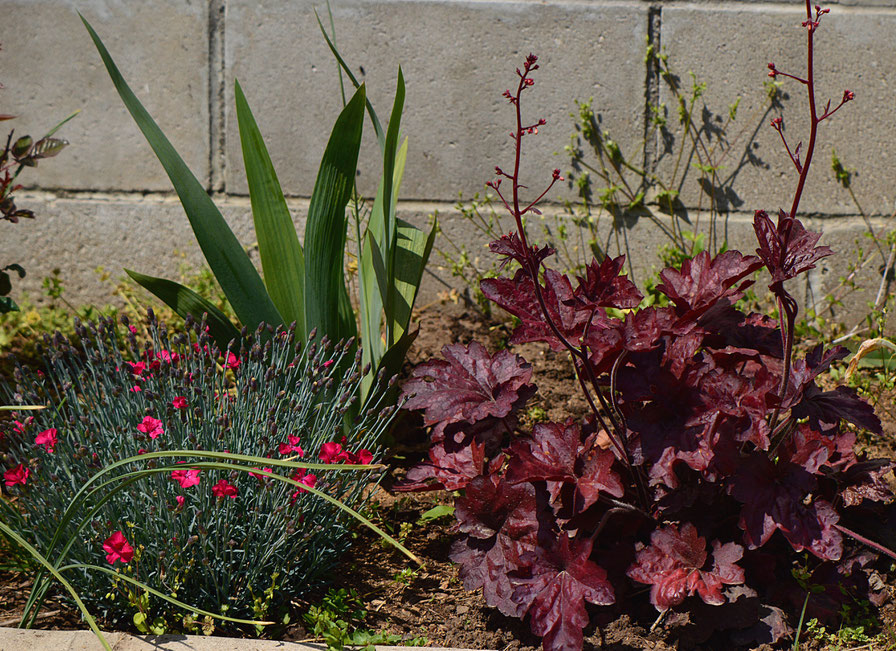 Seen in the pictures here are Dianthus x "Frosty Fire" just coming into bloom, Heuchera x "Carnival" also with its first flowering stalks, and a noID miniature rose with small buds.  Behind are Iris germanica "Mme Chereau" and Narcissus poeticus recurvus.  Just visible at far left in the top photo is the dark new foliage of Gaura lindheimeri "Gaudi Pink". 
The elongated leaves in the foreground are the maturing foliage of Iris reticulata "Harmony" which, as with any other bulb, must be left to its own devices long enough to store nutrients for next year--but which is doing it in a highly visible way.  I need something to blend in and help conceal the lanky leaves.
Not visible in these photos are Narcissus "Silver Smiles" in full flower and Echinacea purpurea "PowWow Wild Berry", which is waiting for summer.  There are also several other irises, plus the early-blooming Helleborus x "Ivory Prince", and the summertime Hemerocallis "Stella de Oro".  In other words, the total number of plants in this little border can still be summed up in a single list (I'm leaving only a few things out), and that is the whole garden!  (Not counting the weeds, which I hope my viewers are discreetly ignoring!)
It's a narrow space, so no plants are overly large; and to make matters more difficult, the back six inches or so is concrete foundation jutting out into the border and only lightly covered with about three inches of soil.  I've not decided what to do to deal with the entire back section; there simply isn't room for much root run.  I've thought perhaps thyme would spread successfully above the concrete reef and provide a neat ground cover at any rate.  As it is, I've had to plant everything else well forward toward the walkway.  Suggestions welcome!
Well, that is all for my brief garden tour, but I thought it would be fun to finally show how the plants are beginning to fit together.  As anyone who has followed my blog for awhile can guess, I am more of a plantsman that a garden designer; but I do love to see the garden fill in and become something that is more than the sum of the parts.  I think the plants are happier that way too!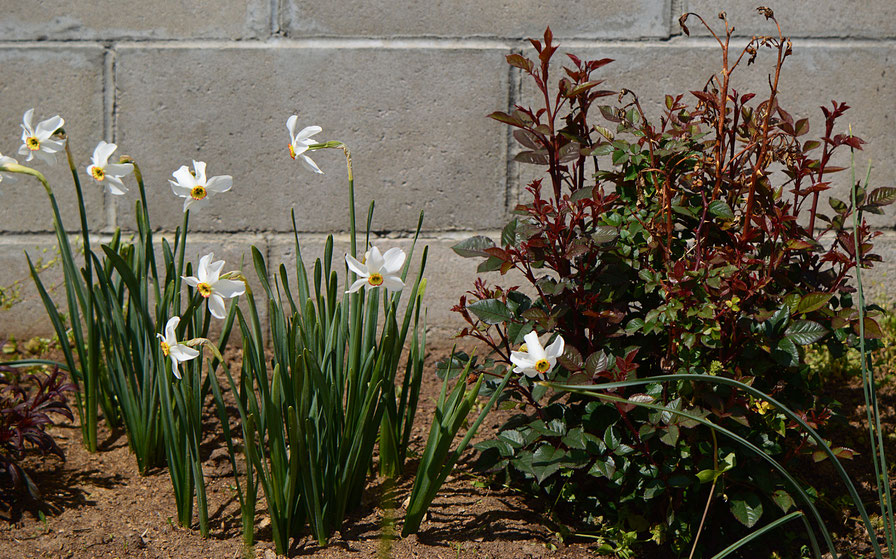 Weather Diary: Partly cloudy; High:  72 F(22 C)/Low: 43 F (6 C); Humidity: 31%-100%