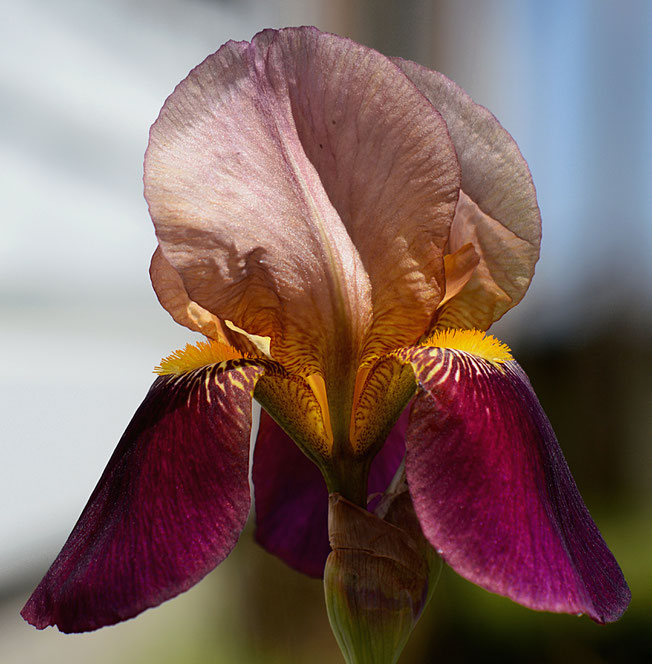 The first flower has just opened on Iris germanica "Indian Chief".  And what a beauty it is!
While it is not the first iris of the season, having been beaten out by the dwarf arilbred "Pixie Power" (not to mention the little rock garden irises), it is the first I. germanica variety to bloom this year.  And more importantly, it is the very first flower from my new project growing heritage irises.  
This requires an explanation.  As I gardened in Arizona, I found myself focusing more and more on native and species plants.  And as this change occured, the heavily developed hybrid flowers with their ever-larger, more spectacular blooms began to look a little out of place beside the leaner, simpler, often-very-elegant species flowers.  To blend with my preferred natives, I began eyeing older hybrids even in the case of well-known, classic garden plants.
I decided to try to continue this trend after I moved.  While I can't say I've been at all consistent (I have not!), my order of irises last year was exclusively for heritage varieties.  An online search took me to Willow Bend Iris Farm of Grand Junction, CO.  I arrived a bit late in the iris-ordering season so a number of varieties were already sold out, but I was very excited about the four I finally chose.
I was looking for the svelte elegance of the nineteenth- and early twentieth-century varieties.  Smaller flowers, yes, with but little of the extravagant ruffling found on today's hybrids.  I wanted the classic refined arch and fall of petals, the simplicty of form that shows off the rich colors and exotic markings to the full.
The rhizomes arrived in good time and were quite healthy; not surprisinly they were a little smaller than more recent selections with their enormous blooms and matching leaf and root systems.  These are good-sized garden plants but not giants.
And with the first just coming into flower, I'm as excited again as I was when ordering.
This first arrival is "Indian Chief".  It has smoky standards and dark plum falls with a yellow beard and throat highlighted with zebra stripes.  The buds are very long and pointed, and the first opened overnight into the fully formed flower.
"Indian Chief" was hybridized by a Dr. Ayres and was introduced in 1929.  It was acclaimed at the time and is clearly still a much-respected variety.  It has always been classed as a red blend, but it has a distinct bronze cast overall.  One noticeably lovely effect comes from the razor-thin edge of darker color round the standards. 
While the plants are too new to produce many flowers this year, I look forward to letting these bulk up.  I am certain they will be particularly well-sized for cutting.  And happily the scent is pleasant and not overpowering.
As you can tell, I am thrilled with my first foray into these half-forgotten varieties.  I just hope the iris season won't be over very soon as the late spring flowers seem to be opening at breakneck speed just now.  I haven't even posted about my late narcissi, and here we are with irises...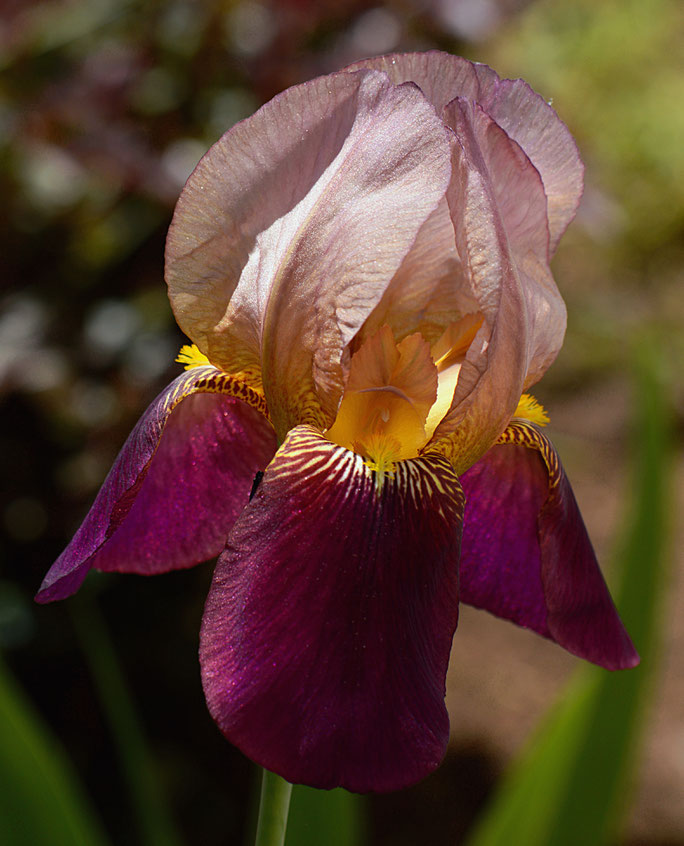 Weather Diary: Fair; High: 75 F (24 C)/Low: 46 F (8 C); Humidity: 29%-87%